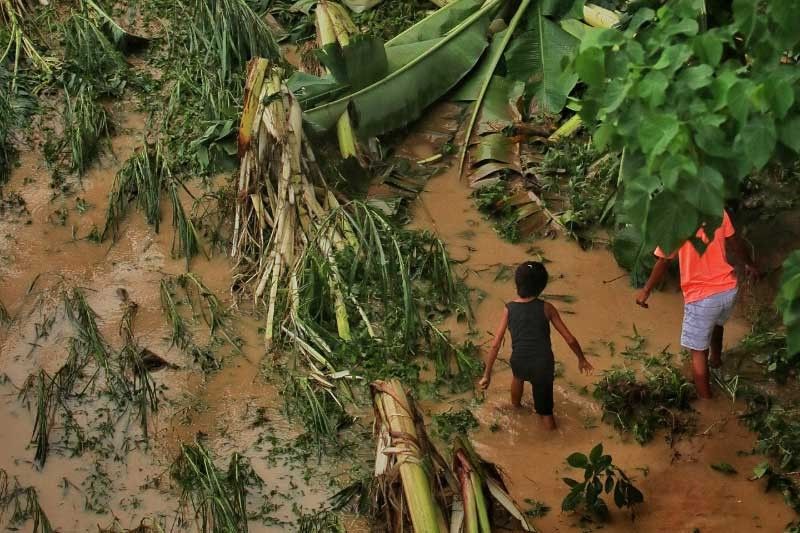 2 thousand flee homes amid flooding
CEBU, Philippines — The floods that have plagued some parts of Cebu province damaged at least 50 structures and forced nearly 2,000 persons to seek shelter in evacuation centers.
Governor Gwendolyn Garcia is expected to visit these areas today.
"Heavy downpour of rain experienced yesterday (December 2, 2020) at 4:20 a.m. with the measured amount of precipitation of 32.8 millimeters which caused severe flooding in several LGUs of central Cebu," the Provincial Disaster Risk Reduction and Management Office (PDRMMO) reported yesterday.
According to PDRRMO, in Tuburan, three houses -- two in Barangay Otso and one in Barangay Jagbuaya -- were totally damaged while six classrooms of Bakyawan Elementary School were partially damaged.
Thirteen barangays in Tuburan (not Asturias as previously reported) were affected by the floods: Colonia, Fortaleza, Sangi, Jagbuaya, Manga, Otso, Caridad, Marmol, Mag-atubang, Mag-Alwa, Mag-Antoy, Amatugan and Languyon.
In Balamban town, 34 houses in Barangay Nangka were flooded while one nipa hut in the same barangay and the flood control project of DPWH in Barangay Cantuod were partially damaged also.
Another nipa hut in Danao, including a foot bridge in the city and a house in Compostela were damaged also by the flood.
The PDRRMO has recorded 465 families or 1,895 individuals were forced to evacuate because of the floods that hit their areas.
Records also showed that 43 families or 215 of the evacuees are from Balamban, 369 families or a total of 1,465 individuals are from Tuburan, 30 families or 113 residents are from Danao. Also evacuated were 80 people from 16 families in Asturias and seven other families composed of 22 individuals from Compostela.
They were temporarily sheltered in respective evacuation centers, given food and were allowed to go back to their homes yesterday.
Aside from the drowning incident that cost a life in Danao City, no other casualty was recorded in other areas of the province.
Assessment
Garcia will lead assessment efforts in the affected areas today.
"I have to see myself unsa gyud ang situation didto wether kaning baha (was) caused by lack of drainages and which roads (were affected), whether this is on the national highway or on interior roads. (We) will take a very careful assessment of the entire area," Garcia said.
Garcia said the Capitol has set aside enough budget for the infrastructure projects in different towns and cities in the province.
"We have enough budget for the assistance of local government units. For 2020, ang atong gi-appropriate for infrastructure is over P4 billion for roads alone, and P1 billion for flood control," she said in a Sugbo News report. — JMD (FREEMAN)