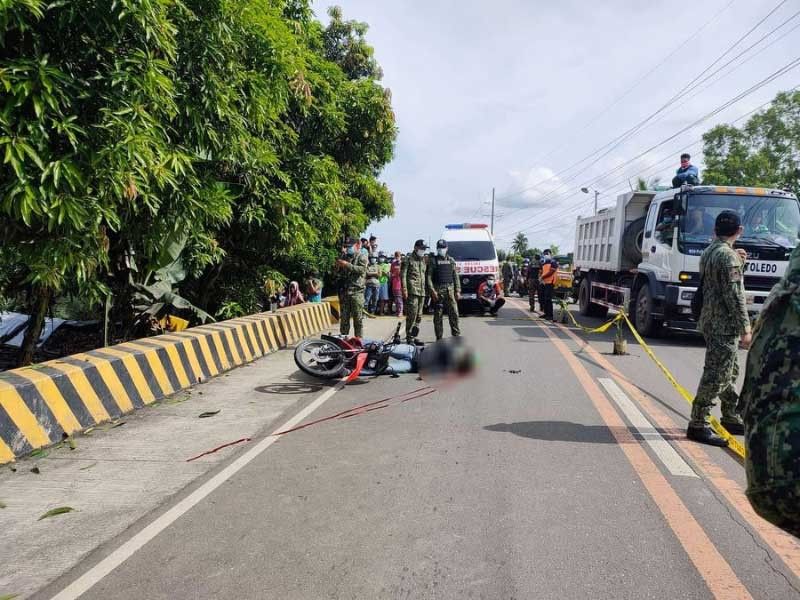 CEBU, Philippines — A police officer was shot dead by an unidentified perpetrator in Barangay Dumlog, Toledo City at around 9:00 a.m. Thursday.
The police identified the victim as Police Staff Sergeant Gerfil Geolina, 44, a member of the Philippine National Police assigned in Asturias Police Station. He was a resident of Barangay DAS, Toledo City.
Investigation disclosed that residents in the area heard multiple gunshots from the national road.
Upon checking, residents in the area saw the lifeless Geolina with a gunshot wound to his head.
The perpetrator allegedly fled to the direction of Barangay Sangi immediately after the incident.
Police Lieutenant Colonel Junnel Caadlawon, chief of Toledo City Police Station, said they are now coordinating with the Asturias Police Station where Geolina was assigned.
"Gikan pa ni siya nag-duty, ni-reponde man ni siya og flooding incident, nakig-alayon kung unsa ang mga impormasyon ug sa iyang pamilya karon kung basin naay nga death threats or unsa para makasugod pud mi sa imbestigasyon," Caadlawon told reporters.
Caadlawon also appeals for public's cooperation to report any information that could lead to the development of the investigation.
He however added that they cannot yet divulge further details pending the investigation.
Police Colonel Aladdin Collado, Cebu Police Provincial Office director, has directed Caadlawon for an in-depth investigation of the case.
"Ang directive ko is mabuti na pag-iimbestiga sa nangyari at it should be an air-tighten investigation because one of the victim is our colleague so I'm directing our chief of police of Toledo to spearhead the air-tight investigation of the matter," said Collado.
Collado said he will wait for the result of the investigation making sure that the case will be solved in due time.
Geolina was formerly assigned at the 2nd Provincial Mobile Force Company (PMFC) prior to his assignment in Asturias Police Station where he stood as responder or the alert team.
"Among gi-double check kung kinsa iyang mga na-respondehan sa una or kinsa iyang nadakpan for other angulo kung asa ta makasugod sa imbestigasyon," said Caadlawon.
He added that they are not discounting the possibility that the unknown perpetrator could have planned the murder ahead and followed the victim from his shift.
At present, the police are reviewing the private-owned close circuit television footage that could lead them to the identification of the perpetrator. — GMR (FREEMAN)