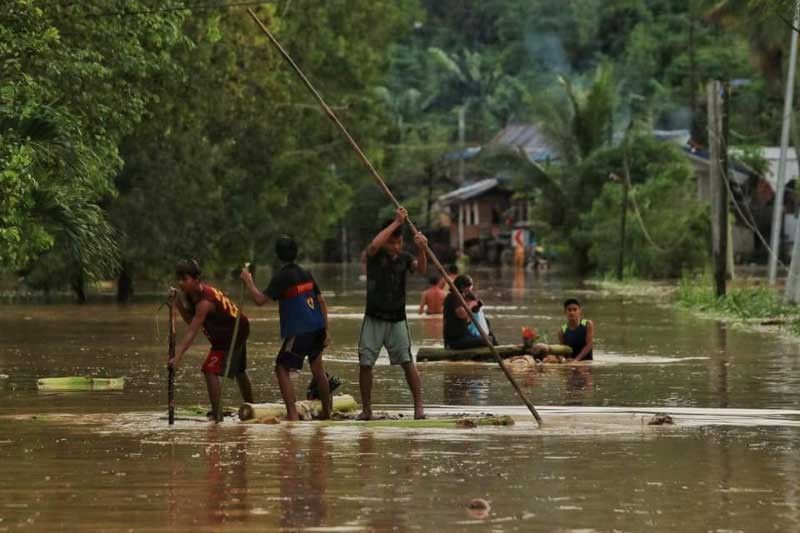 Residents in Asturias navigate through a flooded area of the town following heavy rains yesterday morning. The Cebu Provincial Disaster Risk Reduction and Management Office said flood swept through at least five towns and a city in the northern part of the province.
Aldo Nelbert Banaynal
1 dead as flood hits six LGUs in Cebu
CEBU, Philippines — Several areas in six local government units in Cebu Province were hit by flood yesterday following continuous rains.
These include Danao City, Tuburan, Balamban, Compostela, Asturias, and Poro in Camotes Islands. Close to 400 individuals had to be evacuated, said the Provincial Disaster Risk Reduction and Management Office (PDRRMO).
In Danao City, 27-year-old Waren Jay Almaden of Barangay Lawaan was found dead at the Tangong River in Barangay Sta. Rosa hours after he was reported missing early Wednesday morning. Rescuers found his body only after floodwaters subsided late in the afternoon. His motorcycle was found near the spillway in Barangay Oguis.
Rolan Reyes, head of the city's Disaster Risk Reduction and Management Office (DRRMO), told The Freeman that Almaden was heading for work in Lapu-Lapu City and may have slipped as he was crossing the spillway in Barangay Oguis.
"Kung wala mo-subside ang sapa, dili makit-an iyang lawas," Reyes said.
(His body would not have been found had the water not subsided.)
It was a passerby who alerted authorities of the body.
"Gamay ra man ang spillway pero kusog ang sulog unya possibly naanod sya sa lawom nga part sa spillway. Unya ang spillway kay connected man sa Tangon River," Reyes said.
(The spillway is small but the water current was strong so it is possible that he was carried away to the deep part of the spillway. The spillway is connected to the Tangon River.)
At least seven barangays experienced flooding in Danao City, including Oguis, Guinacot, Poblacion, Taboc, Taytay Suba, and Bayabas.
Families from 30 households were evacuated in Danao City.
The PDRRMO also reported 13 barangays in Asturias experiencing flooding, including namely Colonia, Fortaleza, Sangi, Jagbuaya, Manga, Otso, Caridad, Marmol, Mag-atubang, Mag-Alwa, Mag-Antoy, Amatugan, and Languyon.
Floodwaters in Barangay Colonia reached up to the neck while the river in Barangay Caridad overflowed, prompting residents to evacuate to the Cebu Technological University campus.
The river in neighboring Balamban also overflowed and flooded Barangays Nangka and Cantood. Around 200 evacuees have taken shelter at the covered court in Barangay Nangka and at the covered court at the Balamban Central Elementary School.
Mayor Alex Binghay said he himself was stranded in Barangay Nangka for five hours Wednesday morning because of the flood.
In Compostela, rainwater flooded Barangays Estaca and Dapdap.
In Asturias, areas in Barangays Owak, Sta. Lucia, Labangon, Lunas, and Bago were flooded after the Sangi River overflowed.
Minor flooding was also reported in Poro town in Camotes Islands.
Governor Gwendolyn Garcia assured that the province will provide assistance to those displaced by the flooding.
"We will address those who have been evacuated. The PSWDO (Provincial Social Welfare and Development Office) will be coordinating with LGUs to determine what assistance is needed and if there's any," Garcia said Wednesday. — JMO (FREEMAN)