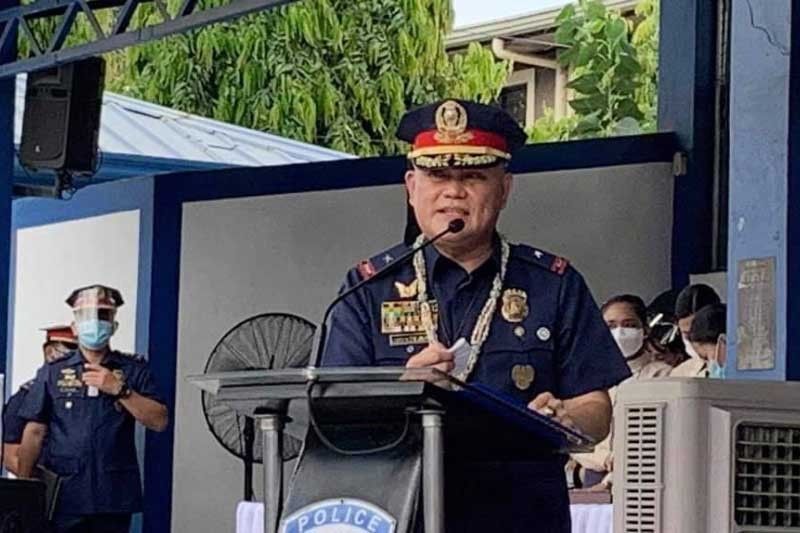 Philippine National Police Deputy Director for Administration, Lieutenant General Guillermo Eleazar (center), installs Brigadier Gen. Ronnie Montejo (right)as the new director of Police Regional Office 7 replacing B/Gen. Albert Ignatius Ferro (left) who will transfer to a new post in Manila.
Romeo D. Marantal
New PRO-7 chief echoes orders of Sinas
CEBU, Philippines — As the new director of Police Regional Office (PRO) 7, Police Brigadier General Ronnie Montejo has reiterated to the police personnel to synchronize their actions and strictly follow the command guidance and orders from Philippine National Police (PNP) Chief Debold Sinas.
In his speech during the turn-over of command ceremony yesterday, Montejo encouraged the police personnel to work hard on their chosen endeavors as he reiterated the guidelines of Sinas which include campaigns against anti-illegal drugs, illegal gambling, terrorism or insurgency, and corruptions.
"The PNP will continue to innovate to further enhance its current programs to be at pace and cope with the prevailing peace and order situations on campaign against illegal drugs. We need to revitalize the different drug enforcement units to focus their operations on anti-illegal drugs and the apprehensions of high-value targets and the identification and neutralization of the ninja and narco cops including its associated networks," he said.
To ensure its integrity, Montejo said drug enforcement units must be manned by personnel with no reported or suspected involvement in illegal drugs.
"We will also fortify the competency of police operative in anti-drug war by equipping them with right knowledge and strength through training and equipment," he added.
For the campaign against corrupt practices, the discipline mechanism will be strengthened penalizing the erring PNP personnel.
He said they will continue to enforce the "no take" policy on illegal funds from drug lords, gambling lords and other sources of illegal funds.
"All personnel are also directed not to play golf during office hours and even beyond office hours as long as it is week days. So bawal na bawal kayo maglaro ng golf during weekdays," Montejo warned.
He added that under the PNP disciplinary mechanism, any member of the PNP who is found guilty of corrupt practices will not be tolerated and will be investigated and dismissed immediately from the service.
He said they will empower the different levels of commander from regional down to city and municipal offices and stations to exercise their disciplinary powers to ensure zero backlog in the administrative cases.
In the fight against illegal gambling, Montejo said they need to ensure to stop the operation of all unlicensed gambling operators may it be small or big time operators in order to curb their unlawful operations.
He also promised to do his part to end insurgencies for the whole nation's approach with the help of national task force to end local armed conflicts.
"Our campaign against criminality to optimize police services to the communities, police visibility will be strengthened. The deployment scheme of 15 percent duty at the headquarters and 85 percent on field for more focus on operations and crime prevention," he said.
"Everyone has its distinct role to play towards a common goal which is for the good of the organization. Every provincial, city police office, police stations, units is a contributor of its success," he said.
Montejo who was the director of Quezon City Police District replaced Police Brigadier General Albert Ignatius Ferro as the PRO-7 director effective yesterday.
The second highest ranking official in the PNP, Lieutenant General Guillermo Eleazar, deputy chief for administration, presided over the turn-over of command ceremony.
Presidential Assistant for the Visayas Michael Dino, Lapu-Lapu City Mayor Junard Chan, Mandaue City Mayor Jonas Cortes and Cebu City Councilor Joel Garganera were also present.
Ferro is reassigned to the national headquarters in Camp Crame to take over as director of the Department of Information and Communications Technology Management.
Ferro has been efficient in serving Central Visayas in the fight against Covid-19 and in the war against illegal drugs.
He told reporters yesterday that even though he will miss serving the region, he is fulfilled that he turned over the position to an equally-capable leader.
"I do believe that as he promised he will also maintain, will sustain and maybe he could surpass what we have done here," he said.
Ferro added that he is just a text or a call away if Montejo needs help.
"I'm happy that with the different responses of our stakeholders and of course the number two man of the PNP (Lieutenant General Guillermo Eleazar, deputy chief for administration) have spoken and have given some good insights especially on our Covid response," he said.
When asked as to what advice he would give to Montejo, Ferro said just don't leave anybody behind as he turned emotional.
"Just don't leave anybody behind especially our police force," he said.
"Siyempre ang giagian nato nga challenge is really not a simple battle, not a simple fight, it's a matter of life and death, so, if you pass those challenging and you're able to maintain. I would like to save more lives, especially our people, as the saying goes that we will leave nobody behind is the only thing that I would like to request because we rely the dedication and the hardwork of our police force here in Central Visayas ," he said as he explained as to why he turned out emotional.
Ferro has been proclaimed as an adopted son of three major cities in Central Visayas particularly Cebu City, Talisay City, and Lapu-Lapu City.
He has served the region since February in a span of nine months and 25 days.
Montejo was born in Talisay City and grew up there as well as in Liloan town in northern Cebu.
He has also served as the chief of police in the towns of San Francisco in Camotes Island, Catmon and Sogod. He has also worked as commanding officer in the Provincial Mobile Force Company in Toledo City and as regional engineer in PRO-7 and many others. — GMR (FREEMAN)