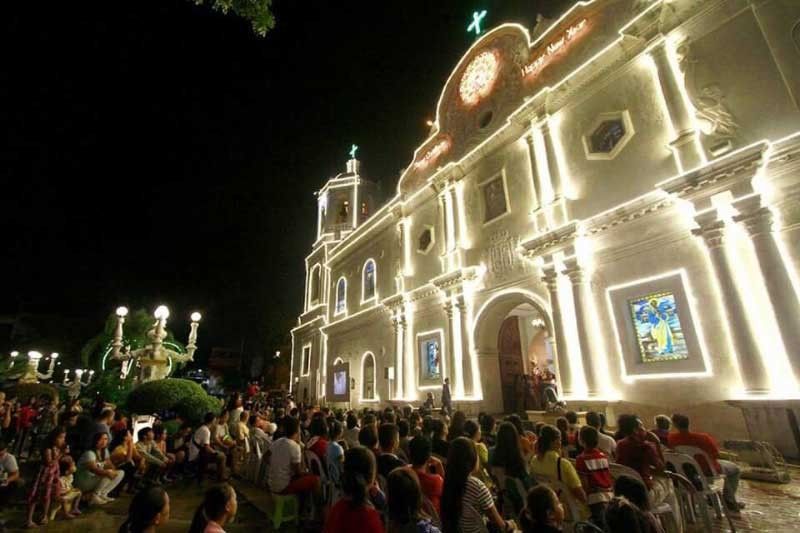 Cebu City and Lapu-Lapu City are allowing Misa de Gallo but with certain conditions to uphold minimum health protocols.
File
Misa de Gallo on in Cebu City, Lapu-Lapu but wih conditions
CEBU, Philippines — Cebu City Mayor Edgardo Labella has allowed Misa de Gallo in the city but only at churches and not at chapels.
"Sa ako nang giingon, kay gihatag man sa mga heads of local governments ang authority sa whether or not dunay Misa de Gallo, unya ako nitugot man gyud sa Misa de Hallo, pero ato lang gyud i-limit sa mga simbahan," Labella said in a press conference yesterday.
(As I have said, the heads of local government units are given the authority to decide on whether or not to allow Misa de Gallo and I am allowing it, but we have to limit it to churches.)
"Wala'y mga kapilya, no other places except the churches kay mao man nay designated religious worship and so that it will be easy also to monitor compliance of the minimum health protocols," he added.
(No chapels will be allowed, just churches, because these are the designated places for religious worship and so that it will be easy also to monitor compliance of the minimum health protocols.)
Presidential spokesman Harry Roque said earlier the national government will leave it to LGUs to decide on whether or not to allow dawn masses this month.
Yesterday, Labella met with pastoral representatives in collaboration with the Archdiocese of Cebu, police, Emergency Operations Center, barangay officials, among others, to draw plans for the Misa de Gallo.
As someone who attends Misa de Gallo, Labella said another important aspect that needs to be looked into is the schedule of Masses. In the past years, some churches held the Mass at 4 a.m., 4:30 a.m., 5 a.m., and even 6 a.m.
Labella said he wants to unify the schedule this time around owing to quarantine restrictions.
"Kini karon, because of the observance of the minimum health protocols, akong gusto nga usahon lang gyud. Synchronized. Tanang simbahan magdungan. Kung alas singko, alas singko. Kung alas kwatro, alas kwatro. Para sa atong pag-observe sa atong minimum health protocols sayon," Labella said.
(This time, because of the observance of the minimum health protocols, I want a unified schedule. All churches must synchronize their schedule. If it's 5 a.m., all churches must celebrate the Mass at 5 a.m. If it's 4 a.m., all must follow the schedule. This is to make it easier for us to monitor observance of health protocols.)
Given the development, Labella said adjustments will also have to be made on curfew hours.
In Lapu-Lapu City, Mayor Junard Chan also wants a unified Mass schedule and to have the Masses held closer to sunrise.
Chan is set to meet parish priests in the city today to discuss the protocols and guidelines to be implemented at churches.
"Ato silang hangyoon nga ang simbang gabi isibog nato ang oras kay kasagaran sa simbang gabi alas tres o alas kwatro. Kaning mga orasa, oras pa sa curfew… atong hangyoon nga ari ta sa mga alas 5 or alas 5:30 ba," Chan said.
(We will ask them to move the schedule because most of the Masses are being held either at 3 a.m. or 4 a.m. These are still covered by the curfew. We will ask them to move the mass either at 5 a.m. or 5:30 a.m.)
Back in Cebu City, Labella said another aspect that also needs to be decided on is the number of churchgoers allowed inside the church. Under modified general community quarantine, churches are allowed only 50 percent of their capacity.
"Mao nay atong i-discuss karon together with the representatives on how to manage because considering sa number of churchgoers in the Misa de Gallo, I think musobra gyud sa 50 percent. So atong tan-awon og unsaon na nato pag-addresss nga concern," he said.
(That's what we will have to discuss with church representatives – how will manage – because considering the number of churchgoers in Misa de Gallo, I think it will really go beyond 50 percent.)
He said multiplier forces, in addition to the pastoral security groups and police, will be assigned in certain churches so that protocols will be enforced strictly, especially in major churches that are near residential areas like the Cebu Metropolitan Cathedral.
In Lapu-Lapu, Chan said only 50 percent of the church's capacity will be allowed to uphold social distancing strictly. — Le Phyllis F. Antojado, JMO (FREEMAN)