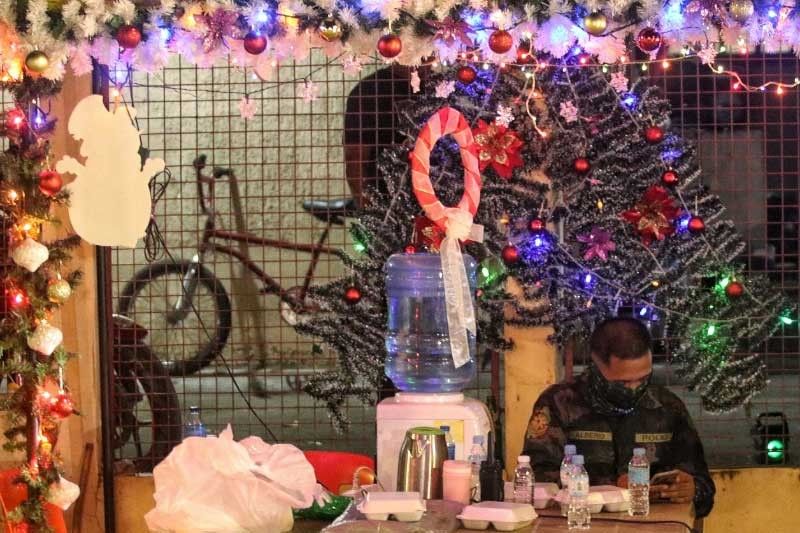 A checkpoint in Barangay Mabolo, Cebu City is spruced up with decors to bring in some Christmas spirit.
Aldo Nelbert Banaynal
CCPO chief raises concern over Misa de Gallo
CEBU, Philippines — Cebu City Police Office (CCPO) Director Josefino Ligan has raised concern on the additional workload for the police force if Misa de Gallo would push through.
Among his concerns is the number of people attending the dawn masses since they no longer have augmentations.
Aside from that, Ligan said dawn masses will also violates the curfew hours.
"On a personal note, Simbang Gabi is a violation of curfew hours. So, I don't think nga ipadayon ang Simbang Gabi kay daghan ang bantayanan sa kapolisan. It will be an additional workload for the police force," Ligan said.
However, if allowed by the Inter-Agency Task Force, Ligan said they will be coordinating with the Emergency Operations Center (EOC) for the preparations.
They will also be asking help from the force multipliers including barangay peace and security officers (BPSOs) to help the police in the implementation of health standard requirements.
"Admittedly, we need to co-exist with the virus naman. Ang pagpanita napod ani dili naman makaya sa polis ra, so a force multiplier will be tapped. Of course the responsibility sa mga kabarangayan dapat involve gyud nato sila," he added.
Cebu City Mayor Edgardo Labella earlier said he will just wait for the IATF to issue guidelines on the holding of Misa de Gallo.
He said he has already communicated with the National IATF and he expects a pronouncement on the issue soon. — GMR (FREEMAN)