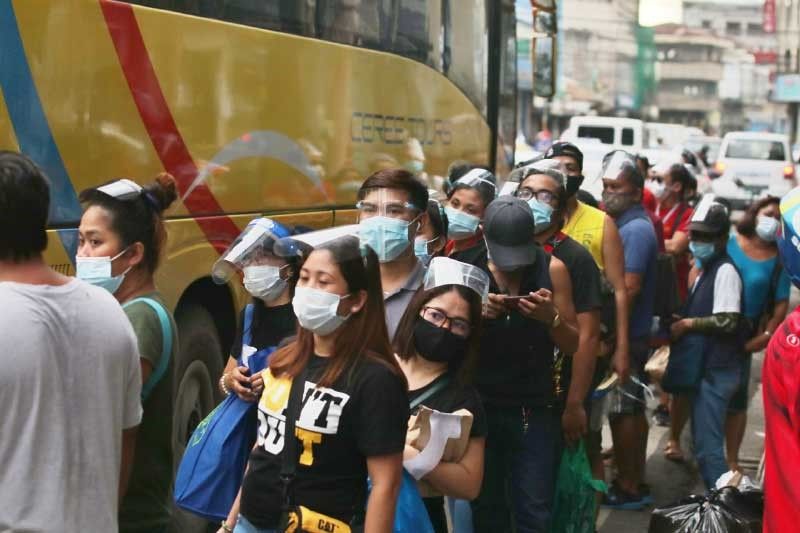 Commuters queue as they wait for buses in downtown Cebu City Wednesday. The city government has allowed the return of 1,355 traditional PUJs provided they meet the requirements of the LTFRB and pass the evaluation.
Aldo Nelbert Banaynal
Traditional jeepneys in Cebu City: Group assails PUJ limitation
CEBU, Philippines — A transportation group in Cebu City objects to the decision of the city government to limit to 1,355 the number of traditional jeepneys that will be allowed to return to the streets.
Clifford Niñal, captain of Barangay San Nicolas and board member of the Cebu Integrated Transport Service Multi-purpose Cooperative (CITRASCO), said the 1,355 units that will be subject to evaluation are not enough to serve the commuters in the city.
He also pointed out that this limitation would mean many drivers would still remain jobless.
Up to 5,000 traditional jeepneys served commuters in Cebu City before lockdowns stopped public transportation in March.
"Gamay ra kaayo nang one thousand plus busa daghan kaayo ang dili gihapon maka-drive. Mag-unsa naman lang intawn ang ubang PUJ drivers?" Niñal said.
(The 1,000 plus jeepneys are very few. What will happen to the other PUJ drivers?)
Jeepneys that will pass evaluation can return to the city's streets in November.
Mayor Edgardo Labella said earlier that the 1,355 is just the first batch of jeepneys and more may be allowed to return if assessment results would be favorable.
"That's for a start. Magsugod sa ta sa 1,355. Atong plano ani, it should be gradual. Hinay-hinay ba," he said.
(That's for a start. We will begin with 1,355. Our plan to do it gradually, slowly.)
Labella also said earlier that the city will help find work for drivers who will remain jobless. He has tasked the City Administrator to help refer or recommend for employment drivers who are willing to drive other modes of transport like taxis.
Based on LTFRB records, only 4,000 of the 5,000 traditional jeepneys in Cebu City have an active franchise.
Remove Buses?
Niñal said more traditional jeepneys may be accommodated if the city government stops the operation of buses that now ply the streets of Cebu City.
"Dapat wagtangon na ang mga bus nga nagdagan sa city para daghan ang PUJ drivers nga makabalik sa ilang panginabuhian," Niñal said.
(They should remove the buses from the streets so that more PUJ drivers can return to work.)
Niñal said that that if the current situation continues, PUJ drivers have more chances of dying from hunger and poverty more than dying from the coronavirus.
Drivers of traditional jeepneys have since cried for help after being jobless for months.
Lockdowns in Cebu City began at the end of March when the city was placed under enhanced community quarantine. The return to another round of ECQ in June did not help either.
Committee
Last month, Labella ordered the creation of an Ad hoc committee that would study the return of the traditional jeepneys in the streets.
The committee is composed of the Cebu City Transportation Office, City Attorney's Office; Councilors James Cuenco and Niña Mabatid; and representatives from the Land Transportation, Franchising, and Regulatory Board; and Land Transportation Office.
Drivers of PUJs that will be allowed to travel will have to undergo a seminar with CCTO and have to undergo a rapid antibody test for COVID-19.
Once the jeepneys are in the streets, Labella said the "commandments" created by the Inter-Agency Task Force (IATF) and Department of Transportation (DOTr) will apply: Required wearing of mask and face shield, no eating, no talking, sanitation, adequate ventilation and frequent and proper sanitation, no asymptomatic passengers, and appropriate distancing. — JMO (FREEMAN)