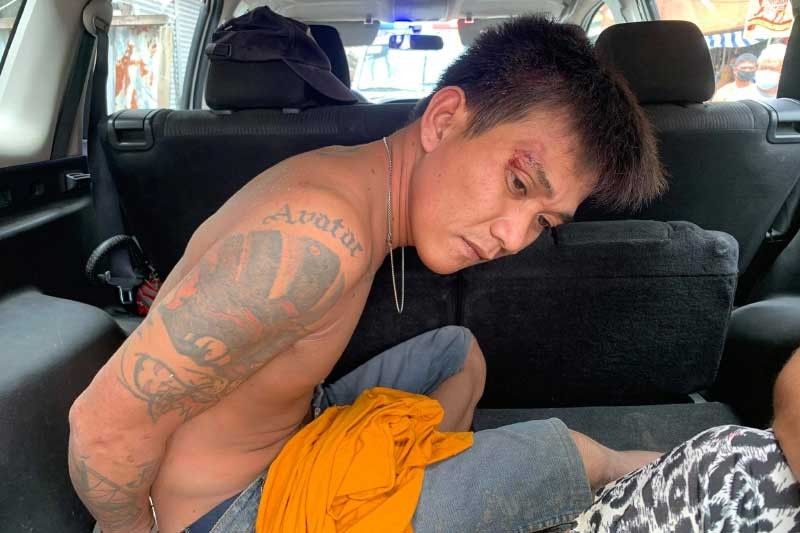 Police arrest Oliver Basak few hours after he and two other detainees escaped from Mabolo Police Station Monday dawn. The other escapee, Roberto Ludong, was killed in a shootout with cops while their companion, Nico Baylosis, remains at large.
Romeo D. Marantal
1 of 3 escapees slain, another recaptured
CEBU, Philippines — A jail escapee was shot dead while another one was arrested during a manhunt operation against three men who escaped the jail facility of the Mabolo Police Station yesterday dawn.
Police Major Juanito Alaras, Station Commander of the Mabolo Police Station, identified the escapee who died and who also stood as the mastermind of the escape as Roberto Cadu.
Alaras said it all started at around 2:30 a.m. yesterday when the three detainees managed to escape by cutting the metal grills of the cell using a hacksaw blade.
"Gi-timing gyud nila gabii nga ga-ulan. Naa say daghang mga complainant nga gi-asikaso atong investigators, so mao to nakahigayon jud sila sa pagsibat. Duha ni sila nga taga-Carreta,usa ka taga Barangay Luz. Unya pag-conduct nato ug hot pursuit inabagan sa information sa community, na-identify nato ang duha nga naa diri (Baragay Luz)," said Alaras.
During the hot pursuit operation, Cadu reportedly decided to shoot it out with the policemen when he was asked to surrender.
Cadu's co-escapee, Oliver Basak, surrendered. The remaining inmate, Nico Baylosis, remained at large as of this writing.
Alaras said these inmates are facing charges of selling illegal drugs and they were just awaiting for their swab test result before they will be turned over to the City Jail.
"Sa tanan sa community or kinsa may nakaila aning mga tawhana, kung pwede, tawag lang sa atong station. Ongoing gihapon atong manhunt. Kung makadawat lang mi ug report, amo jud ng respondehan," said Alaras.
There were 41 inmates inside the Mabolo Police Station cell and Alaras said the hacksaw used by the inmates could have been smuggled through the food deliveries given to them.
In a separate interview, Police Colonel Josefino Ligan, CCPO Chief, has ordered an investigation on the jail officers to see if they have liabilities on the incident
"Katong duty sa panahon nga nitakas tung mga piniriso, ato to silang imbestigahan. Nag direktiba nako kang Major Alaras na paimbestigahan, kay definitely naa to silay administrative liability kay dili to mahitabo ang pagtakas kung sakto lang ang pagbantay," said Ligan.
At present, Alaras said they are now strengthening the grills of the cell to avoid the incident from happening again. — GAN (FREEMAN)