DOH-7 against move to reduce distancing in public transport
September 17, 2020 | 12:00am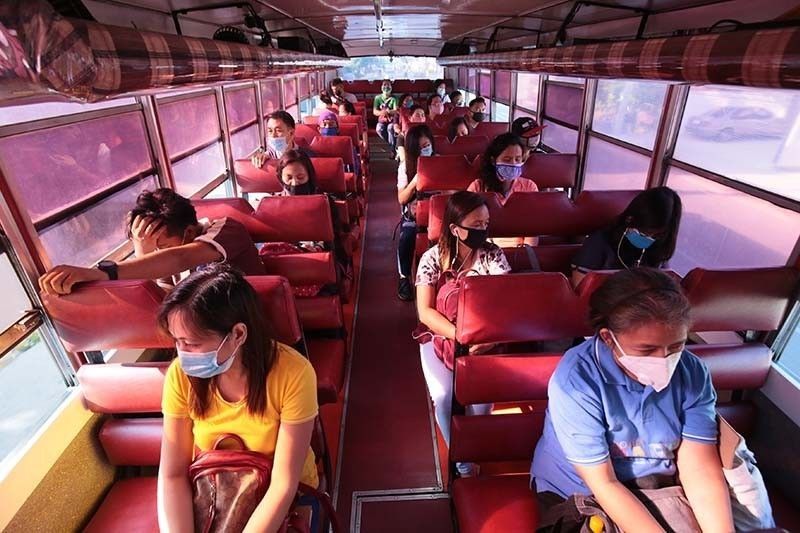 CEBU, Philippines — If Cebu City wants to keep its curved flattened, it should not relax its guidelines on social distancing in public transport until at least the end of this month, Department of Health-7 chief pathologist Dr. Mary Jean Loreche said.
The Department of Transportation earlier recommended the reduction of distance between commuters inside public utility vehicles from one meter to 0.75 meter starting last September 14. This will be reduced further in the weeks to come. The recommendation has been approved by the Inter-Agency Task Force for the Management of Emerging Infectious Diseases
"It is too early for us to reduce that distance even as we have already flattened the curve knowing that we are just a baby in terms of MGCQ. Ilang linggo pa lang naman," said Loreche.
Loreche urged Cebuanos "to tighten their belts" in terms of pushing for and following all the minimum health standards.
"Kailangan pa nating maghigpit. Higpitan natin ang ating sinturon muna," she said.
Loreche said if Cebu City can keep the curve flattened until the end of this month, then it can gradually shift to the new distance set by DOTr.
"We want to maintain it na sana tuloy-tuloy (flattening of the curve). Let's see after this month, with all the movements, if still flattened (curve), we can gradually shift to do that granting it will not impact on what we are doing to control (the transmission)," she said.
She added that DOTR's premise is that when riding public wears face masks and face shields, then the recommended one-meter distance by the World Health Organization is no longer needed.
However, Loreche also said that based on studies, physical distancing up to two meters, together with the face mask and face shield, can reduce the transmission of COVID-19 virus by 90 to 93 percent. With hand washing, that makes the reduction of transmission to 98 to 100 percent.
Loreche, though, said she respects DOTr's reasons, saying they are also experts in their own field.
Some medical groups have expressed opposition on the implementation of the reduced distance in public transportation that IATF met last Tuesday to discuss about the matter.
IATF's recommendations regarding appeals have already been submitted to President Rodrigo Duterte.
Presidential Spokesman Harry Roque, in an interview over CNN Philippines yesterday, said that when IATF approved it last week, there was no controversy. This was only after the medical groups made an issue out of it.
Roque said Duterte is expected to make his decision to revoke or continue the implementation of this reduction of distance in public transportation today, September 17. — JMD (FREEMAN)