In Cebu City, 5 baragays affected: Landslides, flooding hit Metro Cebu
September 17, 2020 | 12:00am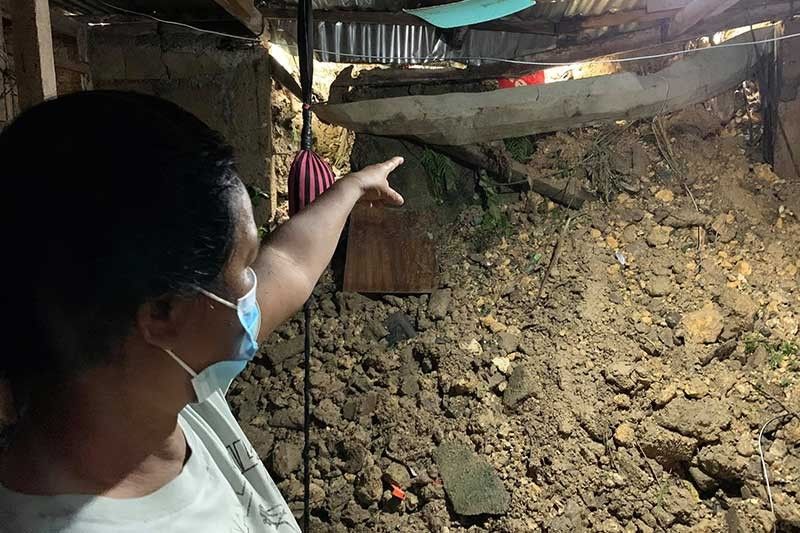 CEBU, Philippines — Torrential rains brought by tropical storm Leon evening on Tuesday, September 15, triggered landslides in five barangays in Cebu City, prompting the city police to form a search and rescue team Wednesday morning.
Ramil Ayuman, head of the City Disaster Risk Reduction and Management Office (CDRRMO) said that while no one was hurt in the landslides, at least 29 families in Barangays Talamban, Kalunasan, Busay, Lahug, and Guadalupe were affected.
Several of these families had to seek shelter at evacuation centers.
"Ang nakanindot lang nga wa gyu'y mga casualty, but di ta ganahan moabot ana," Ayuman said.
(The positive news is that no one died but let's not make it reach that point.)
The residents affected were given food with the help of the Department of Social Welfare and Services.
Ayuman said that depending on assessment, they may receive materials to help them fix their homes
Breakdown
The landslide damaged two houses and affected four families (12 individuals) in sitio Cadahuan in Barangay Talamban.
At least 70 individuals were also affected in Barangay Kalunasan – three families (13 individuals) in sitio Ybarita and nine families (57 individuals) in sitio Lareha.
The landslide in Sitio Rotola, Barangay Guadalupe affected 10 houses and 13 families.
No damage was recorded in Upper Laguerta, Barangay Lahug but a landslide damaged a motorcycle in Downviews Subdivision in Barangay Busay.
Aside from the landslides, the downpour Tuesday also flooded many areas in the city with water levels reaching eight feet in sitio Tambisan in Barangay Tisa, affecting three families.
Ayuman said that in 2015, the water level in the area reached five feet and in 2019, reached up to six feet.
"Ang sa flooding diri gyud ta ni-concentrate sa Tisa kay I think for 21, 22 years nga grabe, maoy pinaka worse nahitabo ron sa sitio Tambisan with eight feet ang gitas-on sa (tubig) so lapas gyud kaayo," Ayuman said.
(Flooding concentrated in Tisa and this is the worse in 21, 22 years with floodwaters reaching eight feet.)
Ayuman said several properties were affected and the barangay is now assessing the extent of damage.
Action
Ayuman said the city has requested all 80 barangays to submit a contingency plan that would address calamities such as landslides and flooding. These plans will be evaluated by CDRRMO.
"Di ko ganahan mu-comment og alarming, but I think we need to address ani nga problem. That's the reason why sa atong investment plan sa disaster program nato, naa gyud tay mga activities part of the mitigation program. In partnership ni with the City Agriculture Office," Ayuman said.
(I don't want to comment that it's alarming but I think we need to address this problem. That's the reason why the investment plan in our disaster program has activities that are part of the mitigation program. This is in partnership with the City Agriculture Office.)
As far as sitio Tambisan is concerned, Ayuman said they are coordinating with barangay officials to revisit the drainage plan of the ongoing construction of highland establishments.
"Atong tan-awon kung unsay mga possible option ana. Do we have to stop or i-recommend nato i-hold sa ba while we're trying to revisit kay padulhog man gud ni ang sitio Tambisan and 1,000 ka mga residents ang naa diha," he said.
(We'll see what the options are. Do we have to stop or should we recommend to hold construction while we revisit, because the area is sloping and there are 1,000 residents there.)
On the part of the police, CCPO Director Josefino Ligan said the search and rescue team was deployed primarily to Tisa and Talamban.
"Nagpadala dayon ta'g disaster team didto, mga members sa Station 10, pero karon, tanan station ako na gipaandam. Naa pa tay additional nga personnel composed of people from CMFC (Cebu City Mobile Force Company) and city headquarters," he said.
(We sent a disaster them immediately there. The team is composed of personnel from Station 10 but I've already directed all stations to prepare. We will have more search and rescue personnel from the Cebu City Mobile Force Company and city headquarters.)
Two teams were formed out of the personnel from CMFC and city headquarters.
Tropical Storm Leon
The heavy rains on Tuesday night also flooded areas in Mandaue City and Lapu-Lapu City, but rains in the past three days caused the landslides primarily, said PAGASA-Visayas weather specialist 1 Netherlen Delfin.
He said Leon enhanced the Southwest moonson or Habagat in areas in the Visayas.
"Tungod kay sigi ta og uwan sulod sa tulo ka adlaw, mao na naay flooding ug ang yuta labi na sa mountainous areas kay mohumok and may result to landslides," Delfin said.
(The rains in the past three days caused flooding and softened the soil in mountainous areas, which resulted in landslides.)
Delfin said that based on 24-hour data, the rainfall on September 16, 2020 reached 34 millimeters or about 170,000 barrels.
She said the amount of rainfall from September 1 to 15 is already about 40 percent of the expected 192.1 millimeter of rainfall for the entire month.
Leon is expected to be out at the Philippines Area of Responsibility today, September 17 but Cebu can still experience scattered rainshowers and cloudy skies, Delfin said. — Mitchelle L. Palaubsanon and Iris Hazel M. Mascardo, JMO