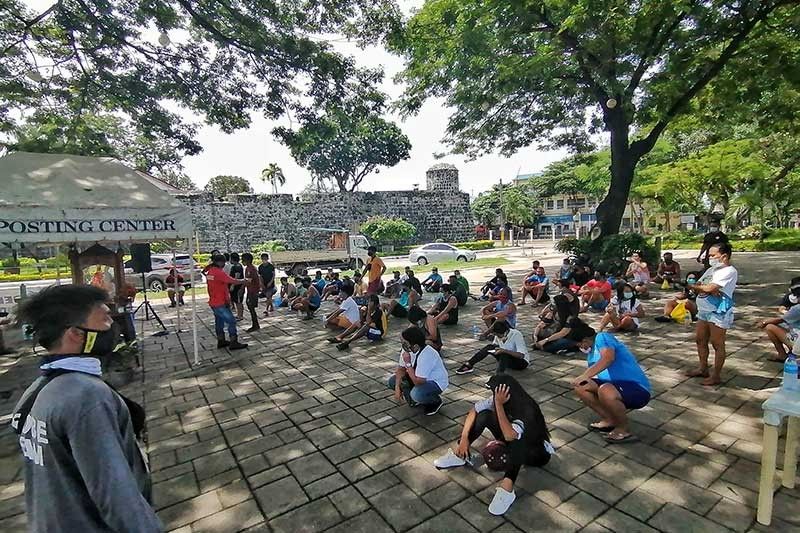 Quarantine violators are gathered at the Plaza Independencia to undergo a seminar. The Cebu City Police Office reported that the number of violators has decreased by at least 70 percent after the ordinance penalizing violators took effect last week.
File
Quarantine violators down by 70 percent
CEBU, Philippines — The number of quarantine violators in Cebu City has significantly decreased this week, according to Cebu City Police Office (CCPO) director.
Police Colonel Josefino Ligan said his office has logged 198 violators or 70 percent decrease this week, way lower than the over 600 violators over the past few weeks.
The 198 violators were arrested from August 19 to August 21, he added.
The violators, Ligan said, will face charges for violating City Ordinance 2566, which took effect on August 16.
He attributed the decrease in the number of violators to the new policy imposing fine and imprisonment.
For first offense and second offense, an administrative fine of P500 and P1,000, respectively, which shall be paid to the City Treasurer's Office (CTO).
For third offense, a fine of at least P3,000 or 30 days imprisonment, or both at the discretion of the court.
But before CO 2566 was amended on August 19, violators were slapped with hefty fines.
The penalty for first-time violators is P1,500 in fine or 30 days in prison. For the second offense, the violator will pay a fine of P3,000 and will serve 30 days in jail. For the third offense and multiple offenders, they will be fined P5,000 and serve 30 days in jail.
Despite fewer violators, Ligan said strict measures remain at checkpoints and during patrol operations.
"If quarantine restrictions are eased, the number of violators will surely increase," he said. b