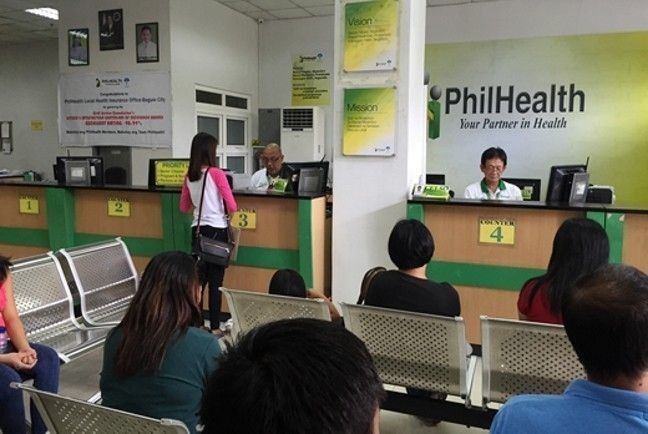 The alleged text messages from PhilHealth read: "Benefit payment notice for the members for its confinement last April 15 and 16 of this year, respectively, at Vicente Sotto Memorial Medical Center. We already paid P5,450 to your hospital. Check your billing statement to see if the same amount was deducted from your bill as PhilHealth benefit. If not, ask your hospital."
STAR/File
PhilHealth tied to bill anomaly
CEBU, Philippines — As Senate investigation into alleged multibillion-peso corruption at Philippine Health Insurance Corporation rolls, two Cebuanos have come out to say they received text messages from PhilHealth that indicated they were hospitalized when, in fact, they were not.
The alleged text messages from PhilHealth read: "Benefit payment notice for the members for its confinement last April 15 and 16 of this year, respectively, at Vicente Sotto Memorial Medical Center. We already paid P5,450 to your hospital. Check your billing statement to see if the same amount was deducted from your bill as PhilHealth benefit. If not, ask your hospital."
The message also included a reference number.
Merlita Galvez, a resident of Barangay Labangon, Cebu City, told The FREEMAN that she received the message via the cellphone number of her child but added that none of her family members had been confined in a hospital on those dates.
Galvez, however, said they were swabbed that time after someone in the neighborhood tested positive for coronavirus.
"Gi-swab ming tanan sa among dapit, katong pinakaunang gi-COVID gyud diri sa amoa. Pero wala gyuy maski usa namo sa family nga naadtog Sotto, either swab or na-hospital, maong nakurat kaayo ko pagpakita sa akong anak sa text message. Wala pud mi ni-avail or nisuwat og information about sa among PhilHealth," said Galvez.
When she sought clarification from PhilHealth, she was allegedly told it was a system-generated message and that it, in fact, covered the swab test which she took.
She said PhilHealth apologized for using the word "confinement."
As for the hospital, it allegedly told Galvez that it did not have any record of her or her family's hospitalization that time.
Labangon barangay captain Vic Buendia said the swab tests in his barangay were performed by City Health Department personnel early into the pandemic. It was only starting July that the testing was conducted by Department of Health personnel.
Buendia said he did not have any knowledge about the alleged receipt of the text message or where the swab samples were taken.
Another resident, Claire Cabalda, also claimed receiving a similar message from PhilHealth.
When she was informed that the message was for her swabbing, Cabalda's doubts persisted because she was the only one who received the message when there were about 30 of them swabbed.
"How come of the people na kadungan nako, they were not able to receive such notification? Even those colleagues who underwent RT-PCR more than once but twice never got any text or notification from PhilHealth?" she said.
Philhealth explains
Dina Cinchez, PhilHealth Regional Office-7's public relations officer, explained that what Galvez and Cabalda received were system-generated notifications.
Cinchez said the hospital had the right to claim reimbursement or payment from PhilHealth as it was accredited to conduct testing.
Only Vicente Sotto Memorial Medical Center in Cebu City was accredited to do COVID-19 testing by
the DOH-Research Institute for Tropical Medicine as of April.
The FREEMAN contacted VSMMC via phone, email and Facebook yesterday and was told that the inquiry on the matter has been forwarded to the Office of Strategy Management for action.
Cinchez said it is unfair that the issue be included as part of the corruption allegations against PhilHealth when it was the latter, not the members, that paid the testing facility.
Benefits
PhilHealth members are entitled to the benefit package for Sars-Cov-2 testing by RT-PCR based on applicable DOH guidelines. Filipinos who are not yet registered with PhilHealth are qualified, too, provided that they complete member registration upon availment of the benefit package.
The amount indicated in the text messages sent to the two Galvez and Cabalda no longer applies these days. Now, the amount would depend on whether the test kits were provided by the LGU or company or if the testing is made by accredited laboratories.
The adjustments made are based on PhilHealth's "continuing consultation with stakeholders and infectious disease experts, increased availability and affordability of testing kits in the market, and increased number of qualified facilities to do SARS-CoV-2 testing."
As approved by the PhilHealth Board of Directors, the new rates are as follows: P3,409 for all services for testing being produced and provided by the testing laboratory, P2,077 for test kits donated to the testing lab, and P901 for test kits that are donated to the testing laboratory, cost of running the laboratory and RT-PCR machine for testing included in the facility budget.
"The package is for costs attributable to services related to testing such as clinical assessment, specimen collection, specimen transport and materials such as PPEs and test kits," it said.
Aside from that, there is also a separate package for COVID community isolation benefits, and financial risk protection for Filipino health workers and patients against COVID-19, as well as those in-patient care of probable COVID patients.
Shortage fears
Earlier, Governor Gwendolyn Garcia raised the concern regarding false COVID-19 claims that might result in shortage of funds and lead to stalling the implementation of projects under the Universal Health Care (UHC) Law.
Garcia said she received reports of families agreeing to tag their family members to be COVID-19 patients, even if they were not, to be able to avail of the PhilHealth packages.
Cinchez, reacting to this, said they have already asked the National Bureau of Investigation's assistance in those questionable diagnosis and claims, not only on matters related to COVID but also other diseases.
She said PhilHealth also has its own fact-finding personnel who are looking into these reports.
Integrity
Dr. Mary Jean Loreche, DOH-7 COVID spokesperson, said in a weekly presser that if these "false diagnostics" are confirmed, then they are fraudulent and illegal.
"That would be fraudulent. That is illegal if himuon sa usa ka hospital or doctor to write their diagnosis of COVID, when in fact the patient is not COVID," Loreche said.
Loreche, however, expressed optimism that the integrity of the doctors and hospitals will not allow them to use COVID for illicit purposes.
"PhilHeath will also be checking on that diagnostics, including the symptoms of the patients when they were admitted and God forbid, if they die, that would also be included in their evaluation. I would discount that unless there is proof, then DOH will do their own checking," Loreche said. — JMD (FREEMAN)