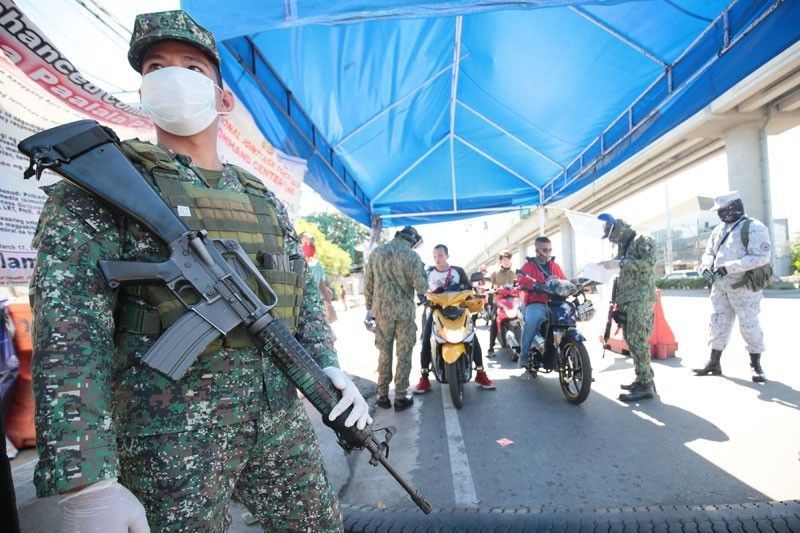 Also still in GCQ in Cebu are Lapu-Lapu City, Mandaue City, Talisay City, Consolacion, and Minglanila, while the rest of Cebu Province will be under modified GCQ.
STAR/Michael Varcas, file
Mayor calls for vigilance as Cebu City returns to GCQ
CEBU, Philippines — The Inter-Agency Task Force for the Management of Emerging Infectious Diseases (IATF-MEID) placed Cebu City back under general community quarantine this August with Mayor Edgardo Labellas urging residents to unite and be more vigilant.
During his announcement yesterday, President Rodrigo Duterte could not help but take a swipe at Cebuanos for being stubborn.
"Kamo mga taga Cebu nasuko pa sa ako, nganong gisaway ta mo… ngano di mo sawayon nako nga during the critical period, kit-an na ko ang Cebu, freewheeling, murag walay COVID. Inom pa, nagsugal," Duterte said in a taped video address streamed yesterday morning.
(Those of you in Cebu who are still mad at me for calling you out… why would I not call you out when, during the critical period, you were acting like there was no COVID. You were drinking, gambling.)
Duterte was referring to the first two months in April and May when the country was battling the surge of COVID-19 cases during which he reportedly received reports that Cebuanos were ignoring quarantine regulations.
When Cebu was placed under GCQ in early June, the number of cases spiked, particularly in Cebu City, which prompted the IATF to put the city back under enhanced community quarantine on June 16.
Yesterday, after the situation improved during stricter quarantine, the IATF decided the city can return to GCQ starting August 1, upon the recommendation of Secretary Roy Cimatu, its overseer in Cebu. The ailing economy was also taken into consideration.
Also still in GCQ in Cebu are Lapu-Lapu City, Mandaue City, Talisay City, Consolacion, and Minglanila, while the rest of Cebu Province will be under modified GCQ.
Acknowledging that people would need to work, Duterte reminded everyone to observe the necessary health protocols.
"Baka maghawaan na naman kayo, walang katapusan. Konting ingat lang… do not mix together and observe the social distancing rule," he said.
(This will not end if you will be infecting each other. Just try to be careful… do not mix together and observe the social distancing rule.)
Unity, Vigilance
Labella, for his part, called on residents to be more vigilant and to not be complacent.
He said the decision of IATF to put the city back under GCQ "recognizes the strides we made together in dealing with the pandemic. Together, we are able to slow down transmission, improved our recovery numbers and assist vulnerable members of our community and those needed help."
He thanked frontliners in the city, Cimatu, Ret. General Mel Feliciano, and the rest of the regional IATF.
"More needs to be done. Let us continue to strictly observe basic health protocols, wear mask, regularly wash our hands, stay at home, go out if only it's really necessary and observe physical distancing when out for essential errands," Labella said.
"Let us be more vigilant. And we should consider this as a challenge to all of us. Usa kini ka hagit nga atong atubangon; atong pakigbuntugan kining invisible enemy. With more reason, we should be more careful and be more alert so that this enemy can never win against us," he said further.
Vaccine
Duterte asked Cebuanos to endure the GCQ classification further alongside NCR, Bulacan, Batangas, Cavite, Laguna, and Rizal in Luzon, and and Zamboanga City in Mindanao.
The rest of the country is now under MGCQ.
Duterte said a vaccine for COVID-19 can be expected by December as several pharmaceutical groups are now the third phase of trial.
"Ang spike ng Cebu, ang taas. Nitong ngayon, sabihin ko sa inyo, magtiis-tiis lang kayo, nandyan na eh. Yan ang pinag dadasal ko sa Diyos na for God to guide, the guiding light for these guys make the vaccine," he said.
(The spike in Cebu was high. This time, let me tell you, sacrifice a bit more because it's already there. That's what I've been asking God to guide those making the vaccine.)
Duterte said that once it becomes available, the vaccine will be distributed for free and the poorest of the poor will be prioritized, alongside men in uniform, and then the middle class.
To avoid politicking, especially at the barangay level, he designated the Armed Forces of the Philippines to distribute the vaccine with the help of the Department of Health.
Finance Secretary Carlos Dominguez III said the country can finance the vaccination of 20 million people. — JMO (FREEMAN)