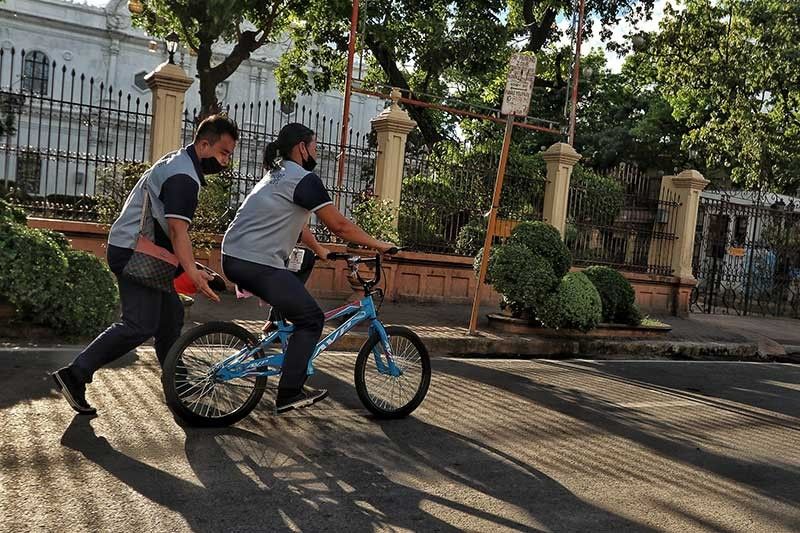 A man helps his co-worker learn how to ride a bicycle in Cebu City yesterday. As many residents of the city have done, the woman bought the bike to use on the road as public transportation remains very limited while the city is under general community quarantine.
Aldo Nelbert Banaynal
Labella to create group to study: Bike lanes soon
CEBU, Philippines — Good news for bike users in Cebu City. The city government is now taking the first steps to establishing bike lanes in its streets.
Mayor Edgardo Labella has announced that a group composed of enthusiasts and public officials will be created to study the areas and streets where bike lanes can be established and how the lanes can impact traffic.
"I will be organizing an adhoc group to make a study on the areas and streets where we can place designated bike lanes. Under the new normal, I think bike lanes would be helpful especially that bicycles have become a usual mode of transportation, besides it is more in attuned with environmental concerns," Labella said.
Labella said that the committee will be joined by Alma Barandog-Casimero, Cebu City Transportation Office (CCTO) head; former city councilor Gerardo Carillo; and Councilor Eugenio Gabuya, Jr.
Labella is set to issue an executive order on the matter.
"There should be guidelines that should be spelled out by the city in order to have them regulated to avoid accidents," Labella said.
On June 6, Labella suspended the mandatory registration for bicycles and prohibition of their use in Cebu City streets. The requirement for driver's identification card (ID) for drivers of public utility vehicles (PUV) was also suspended.
"I have suspended the registration because it calls for some kind of payment and times are difficult, so this is not the appropriate time for us to impose a burden on our commuters. Many do not have jobs, especially the 'no work, no pay' so it is just logical that we have to suspend the registration," Labella said.
Labella said that while bicycles would still have to be registered in the future, this will be without any fee and will only be for purposes of regulation.
More and more residents in the city have utilized bicycles as public transportation remains very limited under the general community quarantine.
Labella also directed the CCTO to facilitate the unimpeded operation of all types of PUV in Cebu City with special permits issued by the Land Transportation Franchising and Regulatory Board (LTFRB). JMO (FREEMAN)