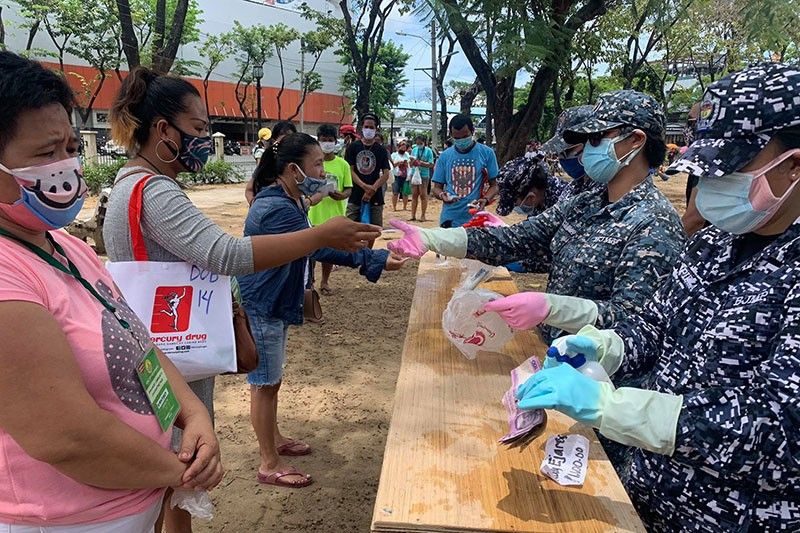 Jail personnel disinfect the items for the inmates of the Cebu City Jail at the drop off point in Fuente Osmena.
Romeo D. Marantal
Cebu City still leads in COVID numbers: 12 new cases in Cebu
CEBU, Philippines — Cebu logged 12 new coronavirus positive cases yesterday, April 21, seven of which are from Cebu City.
Mayor Edgardo Labella announced that one of the seven cases is from the fishport in Barangay Suba; two are from the Cebu City Jail; two are from San Antonio, Calamba; one is from Katipunan, Labangon; and one is from Hipodromo.
The patients from the city jail and Barangays Calamba, Labangon, and Hiprodromo are admitted in the hospital.
With yesterday's numbers, Cebu City now records a total of 173 positive cases, majority of which still come from sitio Zapatera in Barangay Luz.
Mandaue and Lapu-Lapu
Meanwhile, Mandaue City recorded three new cases from sitio Sili in Barangay Cambaro bringing its total cases to nine.
Patient MC07 is a 60-year-old woman, patient MC08 is a 20-year-old woman, while patient MC09 is a 16-year-old boy. They are reportedly related to the 70-year-old woman who tested positive earlier and who is now admitted at the Vicente Sotto Memorial Medical Center.
"The City Health Office and the CDRRMO has already disinfected and cordoned off the areas involved and has instructed them to undergo strict home quarantine, no one can come in and out of the said area," said the city's public information office.
The three new patients were asymptomatic as of yesterday.
The good news is that three patients from Mandaue have recovered from the disease.
In neighboring Lapu-Lapu City, Mayor Junard Chan reported that the city recorded two new positive cases yesterday – a 60-year-old resident of Barangay Gun-ob and a 15-year-old resident of Barangay Mactan.
Lapu-Lapu now has 13 COVID-19 cases.
"Kasamtangan na nga nag-contact tracing ug disinfection ang mga sakop sa City Health ug DRRMO haron sa pagsiguro nga dili mokatag ang virus sa maong lugar," Chan wrote on Facebook.
(Personnel of the city health office and DRRMO are tracing who the patients interacted with and disinfected the areas where they live to ensure the virus will not spread there)
Cebu City jail
In Cebu City, the city's jail's spokesperson, Jail Senior Insp. Jay Ylanan, confirmed that another jail guard tested positive for COVID-19. The Freeman has reported about the other jail officer on Tuesday.
The two jail guards are the new cases Labella announced yesterday.
Ylanan said that just like the other jail officer, the second one who tested positive also did not interact with the inmates as he was assigned outside when the jail was put on lockdown last month.
"Karon kay nag update naman gud ang result sa testing so positive gyud sa personnel, duha, katong taga gawas nga mga personnel nato," he said yesterday.
(The updated result showed that two personnel tested positive. They were assigned outside)
He said previously that when they implemented a lockdown last month, jail guards were assigned separately inside and outside the facility. Those inside could not go out and those outside could not go in.
Aside from the jail guards, two inmates at the jail also tested positive for COVID-19, one of whom has died.
Councilor David Tumulak said doctors from the City Health Office, Department of Health (DOH), and Bureau of Jail Management and Penology (BJMP) are now investigating the case to determine how the inmates and guards were infected.
Twenty-nine inmates are now being isolated at an annex building because they are experiencing fever but this is reportedly the time of the year when inmates become sick owing to extreme heat.
The new building can reportedly accommodate around 3,000 inmates.
Tumulak said precautionary measures are now in place at the jail, including disinfection of cells.
Since visitation is suspended, jail personnel are using the Fuente Osmeña Circle in uptown Cebu City as a drop off point for those who would want to send provisions to inmates. All items are disinfected and are brought to the jail by BJMP personnel.
Tumulak assured the inmates' families that the city will do its best to help the inmates. JMO (FREEMAN)