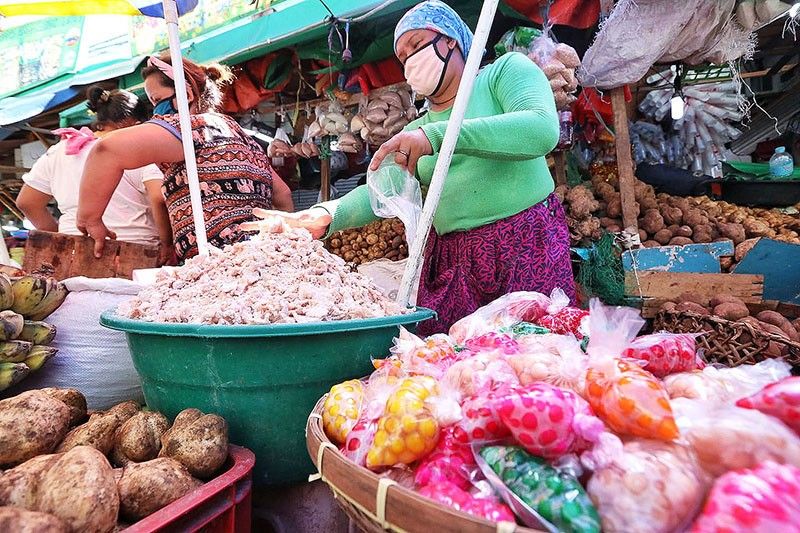 Vendors at Carbon Public Market in Cebu City start selling ingredients for binignit, a dish Filipinos like to cook during Holy Week. Observance of the Holy Week is unique to many this year as most places are under enhanced community quarantine due to COVID-19.
Aldo Nelbert Banaynal
Enhanced community quarantine in Cebu City: Extension possible
CEBU, Philippines — Cebu City Mayor Edgardo Labella is not discounting the possibility that the enhanced community quarantine (ECQ) in the city will be extended. This, however, will depend on how experts will assess the situation.
"We still have to assess the situation… I think there's a good effect of what we are doing. We still have to determine whether we really have to push through," Labella said yesterday.
President Rodrigo Duterte has extended to April 30, 2020 the ECQ in Luzon upon the recommendation of the national Inter-Agency Task Force on the coronavirus disease (COVID-19).
Labella said he agrees with the President's decision as it is anchored on studies by experts on the medical and economic dimensions of the crisis.
Cebu City is on its second week of ECQ, which started midday on March 28.
The ECQ, which suspended public transportation, is meant to limit the movement of people to stop the spread of COVID-19.
Cebu City has the most number of COVID-19 positive cases in the province with 23 cases recorded as of April 8.
Mandaue City has two cases; Lapu-Lapu City has three cases; and Talisay City, Cordova, and Consolacion has one case each.
No new COVID-19 positive case was recorded yesterday, April 8.
Labella reminded the public to still observe ECQ rules during the Holy Week. He said the government will not stop monitoring the situation and is prepared to respond to any incident.
"We will never stop monitoring and, at the same time, we will continue to pray hard, and monitor the situation because this is something we should not stop and ask God for divine intervention," Labella said.
Since the city is under ECQ, all churches are closed to the public.
"I would like to remind our people that while we do our religious duties like praying and fasting we should also continue to observe the protocols issued for us to stop the spread of the virus," Labella said.
He asked that those who observe the Holy Week stay at home and offer prayers and worship by watching the broadcast of services offered by the church.
"Let us continue our worship and observe the Lenten season without the usual procession and going to church because of the social distancing," Labella said. JMO (FREEMAN)