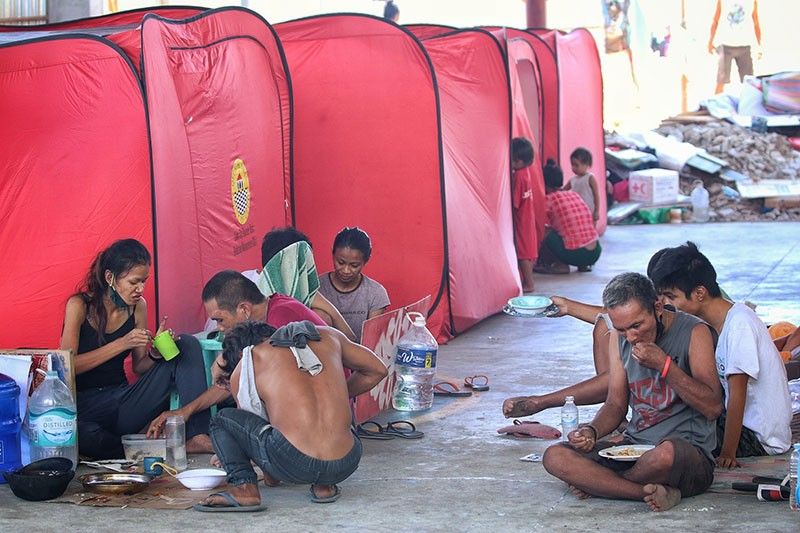 Around 44 homeless families are housed at modular tents set up at the gym in Barangay San Nicolas Proper in Cebu City.
Aldo Nelbert Banaynal
222 homeless now off city streets
CEBU, Philippines — At least 222 homeless people are temporarily sheltered at the sports complex of Barangay San Nicolas Proper, Cebu City in a bid to help stop the spread of COVID-19.
Barangay Captain Clifford Niñal said the individual have been staying at the complex since Friday last week.
The city government's anti-mendicancy group has exerted efforts to provide temporary shelter for the homeless.
The group has designated the sports complexes in barangays San Roque and San Nicolas Proper as temporary shelters.
As of yesterday, 175 family members and 47 individuals were rescued from the streets and were brought to the San Nicolas Proper gym.
Niñal said they have undertaken such action due to the increasing number of COVID-19 positive cases in the city.
"Maong gi-safety lang ni namo daan kay simbako og maoy matakdan," said Niñal.
"Safe man sad diri sa among gym kay amo man ning gisirado, so dili sila kadali-dali kagawas... bantay sarado ni sila," he added.
Niñal said these people can go out of the gym only if they have enhanced community quarantine (ECQ) passes.
He said the Philippine Red Cross provided them assistance yesterday, such as mats, toothpaste, soap, tissue, and blankets, among others.
Niñal said the barangay can take care of the street dwellers, but stressed that they also need support especially in providing them food.
He said some barangay captains also extended help by providing rice and water to the homeless.
He also requested the city for a water tanker to be placed in the area as they require the street dwellers to take a bath everyday. KQD (FREEMAN)