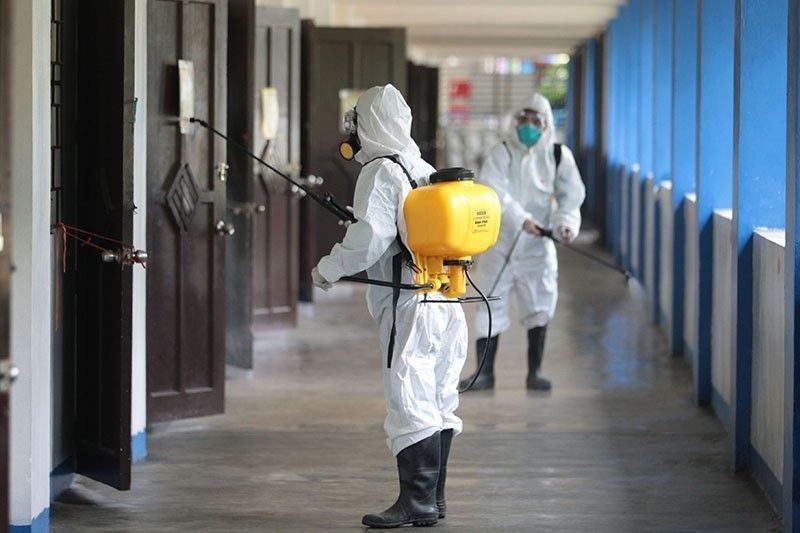 "Adunay usa nga positive apan re-tested na kadto. And buot ipasabot, positive na to sauna, giusab nila ug test… Wala ta mapun-i karong adlawa, sumala sa atong results sa mga machines that have run the tests. Wala ta mapun-i ug positive case," Garcia said during a press conference yesterday.
STAR/Michael Varcas, file
CEBU, Philippines — Cebu island did not register a positive coronavirus (COVID-19) case as of yesterday, said Governor Gwendolyn Garcia.
While one of the 45 swab samples tested yesterday turned out positive, the work done on the swab sample was already a re-test.
"Adunay usa nga positive apan re-tested na kadto. And buot ipasabot, positive na to sauna, giusab nila ug test… Wala ta mapun-i karong adlawa, sumala sa atong results sa mga machines that have run the tests. Wala ta mapun-i ug positive case," Garcia said during a press conference yesterday.
Of the 45 swab samples, 23 are from Cebu Province, 12 are from Cebu City, five are from Lapu-Lapu City, and five are from Mandaue City.
The tests were run at the Vicente Sotto Memorial Medical Center, the National Sublaboratory for COVID-19 in the Visayas.
Cebu Province
Meanwhile, at the province's four provincial hospitals and 12 district hospitals, only two admitted patients are exhibiting Severe Acute Respiratory Infection (SARI). Twenty-four others are exhibiting Influenza-Like Illnesses (ILI).
In municipalities and component cities, there are four SARI cases, 292 ILIs, and 94 persons under investigation (PUI).
The number of Persons Under Monitoring (PUM) has increased to 29,227.
Garcia said that the increase was because almost all municipalities have started reporting their daily PUM counts to the Provincial Health Office.
"Nisaka. Ngano man? Kay tungod sa atong panawagan gahapon nga daily reporting sa atong mga kalungsuran. Katong wa nag-report, ni-report na," Garcia explained.
She said those included in the recent reports are part of the last batches from international flights and travels from Cebu City who are not exhibiting COVID-19 symptoms. They are being made to undergo a 14-day quarantine only as a preventive measure.
Garcia urged the local government units of San Fernando, Tabogon, and Borbon to submit their reports to the province.
Meanwhile, 5,733 individuals from the entire province have completed the 14-day home quarantine.
The total number of COVID-19 cases nationwide has already reached 3,094 with 76 additional cases as of yesterday. Among these, eight have passed away and five have recovered.
DOH
Yesterday, the Department of Health has announced its efforts with other government agencies to conduct more tests and prepare more quarantine facilities, as it ramps up the country's fight against COVID-19.
"We expect that the number of confirmed cases in the country will continue to rise as we test more people," said DOH Health Promotion and Communication Service director and special assistant to the Secretary, Director Dr. Beverly Lorraine Ho.
In a statement, DOH also emphasized that mass testing will be conducted to target those who are in need-all persons under investigation and the vulnerable populations, including health care workers who are exposed to confirmed cases.
DOH said it is also intensifying its efforts to analyze existing data for a more accurate assessment of the current health situation and working with other government agencies to construct quarantine facilities to accommodate more confirmed cases.
DILG Secretary Eduardo Año, in another statement, said the Department of Interior and Local Government (DILG) and the Department of Budget and Management (DBM) have signed Joint Memorandum Circular No. 1 series of 2020 that provides greater leeway in the utilization of the 20 percent development fund of LGUs in view of the COVID-19 global pandemic.
DILG said LGUs may now utilize its 20 percent development fund to undertake critical, urgent, and appropriate measures to curtail and eliminate the threat of COVID-19 in their areas.
"With the signing of the JMC, we are giving LGUs more flexibility in using their development fund for disaster preparedness and response efforts to contain the spread of coronavirus and to continue to provide basic services to their constituents who are severely affected by the enhanced community quarantine," Año said.
According to Año, DILG received reports from its different regional and field units that several LGUs have expressed concerns on whether their quick response funds can last until mid-April given the huge expenses they incur daily in providing relief goods and other assistance to thousands of residents affected by the crisis.
Under the JMC, LGUs may use their 20 percent development fund to procure personal protective equipment, hospital equipment and supplies, disinfectants, sprayers, disinfection tents and other supplies or misting equipment, and COVID-19 testing kits, reagents and equipment.
Food, transportation, and accommodation expenses of medical personnel and other LGU personnel directly involved in the implementation of COVID-19-related initiatives, as well as food assistance and relief goods for affected households may also be charged to the fund.
Expenses for the construction or rental of additional spaces to accommodate COVID-19 PUIs and PUMs, as well as for the operation of stand-alone or mobile testing laboratories may also be funded out of the development fund.
In addition, the fund may also be utilized to acquire temporary shelters for the homeless, personnel training in the conduct of COVID-19 testing, and other related trainings, and other necessary COVID-19 related programs, projects, and activities.
DOH-7 Director Jaime Bernadas continue to remind citizens to follow strictly existing containment measures such as social/physical distancing to break the chain of transmission, and regular hand washing to prevent the spread of infection in home and in the workplace.
Bernadas also encouraged family members and contacts of confirmed cases to cooperate with local contact tracing teams as the teams are just doing their job to monitor and check on the well-being of residents. He said never was the intention of the tracing teams to shame or single out COVID-19 victims.
"We remind everyone that we can do something to prevent ourselves from getting infected. We don't have to wait for a confirmed case in our respective communities before we become vigilant as it may already be too late. We can survive COVID-19, but it is our choice if we let this virus make us lose our humanity," Bernadas said.
Don't Politicize
Meanwhile, Senator Bong Go reminded leaders not to politicize the giving of aid to the communities.
"Pakiusap ko lang, huwag na pong haluan ng pulitika ang pagtulong. Hindi po iyan nakakatulong sa sitwasyon natin ngayon. Huwag na natin pahirapan pa ang mga tao, tumulong nalang tayo na pabilisin ang pagbigay ng tulong sa kanila," Go said.
Go has appealed to the executive branch to extend a one-time 'Bayanihan' financial assistance to cities and municipalities in the country.
The Bayanihan financial assistance will help ease the socio-economic impact of the COVID-19 crisis, especially to indigents and marginalized sectors. JMO (FREEMAN)