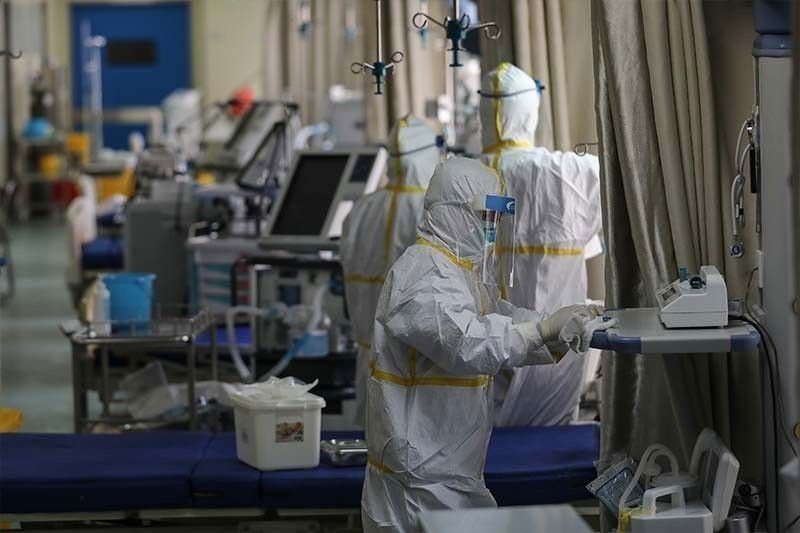 On March 27, the day Vicente Sotto Memorial Medical Center (VSMMC) in Cebu City began administering its own coronavirus tests, Central Visayas had 22 confirmed cases. Six days later, on April 2, that number rose to 34, which means a spike of 55 percent.
STR/AFP, file
COVID rate slower in Central Visayas
CEBU, Philippines — While the number of confirmed COVID-19 cases in Central Visayas continues to rise, the pace at which they are increasing proves to be way slower than the national average, at least based on data from the last six days.
However, DOH-7 Director Dr. Jaime Bernadas warned that there is no cause for celebration just yet.
"The slow increase in the detected positive cases should not be taken as a sign of success of containment measures," he said in a statement last night.
On March 27, the day Vicente Sotto Memorial Medical Center (VSMMC) in Cebu City began administering its own coronavirus tests, Central Visayas had 22 confirmed cases. Six days later, on April 2, that number rose to 34, which means a spike of 55 percent.
On the other hand, confirmed cases nationwide stood at 803 on March 27, and soared by 227 percent to 2,633 cases as of April 2.
Yesterday, Cebu Governor Gwendolyn Garcia revealed that one additional case was confirmed in Region 7, and it was in Cebu City. DOH-7 said the newest case is showing mild symptoms and has been in strict home isolation even before the result was released.
The day prior, the region logged three additional cases, one each from Cebu City, Mandaue City and Consolacion. For two days before that, it recorded zero case at all.
As this report was written last night, Central Visayas now has a total of 34 confirmed COVID-19 cases broken down as follows: 22 cases from Cebu City, 4 from Negros Oriental, 3 from Cebu province, 2 from Mandaue City, 2 from Lapu-Lapu City, and 1 from Bohol (recovered, discharged, and sent home to China on January 30).
Of these 34 cases, six deaths were reported.
Meanwhile, of the 65 test results announced yesterday, only one was positive while the rest were negative.
The breakdown for these 65 test results is as follows: 13 from Lapu-Lapu City, 5 from Mandaue City, 17 from Cebu City, and 30 from Cebu province.
4 recoveries
Bernadas said that the increasing number of recovered patients -- now at seven after four recoveries yesterday -- gives hope that "COVID-19 is manageable, and the hospitals in the region have proven that with support and prayers, little victories can happen."
He also expressed concerns that the limitations in movement has placed on hold a lot of health services, among which is the immunization program which has been temporarily suspended or limited by some local health authorities.
"As the world awaits the creation of a vaccine for COVID-19, let us not take for granted the protection being offered by the existing vaccines we already have as part of our National Immunization Program," he said.
The DOH-7 director is urging the public to pray for the healing of those infected and for the safety of the doctors, nurses, medical technologies and other health professionals tasked to help in their recovery.
Bernadas also called on citizens not to immediately go to the hospital for health concerns that can be managed at clinics or health centers in the community.
"Let us keep hospital beds free for those who need it the most," he advised.
Capitol Aid
Meanwhile, Garcia yesterday said that local government units (LGUs) in Cebu may now claim their checks from the Capitol as assistance in their combat against the virus.
Garcia said some LGUs have already claimed their share.
The provincial government allocated P373 million from its Assistance to the LGUs fund to be distributed to 44 towns and seven component cities while the entire province is being placed under enhanced community quarantine.
The assistance to be given to the LGUs will be based on their income classification.
Garcia said that the aid is intended for the purchase of basic necessities of their
constituents such as rice, canned goods, soap, and others. She added that the LGUs may look for a potential supplier beforehand so the purchase process may be streamlined.
The governor left a stern warning to the LGUs to properly distribute the aid and to prioritize the poor, those who lost their livelihood, senior citizens, and those persons under monitoring who have not received their salaries for being under home quarantine.
"I have instructed our department heads that all prices in the procurement of the items that we are distributing to our LGUs should be posted to show nga mao na ang pagpalit,"Garcia was quoted as saying in a report by Sugbo News, the official publication of Capitol Public Information Office.
Garcia urged the towns and cities to be transparent on how they used the funds, from the purchase of basic commodities to personal protective equipment (PPEs).
"We will render a full accounting for all these purchases," she said.
Garcia likewise said that companies willing to help may directly give their donations straight to the LGUs.
She also appealed for more patience from the public, especially those who have not been reached by relief missions, as some local governments are still in the process of preparing the goods for distribution. JMD (FREEMAN)