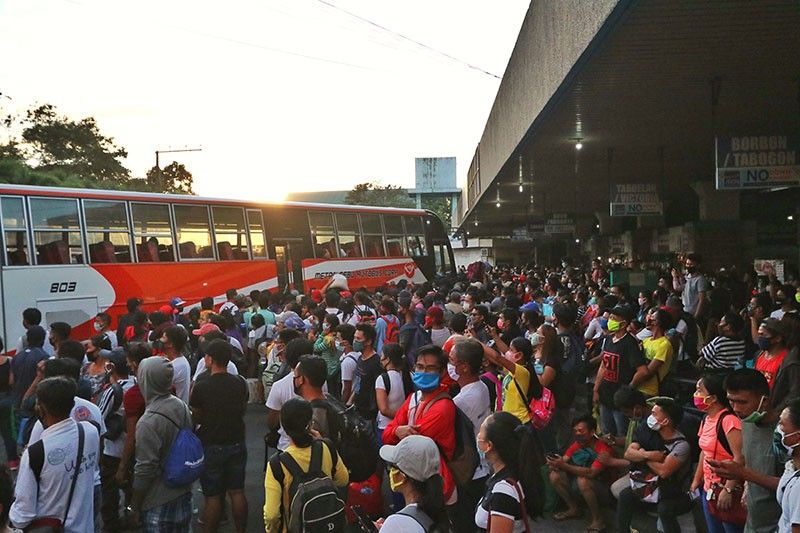 Passengers wait to get a ride at the Cebu North Bus Terminal as they rush to return to their hometowns before the enhanced community quarantine (ECQ) takes effect over the weekend. Under the ECQ, public transport is expected to be suspended.
Aldo Nelbert Banaynal
In Cebu City, Province, Mandaue: Movement restricted
CEBU, Philippines — Cebu, a city of about a million residents, will undergo enhanced community quarantine (ECQ) from March 28 to April 28 to intensify measures aimed at preventing the spread of coronavirus disease 2019 (COVID-19).
Mayor Edgardo Labella issued an executive order yesterday declaring the city under a state of ECQ effective 12:00 noon of March 28 until 12:00 noon of April 28, "or unless sooner lifted or withdrawn."
The most recent declaration means strict home quarantine in all households, transportation suspended, provision for food and essential services regulated, and heightened presence of uniformed personnel to enforce quarantine procedures.
Pursuant to the declaration, all residents of the city are ordered to obey, follow, and abide strictly to the policies and guidelines implemented by the city government.
As stated in the executive order, all persons in the city during the effectivity of the ECQ shall stay at home and movement outside their home shall be allowed only for purposes of accessing basic necessities. Only one member of the household is allowed to go out for this purpose.
There is non-disruption of government work. Government offices providing basic services shall continue to operate, provided they adopt alternative work arrangements pursuant to Civil Service Commission Memorandum Circular No. 07, Series of 2020.
All businesses shall be closed for the duration of the ECQ except hospitals, medical clinics, laboratories; pharmacies and drug stores; gasoline stations; cargo handlers, forwarders, shipping lines, truckers, container yards; and establishments rendering delivery services transporting food, medicine, and other basic necessities, among others.
Businesses allowed to operate until 8 p.m. are food establishments, provided that there shall be no dine-in customers and only take-out orders or delivery services are allowed. Also allowed are food manufacturers and suppliers; public markets, supermarkets, groceries, bakeshops, and convenience stores; water refilling stations; banks and money transfers, to name a few.
Skeletal Workforce
Management of the exempted establishments shall adopt strict skeletal workforce, implement social distancing measures, and provide adequate transportation to their employees.
The operation of all land vehicles, whether public or private, plying within the territorial jurisdiction of the city shall be temporarily suspended, except private vehicles and motorcycles allowed for the purpose of securing food, basic commodities, and medicine; emergency vehicles; delivery trucks carrying basic commodities and essential goods; buses authorized by the city government, among others.
Travel or transit in the city is prohibited, except for authorized government officials and employees; health and emergency workers; law enforcement personnel; individuals duly authorized to conduct humanitarian and relief operations; media personnel with duly issued press/company identification card; among others.
During the ECQ, strict monitoring of the borders of the city shall be implemented.
No person is allowed to enter or exit the city, except persons from medical services; emergency responders; security service personnel; persons from banks, money transfer services, supermarkets/groceries/convenience stores, public markets, pharmacies/drugstores, food chain/restaurants/carenderia, public utilities, sanitation; delivery personnel of cargoes, and other authorized persons.
No vehicle is allowed to enter or exit the city except vehicles carrying person/s allowed to enter and exit the city; vehicles carrying essential goods and basic commodities; emergency vehicles such as ambulances, fire trucks, and the like; vehicles of the Armed Forces of the Philippines and Philippine National Police; and those vehicles determined by the city mayor of his duly authorized representative to enter and exit the city.
To establish border control under the declaration of ECQ, a checkpoint shall be installed in every border exit and entry in the city which shall be composed of AFP, PNP, Cebu City Transportation Office, Disaster Risk Reduction Management Office, and barangay.
Sharing of unconfirmed reports is strictly prohibited. Only valid and verified information from the proper authorities shall be allowed to be published or shared.
The PNP, in cooperation with the Business Permit Licensing Office and Prevention, Restoration, Order, Beautification, Enhancement team, is directed to implement the full extent of the order and in consequence thereto, revoke the business permit of the establishment and file appropriate legal action.
Barangays through the active involvement of the barangay captains, officials, tanods and other force multipliers are likewise mandated to implement the order in their respective jurisdiction and in coordination with law enforcement agencies.
Non-compliant barangay officials shall be filed appropriate administrative and/or criminal cases as provided under relevant laws and issuances. The City Attorney is directed to monitor compliance of the barangays.
Capitol
Meanwhile, Governor Gwendolyn Garcia yesterday clarified that even if the province has also been placed under ECQ, land transport is still allowed. Going outside the house is also still permitted.
Garcia made the clarification after noting confusion among constituents after the issuance of Executive Order No. 5-N, placing the entire province under the ECQ.
The governor said that the main restriction imposed under such order is the ban on the entry of international flights effective 12:01 in the morning of March 27, Friday.
Movement in the province will be restricted starting 12:01 a.m. of March 30.
Following the announcement of the ECQ in the province on Wednesday night, many people were observed lining up in different grocery stores in Cebu City and the province yesterday.
"Wala pa tay giimplementar nga stay at home sa kadtong kwalipikado. Apan og 65-anyos na ka or above or estudyante ka, dili na ka kagawas sa balay. Magpabilin gihapon ang atong 24-hour curfew sa tanang mga estudyante ug sa tanang 65-anyos and above unless dunay medical condition nga kinahanglan siya moadto sa iyang doctor," Garcia said.
Garcia urged the public not to engage in panic-buying as she assured that supermarkets and grocery stores will not be closed.
"Bisan pa kon unya moabot ang panahon nga kamong tanan, anaa na lamang sa tagsatagsa ka balay, duna gihapon tay tugtan nga makagawas ug magpadayon gihapon ang atong mga groceries ug supermarkets nga abli. Makapadayon gihapon kamo pagkuha og mga supplies, exemption gayod ang atong groceries ug supermarkets sa atong lockdown. Dili ni masira. Busa ayaw mo og panic. Stay calm," Garcia said.
Garcia said there is enough supply of food for Cebu.
As this was written yesterday, Garcia was still in a meeting with mayors regarding additional protocols and guidelines for the implementation of the enhanced quarantine.
To recall, it was Lapu-Lapu City that first announced it was under a lockdown starting yesterday in the fight against the virus.
Mandaue City
Mandaue City Mayor Jonas Cortes also placed the city yesterday under the same status.
According to Atty. John Eddu Ibanez, chief of staff of the mayor, quarantine passes will be given out via house-to-house distribution in the barangays starting yesterday afternoon.
"Libre ra ni nga ipanghatag. Wa ni bayad ang quarantine passes," said Ibañez.
Cortes, in a Facebook post, said that he is doing this to ensure and protect every Mandauehanon from COVID-19.
"Akong gihangyo matag Mandauehanon nga sa panahon karon ato gayud sundon ang tanang mando ug lakang nga gibuhat sa dakbayan para masumpo kining makalilisang nga sakit. Tinabangay tang tanan, makabarog ra kita ug balik gikan niini," Cortes said.
Liloan Mayor Christina Frasco also announced that starting this week, the municipal government will start distributing food vouchers to indigent families and those sectors who have lost their daily income.
"Initially, mag-distribute ta og 5,000 ka food kits alang sa mga qualified households sunod semana ug patas-an kini kada semana. Ipanghatag kini sa pinakananginahanglan. Dili pasabot na tungod kay naka quarantina, naa na dayon food kits. Aduna may Quarantine Pass alang sa pagpalit ug groceries ug uban pa. Mag release pa ta ug dugang na impormasyon niini sa umaabot na mga adlaw," Frasco's post read.
Frasco is asking cooperation, understanding and obedience to the law from her constituents.
"Ang mga lakang na gibuhat sa inyong Mayor ug lokal na panggobyerno sama sa curfew, closures, quarantine ug social distancing, alang kini sa kasalbaran sa kinabuhi natong tanan. Mao na kini ang panahon sa pagtinabangay. Dili kini ang panahon sa pagpabadlong," the mayor said. JMD (FREEMAN)