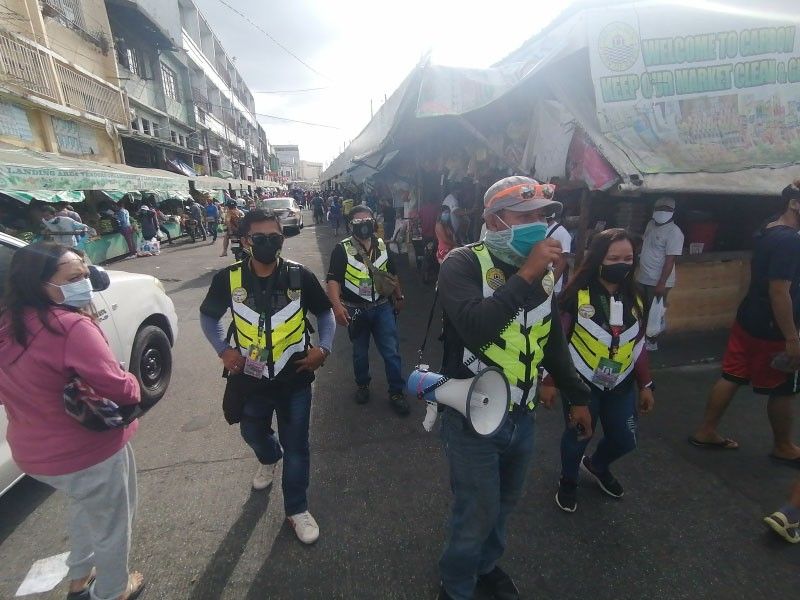 The city government starts to decongest the Carbon Market, a major public market in downtown Cebu City, by closing down several stores and regulating the entry of vehicles and movement of consumers to uphold social distancing.
Aldo Nelbert Banaynal
As Garcia bans incoming international flights: Lockdown looms
CEBU, Philippines — Once a formal order is issued, Cebu Province will be placed under enhanced community quarantine or a "lockdown."
"I will be issuing an executive order to declare Cebu under enhanced community quarantine or, in other words, lockdown" Governor Gwendolyn Garcia said yesterday afternoon.
She said she will meet with mayors in the province today to discuss and iron out details in the implementation of the enhanced community quarantine, including new rules on public transportation.
Yesterday, she urged bus liners using the Cebu South Bus Terminal to field all their buses to accommodate those who may have to go home to their towns and cities in preparation for the lockdown.
The province is also coordinating with mayors in independent cities — Cebu City and Lapu-Lapu City.
"Ugma (today) mag-meeting ang tanan mayors sa Province of Cebu aron atong mahan-ay ang tanang mga lakang nga kinahanglan natong ipahimutang aron dili magkagubot (We will meet with all the mayors in the Province of Cebu so that we can put measures in place to avoid chaos)," she said.
She said the enhanced community quarantine here will "custom-fit the situation in Cebu."
"It must custom-fit the situation in Cebu. This is an island province with 44 municipalities and seven cities and two more independent cities," Garcia said.
The lockdown will last for at least 20 to 30 days.
Implementation
Garcia said the province has enough funds to download to local government units to support residents who lose their jobs due to the quarantine.
The province's P12 billion budget has appropriated funds specifically for assistance to LGUs and barangays.
"Insofar as the calamity funds is concerned and insofar as the 2020 budget is concerned, we have in fact particular items identified as assistance to local government units, assistance to barangays," she said.
Also, she said, President Rodrigo Duterte's declaration of a national state of emergency allowed LGUs to access their local calamity funds.
The Provincial Board will also hold an emergency session today to put the province under a state of emergency.
Flights
Also yesterday, Garcia announced that passengers from international flights can no longer enter Cebu Province starting March 27.
"We will no longer be accepting passengers arriving from any international flights. Dili na kita modawat og bisan kinsang pasahero nga nagagikan sa nagkalain-lain nga nasod," she said.
"Atong mga local government units, grabe na kaayog gipas-an sa kadaghan sa persons under monitoring kay kailangan man ni sila i-kwarantina ug katorse diyas," she explained.
Cases
Yesterday, Department of Health (DoH)- 7 Director Jaime Bernadas announced that as of yesterday, there are nine presumptive positive cases in Cebu.
One of the nine is the first confirmed case in Mandaue City that needed to undergo a repeat test. There are six presumptive positive cases in Cebu City, one in Lapu-Lapu City, and one other in Mandaue City.
These tests are still awaiting confirmation from the Research Institute for Tropical Medicine (RITM).
"Tungod kay licensure protocol man ni, ato ning isunod," Bernadas said.
Lapu-Lapu
With one presumptive positive case in Lapu-Lapu City, Mayor Junard Chan also announced yesterday that the city will be placed under enhanced community quarantine starting March 29.
"Ubos unya sa Enhanced Community Quarantine, akong gihangyo ang inyong hugot nga kooperasyon para mapugngan nato ang pagkatag sa infection sa atong dakbayan. Akong gimanduan ang mga kapulisan sa striktong implementasyon unya sa mga lagda ubos sa Enhanced Community Quarantine," Chan said in a Facebook post.
Chan said that under an enhanced community quarantine, city will deploy one bus per barangay to ferry residents in buying basic essentials. The bus will also serve those who will undergo medical treatment and bring medical workers to their workplace.
"What they need? They will bring quarantine pass, ID nga ilaha," the mayor said.
The residents can get a quarantine pass from the barangays.
Once the enhanced community quarantine is in place, all operations of companies inside the Mactan Export Processing zone will stop temporarily.
Bernadas said containment measures are already in place for the case in Lapu-Lapu.
"We already informed the hospital, the attending physicians, the patient, the mayor and the city health officer kay dili na ta magpaabot sa result, anha pa ta maghimo og containment measures," Bernadas said.
"As of now, this person, a senior citizen is considered presumptive positive. Wala pa ni nato gi-label nga positive kay ipa-confirm pa," Bernadas said.
Chan said that we are facing a very serious problem as we facing an unseen enemy.
"Usbon ko, akong gihangyo nga kamong tanan mo cooperate kay maglisod ako'g tabang kaninyo kung dili mo maminaw sa atong gobyerno. Palihug magtinabangay ta. Usa lang ang akong gisiguro, nga dili ko kamo biyaan og dili ko ka mo pasagdan. I am confident that we can overcome this crisis," the mayor said. JMO (FREEMAN)