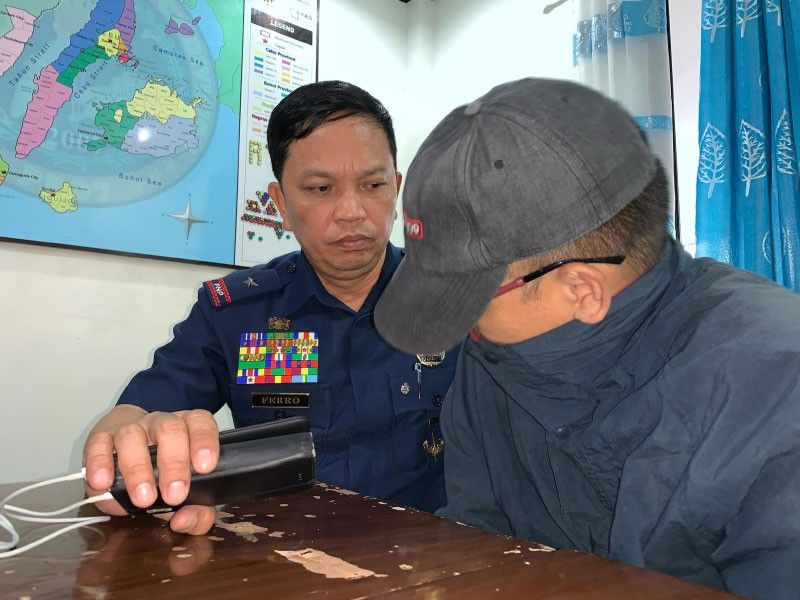 Police Regional Office-7 director Albert Ignatius Ferro listens to Major Ildefonso Miranda Jr. as the latter explains his arrest for allegedly sleeping with a drug detainee inside his office.
Romeo D. Marantal
'My only mistake is falling in love': Cop chief 'sleeps' with detainee
CEBU, Philippines — The chief of the police station in Argao in southern Cebu landed in jail after he was found sleeping with a female detainee of the station.
Major Ildefonso Miranda was arrested Friday night during an entrapment operation at the station conducted by elements of the Integrity Monitoring and Enforcement Group (IMEG) of the Philippine National Police.
The IMEG team found the detainee, Jean Claudia De Guzman, 23, at Miranda's sleeping quarters.
Another female detainee, Brenda Caminero, 40, was also found to have been running errands at the station.
De Guzman and Caminero were arrested for illegal drugs.
Police Regional Office-7 Director Albert Ignatius Ferro said it was on March 4 when a councilor of Argao and two of Miranda's men at the station asked for a meeting with IMEG. It was during that meeting that they reported Miranda's activities.
An investigation was undertaken and photos and videos captured Miranda and De Guzman together outside the police station several times, even reaching Cebu City, which is about two hours away.
This led to the entrapment operation last Friday night.
"The girl was even brought here in Cebu City, naga-date pa sila…a very breach of discipline to a police officer," Ferro said.
Consequence
It is unclear if Miranda and De Guzman are in a relationship but Ferro said the mere presence of a detainee inside Miranda's sleeping quarters instead of being locked up in the detention cell is already a serious violation.
Miranda is facing charges for violating the Anti-graft and corrupt practices Act and the Revised Penal Code, and for committing direct bribery. He is also facing administrative charges for serious grave misconduct, which, if proven, can lead him to being dismissed from service.
Ferro said it is also possible that all cops at the station will be relieved from their posts if it is proven that they tolerated Miranda's acts. He said the subordinates will be "equally punished" even if they were just following Miranda's orders.
"So I'm warning all the members of the PNP of PRO-7 that they should be responsible and disciplined enough that they should follow all the dos and don'ts of the PNP," Ferro said.
Ferro said there will be no special treatment for Miranda.
Meanwhile, Provincial Police Director Roderick Mariano said he has placed all police personnel under CPPO to be investigated.
"Why is it na nangyari yun na may desk officer tayo, may deputy… bakit nangyari ito na hindi nare-report sa atin (Why did this happen despite the presence of the desk officer… even if there is a deputy? Why was this not reported to us immediately)?" Mariano said.
Mariano said Miranda will be assigned to the provincial holding unit, essentially on floating status.
Police Captain Elstone Dabon, Jr. from Mandaue City will take over the leadership of the Argao Police Station.
Miranda said he is not ashamed of what happened because he did not commit a heinous crime. He said his only mistake was he fell in love.
"Wala man ko maulaw sa akong nahiaguman tungod kay dili man ni heinous crime. Ang akong sayop tungod kay nahigugma ra ko," he told the Freeman.
(I am not ashamed because I did not commit a heinous crime. My only mistake is falling in love) JMO (FREEMAN)