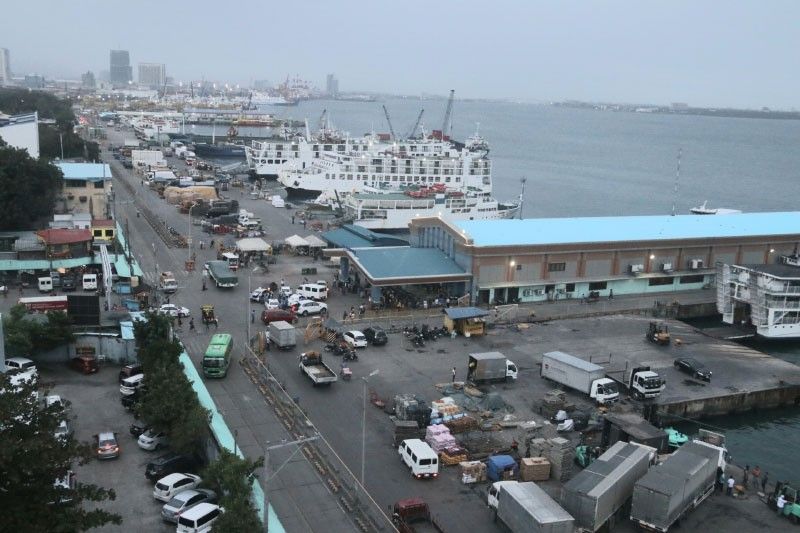 An aerial view of the Cebu City port area.
FREEMAN/Joy Torrejos
Amidst novel coronavirus threat: Protocols in place for ships
CEBU, Philippines — Preventive protocols amid the growing threat of the novel coronavirus acute respiratory disease has been set for ships docking at seaports in the Province of Cebu.
Governor Gwendolyn Garcia has signed EO 5-A earlier this week, February 6, establishing precautionary measures that should be followed by both cargo vessels and passenger vessels.
No cargo vessel from China or any of its Special Administrative States that went to these states 14 days before their arrival in Cebu will be allowed to dock in Cebu Province unless cleared by the quarantine team.
The vessel must raise its yellow flag upon arriving at the quarantine anchorage to alert the members of the quarantine team. The team will board the vessel and will check the crew for signs and symptoms of the 2019-nCoV ARD.
This will also include a Maritime Declaration of Health submitted by the master of vessel to the team.
"Vessels cleared at the first port of entry and arriving in Cebu, which within the past 14 days travelled from China or any of its Special Administrative Regions must be boarded at the designates quarantine anchorage by the Quarantine Team, submit a duly accomplished Maritime Declaration of Health and other pertinent documents," the EO reads.
The head of the vessel is expected to report flu-like symptoms manifesting in one of the crew members so that the symptomatic person may be transported to the Vicente Sotto Memorial Medical Center or any private hospital the person under investigation chooses. If the PUI tests positive for 2019nCoV ADR, the entire ship will be put under 14-day quarantine.
However, if the cargo vessel is cleared of any person manifesting symptoms, it will be allowed to dock but only for unloading cargo.
Filipino crew members who will have to be replaced upon docking will have to go through the protocols of quarantine.
"Once disembarking crew members have been identified for quarantine, the Protocols for Quarantine under Section of Executive Order No. 5 Series of 2020 shall be followed," the EO reads.
For passenger vessels, passengers are required to have their temperatures checked via thermal gun upon check-in. They will also be checked for flu-like symptoms like fever, cough, colds, body weakness, and difficulty of breathing.
Those who manifest these symptoms will not be allowed to board.
A Passenger Personal Detail Form shall be provided by all domestic vessels, which will be filled out by the passengers. These will be collected by the ship crew for submission to the Department of Health (DOH).
Vessels are required to make hand sanitizers, disinfectants, and face masks available for their passengers.
The Philippine Coast Guard will also inspect private yachts docking at any port to determine if the yacht has been to China or any of its Special Administrative States in the past 14 days.
"If so determined, the procedures and protocols for entry, ban, or quarantine as defined under Executive Order No. 5 Series of 2020 shall apply," the EO reads.
PNP Support
The Provincial Police Office has already deployed security personnel at quarantine areas in the province.
Provincial Police Director, Col. Roderick Mariano, said the protocol includes deployment of security personnel outside the quarantine areas for 24 hours with two security personnel working in shifts.
Mariano said it is the responsibility of the police to make sure that those being monitored will be in contact with other people, including their relatives.
In Negros Oriental, Provincial Police chief Julian Entona said they have assigned 58 personnel to assist the provincial government, including in contact tracing and security at quarantine areas.
"Una tang nakadawat ug executive order under kang Governor Degamo… gani, kami sa Negros, naa mi dedicated nga personnel to include me… 58 personnel… mao ni ang giapil karon sa executive community nga nag-monitor karon sa cases sa nCoV (We first received an executive order from Governor Degamo… here in Negros, we have dedicated personnel, which includes me… 58 personnel… monitoring the nCoV cases)," Entoma said.
He said policemen have also been deployed at ports to help monitoring incoming passengers.
"Tanan nga pier nato karon, duna natay mga medical practitioners, to include sa atong kapulisan, nga mag-monitor sa mga incoming passengers sa nagkalain-lain nga area. Mao na ni syay with the thermal scanner (We have medical practitioners and policemen monitoring all ports with thermal scanner)," Entoma added.
The police are also securing a barge docked one kilometer away from the port whose passengers have been placed under quarantine.
In Bohol, Provincial Police Director Jonathan Cabal said they have formed a 10-man team composed of police personnel with medical backgrounds to assist the province.
"We have formed a 10-man team nga medical ang background nila… sa Nursing kasi, may mga police tayo na nursing graduate at saka may iba mga nurses, I formed a 10-man team that will help the provincial government of Bohol," Cabal said.
Cabal said the primary function of the PNP team is first response and provide assistance in the event of any eventuality that may occur in the middle of the crisis. To maximize the support the police gives the LGU, the PNP team underwent an orientation on dealing with persons who are being monitored. JMO (FREEMAN)