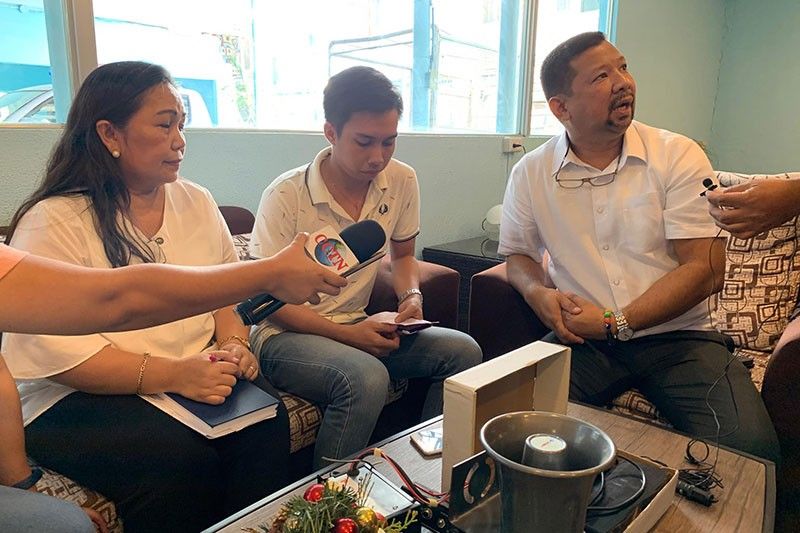 Judiel Niño Cane, a student in the viral video using a siren while driving in Lapu-Lapu City, appears before LTO-7 director Victor Caindec to surrender the illegal gadget and to face administrative penalties.
Romeo Marantal
Student fined P8T for 'wangwang' use
CEBU, Philippines — The Land Transportation Office (LTO)-7 has slapped the student, who used a siren to go to school, with a P8,000-fine for reckless imprudence and other traffic violations.
LTO-7 Regional Director Victor Emmanuel Caindec said that Judiel Niño Cane, the one in the viral video, voluntarily surrendered to their office and admitted that he was the one driving the car and that he owns the siren and the LED blinker.
"Na-appreciate namo iyang gibuhat nga iyang gi-surrender para humana ba. Kay og di man gud, magtago-tago ka, mag cat and mouse game ta. Imong gi-spent ang resources sa gobyerno para pangitaon ka. Kami satisfied naman mi nga nianhi sila voluntarily ni subject siya sa proper nga process," Caindec said.
LTO-7 has already issued a Temporary Operator's Permit to Cane and his driver's license will only be returned should their system would release a result that it should be returned.
"As of now wala pa tay result. Depende na na system kung nakita niya nga daghan na ni og traffic violations nga nahimo based on our records then ma-suspend iyang licence six months to one year, provided dili ni niya first time nga naka-violate og traffic rules," Caindec said.
Flordiliza Monceda, acting chief of the Operations Division of LTO-7, said that Cane violated Presidential Decree No. 96 or unlawful use or attachment of sirens, bells, horns, whistles or similar gadgets that emit exceptionally loud or startling sounds, including domelights and other signaling or flashing devices on motor vehicles.
"Under PD 96 ang atong violation ani niya, so ang iyang pagabayran ato ra sad i-impose ato niya sa PD 96. Pareha sad aning illegal nga pagbutang og accessory sa sakyanan which is P5,000, plus P1,000 so that's P6078 and for the reckless driving for the first offense that's P2,000 so more or less iyang mabayran P8,078. Mao na siya ato pang i-encode nato sa system mogawas dayon nato ang kung naa siya'y suspension ana, kung naay accessory penalty mogawas," said Monceda.
LTO-7, in a separate statement, said that violations committed under Presidential Decree No. 96, regarding on the revocation and cancellation of Certificate of Registration of the Motor Vehicle on which the unauthorized gadget or device herein mention is installed or mounted, shall only take effect on second and subsequent offenses.
Caindec said that if the system will come out that this is Cane's first offense based on their records, then a penalty of P6,000 can be imposed and confiscation of these illegally attached devices in favor of the government.
"Naay daghan niingon sa social media nga kani si Cane magsigi daw og gamit aning wangwang. I hope kaning mga tawhana moanhi sa LTO, unya mo execute sila og affidavit," said Caindec.
He added that Cane's car will be subjected to physical inspection today at the Motor Vehicles Inspection Center of LTO-7 in Mandaue City to ensure that there is no more illegal devices attached to it.
Cane admitted his wrongdoing as he used the sirens in order for him to catch up his exams.
"Tungod sa akong curiosity, like kaning mga batan-on lagi, kuryuso kaayo ana, nada ra sa ingon mao rato. Lesson learned sad to nako nga di to maayo akong gibuhat. Kani laging moapilay og show, tungod sa kabatan-on ba hilig sad og modified," said Cane. (FREEMAN)