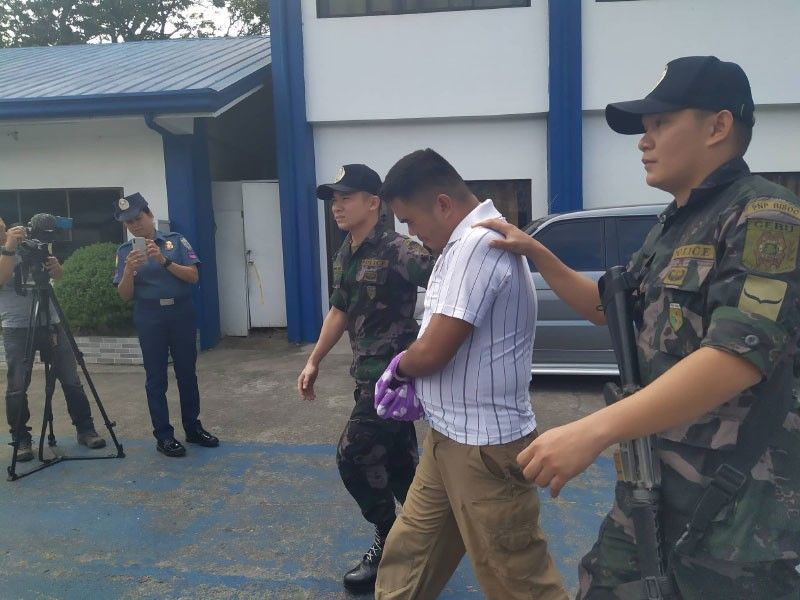 Former policeman Carlito Donque is escorted to Police Regional Office-7 headquarters following his arrest Thursday for allegedly extorting money from a police applicant.
Sheriza Uy
Suspect extorts money from police applicants: Ex-cop entrapped
CEBU, Philippines — A former cop was arrested in an entrapment operation Thursday afternoon for allegedly extorting money from a police applicant.
The supposed grease money was to assure the applicant would make it to the Philippine National Police.
Police Brigadier General Domingo Say Cabillan, Deputy Regional Director for Administration at the Police Regional Office - 7, said the suspect, Police Corporal Carlito Donque, Jr., 36, asked for an initial P10,000 as down payment for the P40,000 he asked from the applicant.
"Ang pasalig niya is mangayo syag kwarta para makapasa sya despite the fact nga daghan ang nag-apply… murag assurance niya nga makapag-take oath ang police applicant (He assured the complainant that the money would ensure acceptance into the PNP despite the many applicants)," Cabillan said.
The complainant reportedly had to borrow money just to pay the down payment and eventually decided to report the matter to PRO-7.
Last Thursday, Donque was arrested at a remittance center in Barangay Pusok, Lapu-Lapu City. He is a resident of Barangay Bangkal.
Cabillan said Donque also extorted from another police applicant but they are yet to get a statement from the complainant.
Based on initial investigation, Donque allegedly reached out to seven applicants and tried to use the same scheme but the others were not convinced. Donque allegedly reached out to the applicants on social media, introduced himself as a Police Lieutenant, and allegedly told them he is an influential cop with connections at the regional headquarters.
Cabillan said Donque does not have any connection at PRO-7.
Donque was assigned formally at the Aviation Security Group at the Mactan Cebu International Airport, although his mother unit was the Aviation Security group in Pasay City. He was in service for not less than eight years.
He was dismissed from the service on October 16, 2018 for Absence Without Official Leave (AWOL) after figuring in the "tanim bala" controversy in July 2017.
"May gisita sya na babae dito sa airport sa Mactan na may bala… yung tanim bala na mga issues. Gi areglo niya then gipangayoan niyag kwarta not knowing nga katung bayhana is a businesswoman who is a close friend of the Mayor of Davao (He called the attention of a woman at the Mactan airport at the height of the controversy of airport personnel planting bullets in the luggage of passengers… he tried to extort money from the woman not knowing that she is a close friend of the mayor of Davao)," Cabillan said.
The businesswoman reported Donque but he reportedly went AWOL just as the Aviation Security Group called his attention.
Cabillan warned the recruitment community of the PNP that extortion of any amount of money from police applicants is prohibited. JMO (FREEMAN)