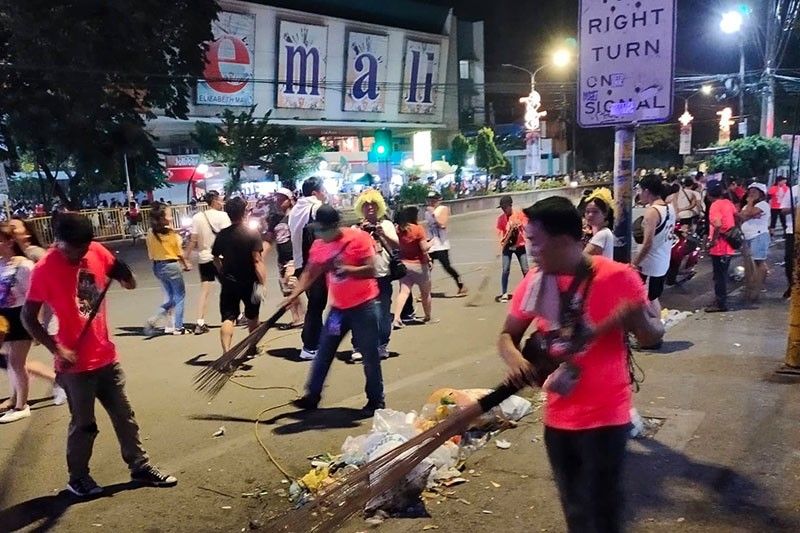 Cebu City's Department of Public Services personnel clean the city's streets immediately after the day-long Sinulog Grand Parade.
Decemay Padilla
Collectors, volunteers to get rice: Sinulog trash drops by 40%
CEBU, Philippines — About 130 tons of trash was collected by Cebu City's Department of Public Services (DPS) in the wake of the Sinulog revelries on Sunday – that's about 40 percent less than last year's record of 210 tons.
The 2020 data shows that the garbage generated by Sinulog revelers continues to see a declining trend over the years.
In 2018, for instance, the amount of trash fetched post-festival was 219 tons. That figure slid to 210.7 tons in 2019 and further went down to 130.86 tons this year.
DPS officer-in-charge John Jigo Dacua said the trash collected this year came from the Sinulog Grand Parade route and other major roads of the city.
He identified three areas where huge amounts of rubbish were collected: General Maxilom Avenue, Fuente Osmeña Circle, and Osmeña Boulevard.
DPS personnel started the collection even before the grand parade finished at around 8 p.m. Sunday and ended before their target time of 5 a.m.
All DPS personnel, numbering around 600, and 30 garbage trucks were deployed on Sinulog day.
REWARD FOR THE GOOD JOB
Local news pages were quick to post photos of the trash that had accumulated in crowded places of the city on the night of the festival. Yesterday morning, the photos that circulated online showed virtually clean streets, "as if nothing happened," as one netizen commented.
Because the streets in the city were already clear of garbage before sunrise, Mayor Edgardo Labella said he was impressed with the department's efforts in cleaning the streets.
Labella announced that all DPS personnel, barangay environmental officers, and others who were involved in the garbage collection will be provided sacks of rice.
He said each of the personnel and volunteers will receive 10 kilos of rice.
Nevertheless, Labella still reminded the public not to indiscriminately litter the venues during the festivities.
"The trash is an eyesore," he said.
"I am so happy. I went around starting 4 a.m., and I no longer see the litter unlike when I passed by last night (Sunday) from 10 p.m. to 11 p.m.," he added.
According to police estimates, the Sinulog crowd this year reached about two million, smaller than the three million reported for 2019. (FREEMAN)