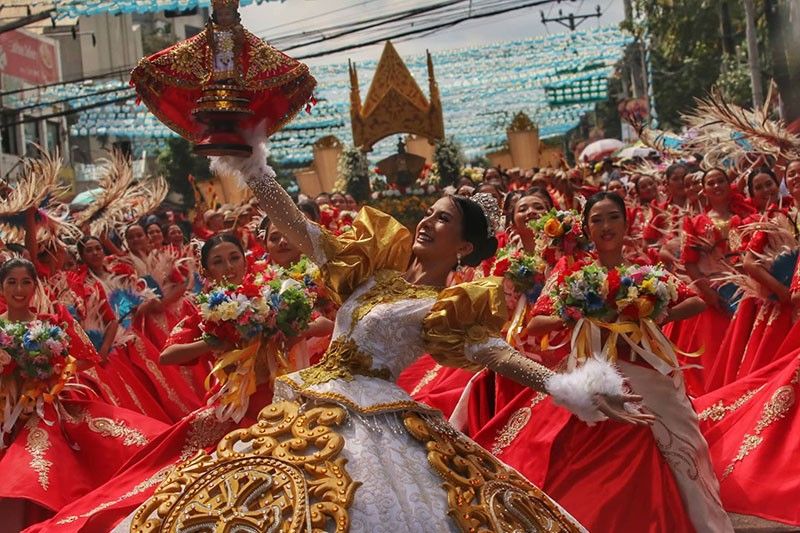 Tangub City's Sinanduloy Dance Troupe
Wait for Duterte delays grand parade: Tangub, Lumad win
CEBU, Philippines — Heavy favorites Sinanduloy Cultural Troupe of Tangub City and Lumad Basakanon of Barangay Basak San Nicolas, Cebu City lived up to their billing as they won the top prizes in yesterday's Sinulog Grand Parade ritual showdown that lasted 13 hours.
Sinanduloy led the winning circle in the Sinulog-based category that also included Carcar City (2nd place), Talisay City (3rd place), Kulturang Panglaoanon of Panglao, Bohol (4th), Pakol Festival of Sta. Catalina, Negros Oriental (5th place), Tribu Bogohanon of Bogo City, Cebu (6th place), and Banauan Cultural Troupe of Barangay Guadalupe, Cebu City (7th place).
Pakol Festival of Sta. Catalina, Negros Oriental was also awarded Best in Costume.
Sinanduloy also won first place in Best in Musicality in the Sinulog-based category, along with Kulturang Panglaoanon (2nd), Talisay City (3rd), Carcar City (4th), and Pakol Festival (5th).
On the other hand, Lumad Basakanon was joined by the following winning contingents in the Free Interpretation ritual show: Toledo City (2nd), La Castellana Bailes de Luces, Negros Occidental (3rd), Pintaflores Festival of San Carlos City, Negros Occidental (4th), Lapu-Lapu City (5th), Borongan City, Eastern Samar (6th), and Banay Labangon of Cebu City (7th).
Lumad Basakanon also snatched the award for Best in Costume and Best in Musicality in their category but interestingly failed to place in the street dancing category for the first time in many years.
Sinanduloy bagged the first prize in Best in Street Dancing, followed by Carcar City, Toledo City, Kulturan Panglaoanon, and Pintaflores Festival in that order from second to fifth place.
Other winners in musicality are Toledo City (2nd), Pintaflores Festival of San Carlos City (3rd),
La Castellana Bailes de Luces (4th), and Lapu-Lapu City (5th).
Comments
Nestor Jardin, member of the board of judges for the FI category, noted that Lumad was able to bounce back this year after failing to win the top plum for many years now.
What was new to the performance of Lumad, he said, was that they got their acts together, and their dancers performed with precision this time.
Jardin, former president of the Cultural Center of the Philippines, also commended Lumad's "engaging formations" and the "smooth transitions between sections."
"We all love their production design, the costume and the props were very well designed and very well made," he said.
Dr. Larry Gabao, member of the board of judges in the Sinulog-based category, said Tangub's win is also big comeback after skipping the competition last year.
He lauded the contingent for having mastered the art of showcasing their skills, as well as manipulating their props and executing their concept.
"Sinanduloy had a very mature movement capability that edges out the rest. Somehow makitaan mo sino yung medyo umaangat. Their movement patterns, very, very clean. I suppose their dancers are seasoned," said Gabao, who is also the vice chairman of the National Center for Culture and the Arts.
As for the street dancing, judge Dr. Lordinio Vergara branded Sinanduloy as "a total package" while the others were not as captivating.
"We're looking for a one million-peso performance outside pero medyo mababa ang kanilang ano, but Tangub has the package kasi. They mastered really the art of performing on the street. Deserved ng mga tao kasi is a one million-peso performance," Vergara said.
To the future participants, Vergara suggested coming up with new concepts and executions.
"(We want them) to rethink the free interpretation performance on the street kasi pare-pareho na sila. Makikita niyo in the past years, ang nananalo lagi sa street dancing ay nasa SB category," he said.
He added that he hopes choreographers in the FI category next year would look for fresh movements and presentation in the street dancing performance.
A 13-hour show
This year's Sinulog Grand Parade lasted for 13 hours. It started at around 9:30 a.m. and ended at around 10 p.m., or three hours delayed of the target finish time of 7 p.m.
The 40th Sinulog Grand Parade officially started after Mayor Edgardo Labella, together with Vice Mayor Michael Rama and Governor Gwendolyn Garcia, declared it open.
All 24 contingents were able to perform their respective rituals on the big Sinulog stage set up for them.
However, when all but seven contingents had performed, the show was momentarily stopped from around 4 p.m. to 6:30 p.m. in preparation for President Rodrigo Duterte's arrival.
Duterte, after his speech and photo opportunity with the province, city, and Sinulog officials, left the Cebu City Sports Center at around 7:30 p.m., which served as a "go signal" for the remaining contingents to showcase their performances.
A drone fireworks show capped off the parade. (FREEMAN)