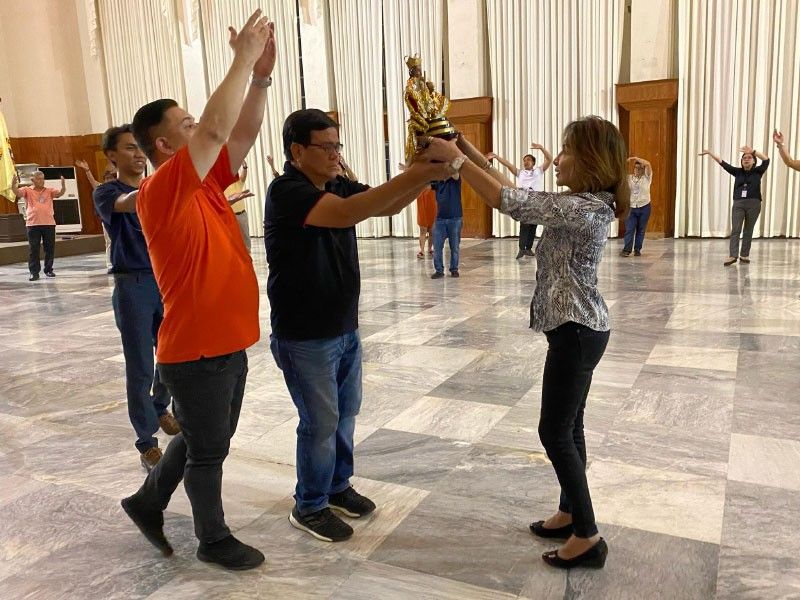 Cebu City Mayor Edgardo Labella and Governor Gwendolyn Garcia during their "unity dance" practice at the Capitol Social Hall.
Contributed Photo
Duterte's Sinulog presence stops Labella from dancing
CEBU, Philippines — The presence of President Rodrigo Duterte in the Sinulog Grand Parade may prevent Cebu City Mayor Edgardo Labella from dancing with Governor Gwendolyn Garcia.
Labella said the Presidential Management Staff (PMS) and the Presidential Security Group (PSG) had advised him to be always ready as he was designated as the meeting party of the president.
"Much as I would like to dance, there is a change of plan and I may not be able to dance with the governor," said Labella.
He had earlier said that Garcia and some people suggested the dance to show the unity between the province and the city.
Last Thursday, posts on social media showed that the mayor and the governor were already having their Sinulog dance practice.
Labella said he needs to be on standby during the Sinulog because Duterte's time of arrival is yet to be disclosed.
"It could be in the morning, afternoon, later in the day…I just have to be ready," he said.
He added yesterday morning after the Walk with Mary that he already danced "in anticipation if there would be changes in the plan."
Due to Duterte's visit, mobile phone signal will be shut off at certain times today and tomorrow in specific areas.
Labella had earlier said that signal disruption, as a general rule, should only considered "as the need arises."
The Philippine National Police, however, has already asked the National Telecommunications Commision to compel mobile phone companies to shut down the signal.
"Now with the visit of the president, the need arose," said Labella. GAN (FREEMAN)