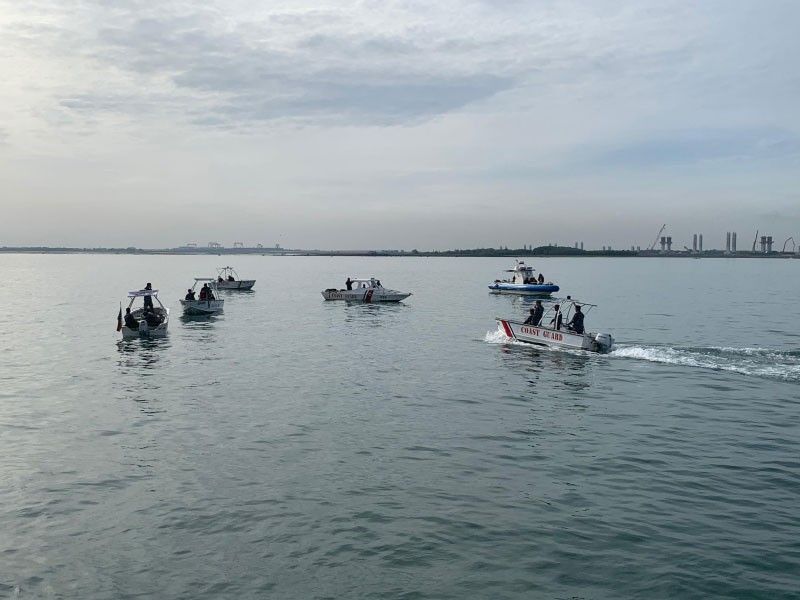 The Philippine Coast Guard conducts fluvial procession dry run at the waters off Pier 1 in Cebu City yesterday.
Romeo Marantal
Authorities set for fluvial procession; more boats expected to register today
CEBU, Philippines — Authorities are set for the Fiesta Señor fluvial procession on January 18, Saturday.
Yesterday, representatives of the Philippine Coast Guard, Philippine National Police, and Basilica Minore del Santo Niño boarded a boat for a dry run of the procession at the Mactan Channel.
Coast Guard-7 spokesperson, Lt. Junior Grade Michael Encina, said the dry run was conducted to assess the time that needed to be met during the actual procession.
He said participating vessels, including the boat that will ferry the image of the Santo Niño, must depart from the Captain Veloso pier in Lapu-Lapu City at 6 a.m. and will have two hours to cross the channel and dock at Pier 1 in Cebu City. From the pier, the image of the Santo Niño will be brought to the Basilica Minore del Santo Niño for a Mass that will start at 9 a.m.
During the dry run, however, the PCG vessel crossed the channel within 59 minutes. Commander Rudolfo Dela Peña, Deputy Commander of PCG-7 and Acting Station Commander, said they would need to slow down during the procession.
The Coast Guard also observed shallow portions at sea that vessels should avoid, Dela Peña said.
"Naay mga shallow area, which is naka-experience ta ganina…butangan nato to didto og marker para to avoid that area ug dili masadsad atong barko (We saw shallow areas… we will put markers so that vessels will not go there)," Dela Peña said.
Encina, meanwhile, emphasized complete control of the procession to ensure safety among participants.
"Ang kailangan ma-control is yung movement sa barko papasok at papalabas ng Mactan channel that's why PCG has issued a notice to mariners informing them that by 4 a.m., isasara yung ating North and South entrance dito sa Cebu Mactan Channel papalabas ng lugar (We need to control the movement of the vessels going in and out of the Mactan Channel that's why we have informed mariners that the channel will be closed)," Encina said.
He said the procession will be cancelled automatically if the weather will not be conducive for sea travel.
As of yesterday, 25 vessels have been registered for the procession and the Coast Guard is expecting more today, the deadline of registration. There will be no maximum number of vessels that can participate.
Last year, 90 vessels sailed for the fluvial procession.
Police Regional Office-7 Director Valeriano De Leon said the police will adjust its security preparation for the fluvial parade based on the outcome of the dry run. JMO (FREEMAN)