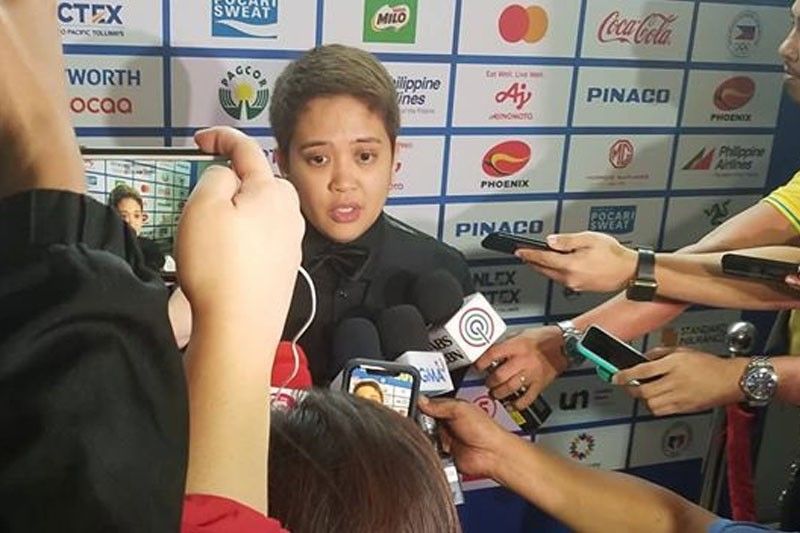 Rubilen Amit avenged her loss to team mate Chezka Centeno by winning the gold in the 9-ball event in billiards at the Manila Hotel tent last night.
Caecent Magsumbol
MANILA, Philippines — Cebuano athletes continue to shine at the ongoing Southeast Asian Games in Luzon.
Louis Kaye Go made valuable contribution to Team Philippines as she teammates Bianca Isabel Pagdanganan and Abegail Arevalo won the gold in women's team play in golf yesterday at the Luisita Golf and Country Club in Tarlac.
Go, a resident of Guadalupe, Cebu City bounced back from a fourth place finish in the individual event earlier. Her golden finish with her teammates improved the lone bronze medal she got in the individual event back in 2017 in Malaysia.
Meanwhile, Rubilen Amit avenged her loss to team mate Chezka Centeno by winning the gold in the 9-ball event in billiards at the Manila Hotel tent last night.
The other night, Amit settled for silver against Centeno, 3-7, in the 10-ball pool event. She promised to get even via the nine-ball action.
In Clark, Liloan's 17-year-old Raphael Trinidad ended his bid with a silver in the men's wakeboarding event at the Deca Wake Park.
Trinidad missed the gold by just 3.34 points after posting 69.33 points in the finals via his first run against Thailand's Sanya Phonthip who posted 72.67 points.
Meanwhile, Diogenes "Larry" Avila of Talisay City got a bronze for Team Philippines in the metallic silhouette in air rifle shooting at the Marine Corps Training Center in Taguig.
Avila, a former BMX rider and karate coach, scored eight points on the chicken and pig targets and seven points in both the turkey and ram under different distances for a total of 30 points, five points behind the 1-2 finishers from Indonesia, Ahmad Rifqi Mukhlisin and Hadika Aubrey Rasendriya Athaya, who ended with 35 points each.
"I felt that pressure got the better of me. I didn't feel any home-court advantage because I wasn't able to practice at the venue ahead of my opponents who had been in the sport for a long time now because the venue was still undergoing some final touches before the actual battle… aside from that fact that I was using a low-end air rifle. But I'm just happy I secured a bronze," Avila said.
Swimmer Jasmine Alkhaldi whose mom is from Cebu got another silver in the 4x100-m freestyle relay and bronze in the 100-meter breast stroke and 50-meter butterfly.
The Philippine women's rugby, which has a long-time mainstay Cebuana, Aumi Ono, ended with a silver after losing its final match to Thailand, 7-17 in Clark.
The country's men's softball, which includes Cebuanos Jerome Bacarisas and Jasper Cabrera, settled for silver after losing to Singapore, 1-6, in their championships match.
The Team Adroit-Dota composed of an all-Cebuano cast of Marvin Rushton, John Anthony Vargas, Bryle Jacob Alvizo, Jun Kanehara, and MC Nicholson Villanueva moves up to the final round in the e-games' DOTA competition after beating Vietnam, 2-0.
The Cebuano e-gamers will be facing either Thailand or Vietnam as taekwondo jin Nica Garces fights for Team Philippines in -64-kilograms in kyurogi or sparring of taekwondo at the Aquino Stadium today. (FREEMAN)