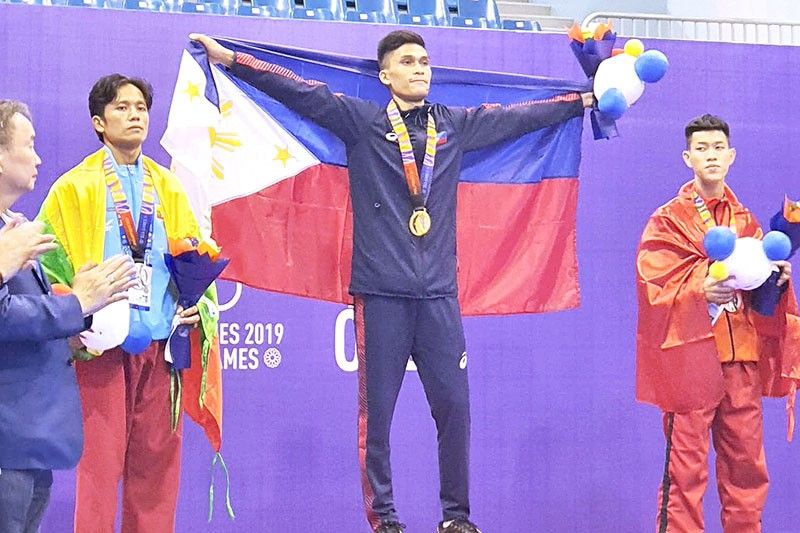 Cebuano arnisador Dexter Balombao stands proud with the Philippine flag after winning the gold in the 30th SEA Games.
Caecent No-Ot Magsumbol
Gold, silver finishes on day 1: Cebuanos shine in SEA Games
ANGELES CITY, Pampanga, Philippines — Cebuano athletes made waves at the ongoing 30th Southeast Asian (SEA) Games in Luzon, helping clinch the first batch of medals for the Philippines on just the first day of competitions yesterday.
Five of them won gold medals while three others won silver.
Arnis
Dexler Bolambao, the lone player from Cebu who made it to the national team in arnis lived up to expectations as he ruled the full contact live stick competition's bantamweight division.
The 23-year-old graduate of Cebu Technological University gave the country its first gold in arnis after posting a commanding 3-0 win against Myanmar's Paing Soe.
"Napakasaya ko po. First SEA Games ko to tapos daug pa gyud kog gold. Lahi ra ang feeling gyud (I'm so happy. It's my first time in SEA Games and I won gold. It's a different feeling)," Bolambao said.
Originally from Leyte, Bolambao, the seventh in a brood of eight, found a home at Doce Pares where he was molded into being a world two-time champion.
Sepak takraw
A double gold from sepak taktaw through the hoops event in Subic also made a big impact for the Philippine team.
The men's team which is headed by Mandaue native skipper Metodio Suico scored 670-points against Cambodia with 450 points while Laos got the bronze with 430 points.
On the distaff side, the women's team, which included Catmon's Jane Marie Sucalit, dominated the event with 670, just 10 points ahead of Indonesia with 660 points.
"Grabe, di masabot ang feeling. First time nga naka-gold ta sa hoops. Pagbalik pa gyud nakog duwa. Diri pa gyud sa Pinas. Abi nako'g tiguwang nako; kaya pa man diay! Para ni sa tanang taga Cebu ug sa Pilipinas," Suico told The Freeman.
Dancesport
At the Royce Hotel and Casino, dancesporters Wilbert Aunzo and Pearl Marie Cañeda handed three golds for Team Philippines after ruling all Latin dances, including Chachacha, Samba and Rhumba.
"We were not expecting this, but we were hoping because we prayed for it. We asked God for the three golds," Cañeda said.
It was a great comeback for the Cebuano duo as Aunzo had been sidelined last year due to a motorcycle accident. But Cañeda never gave up on Aunzo and helped her partner recover.
Although they haven't won in national competitions for quite some time, they still managed to clinch a slot at the SEA Games after ruling the final try-outs in Manila.
"We trained for it. We trained very hard for it," Aunzo added.
They said they also drew strength from underprivileged kids they teach in between their trainings under the grassroots program of Team Cebu City.
Silver finish
Meanwhile, triathlete Andrew Kim Remolino, mountainbiker Niño Surban, and weightlifter John Februar Ceniza ended their quest with a silver medal.
Remolino got the silver in the men's triathlon in Subic and while Surban went up the podium in Batangas. This is Surban's best finish in all his SEA Games battles as he had been winning bronze medals in the past.
Thailand's Sukprasart Keerati won the gold in the men's division in 1:36:15, just a slight gap from Surban who ended with 1:36:23 as fellow Pinoy Edhmel John Flores got the bronze with 1:36:41.
While not from Cebu, former RDAK-Cebu relay team member Avegail Rombaon also rose to the occasion, coming up with a bronze with 1:48:54. Rombaon prevented a medal shut in the women's cross-country mountainbike event after salvaging a bronze in Batangas
Weightlifter Ceniza sealed the Cebuanos' Day 1 contribution with a silver in the men's 55 kilograms division.
Ceniza lifted 112 kilograms best in the snatch and 140-kilograms in the clean and jerk for a total of 252 kilograms, enough for a silver finish.
As of 8 p.m., Team Philippines leads with 20 gold, 11 silver, and five bronze medals. Vietnam had 5-12-7 while Malaysia had with 4-1-2. (FREEMAN)