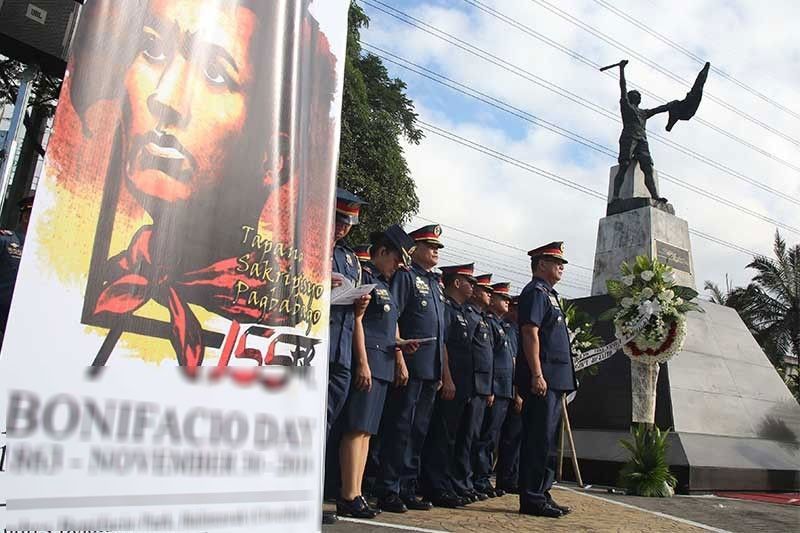 Andres Bonifacio Day
The STAR/Michael Varcas
Militants slam Duterte government on Bonifacio Day
CEBU, Philippines — On the 156th birthday anniversary of Andres Bonifacio, different cause-oriented groups called for a stop to what they claimed are neoliberal and fascist attacks against laborers and to the US-China Duterte alliance.
They also demanded the government to release all political prisoners and to push for a national minimum wage of P750 and regularize all contractual workers, among others.
Nearly 200 militants joined the march on Osmeña Boulevard in Cebu City yesterday morning.
According to Jaime Paglinawan of Bayan Muna, their group continues the struggles made by Bonifacio during his time. Under the administration of Duterte, he said, people continue to suffer in poverty.
Paglinawan said that even until now, the country is still waging a war to free itself from foreign capitalists.
In a short program on Colon Street that followed the march, the militants burned the flags of China and the United States as a symbol of their displeasure over China's alleged annexation at the West Philippine Sea.
As for the US, Paglinawan said it continues to interfere with the Philippines in the aspect of counter-insurgency program.
He said that as long as the Duterte administration continues to yield to the foreign nations, their group will also continue to express their sentiments against the government. JMD (FREEMAN)