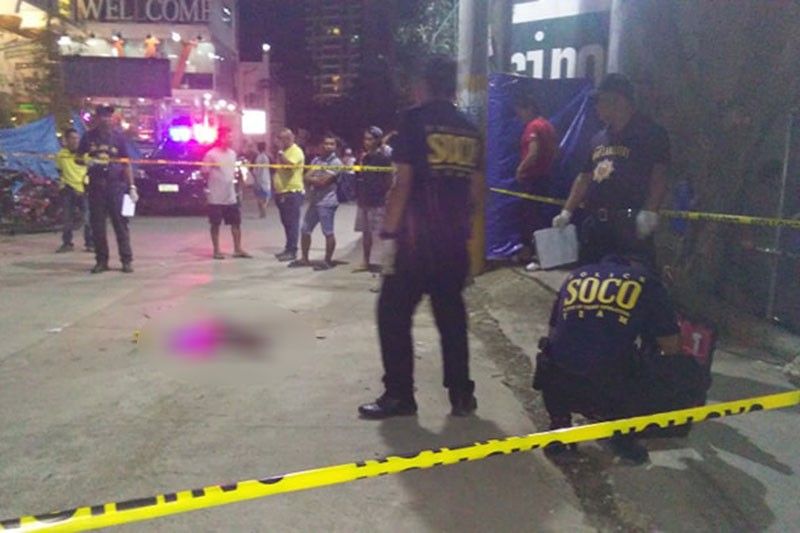 Crime scene investigators cordon off the area in Barangay Kamputhaw, Cebu City where Police Lt. Col. Joie Yape was shot dead yesterday afternoon.
Romeo Marantal
Victim is former PIB Chief: Police official killed
CEBU, Philippines — A police official was shot dead while walking on his way to a mall with his wife after attending a function from a nearby hotel in Barangay Kamputhaw, Cebu City yesterday afternoon.
Police Lt. Colonel Joie Yape succumbed to multiple gunshot wounds to the head, neck, and body after two unidentified motorcycle-riding gunmen shot him several times at around 5:35 p.m. in front of Wellcome Hotel.
Yape, who is currently assigned at the Internal Affairs Service (IAS) at Camp Crame, was walking along the street with his wife when the assailants appeared from nowhere and started pumping bullets into his head and body.
Police Major Elisandro Quijano, chief of the Abellana Police Station, said the couple attended a three-day function, which started last Wednesday, in the hotel and were on their way for a dinner at the nearby Ayala Mall when the shooting happened. Yape was rushed to the Perpetual Succour Hospital where he was pronounced dead. Quijano said the gunmen may have been following the victim for days already because they were able to track his itinerary.
"Posible kay kabalo man siya asa ang biktima ug asa padung. Gisundan siya," Quijano said.
A video footage from the hotel's security camera shows a man outside the hotel believed to have been waiting for the victim to go out.
Police investigators recovered from the crime scene three empty shells of still unidentified caliber. The pieces of evidence were submitted for examination at the crime laboratory.
Quijano, who said they are checking Yape's background to determine the motive, does not discount the possibility that the killing was work-related.
Yape used to be the chief of the Provincial Intelligence Branch (PIB) of Cebu Provincial Police Office. He was transferred to Calbayog in Samar before being reassigned to Camp Crame. FPL (FREEMAN)