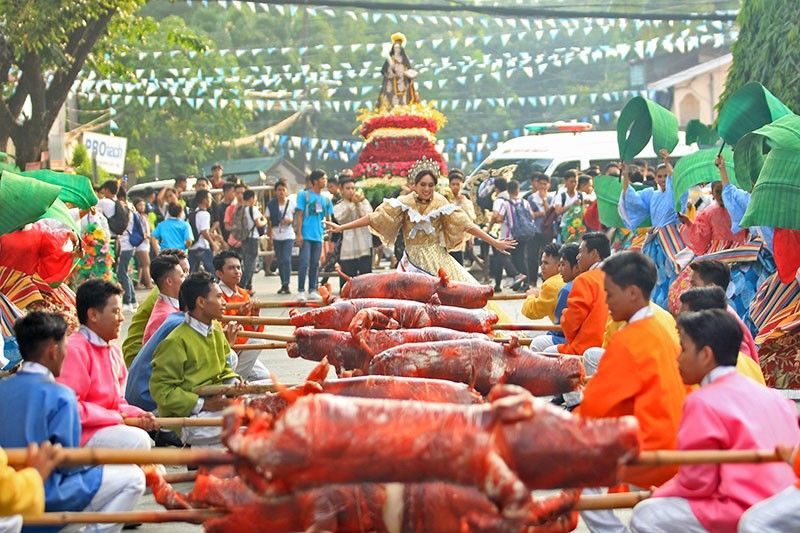 Talisay City's contingent performs the Halad Inasal Festival during the street dancing segment of this year's Pasigarbo sa Sugbo. Talisay will be the last stop in the southern heritage trail of the Suroy-Suroy Sugbo this November.
File Photo
Suroy-Suroy towns to get P300T each
CEBU, Philippines — The Cebu provincial government has allocated a P6.6 million budget for the conduct of the Suroy-Suroy Sugbo project this year, particularly for the southern heritage trail.
Governor Gwendolyn Garcia recently told reporters that the 19 municipalities and three cities included in the southern heritage trail for Suroy-Suroy Sugbo will be receiving P300,000 each in financial subsidy for aesthetic improvements.
Such improvements, Garcia said, include erasing graffiti from public walls and the cleanup of road wastes.
The governor announced the subsidy in a meeting with the mayors of the participating LGUs last October 16.
Suroy-Suroy Sugbo is a pet project of Garcia during her earlier stint as governor of Cebu.
It is a tourism caravan around Cebu's cities and municipalities which exposes and immerses local and foreign tourists to the province's signature products, handicrafts and delicacies.
The idea is meant to boost tourism in the towns.
"We will go back to what the Suroy-Suroy was. We will really give each and every town regardless of political affiliation the chance to shine by bringing our tourists and stopping at every town," Garcia said in an earlier interview.
The first leg of the caravan, the South Heritage Trail, will include a visit to all the cities and municipalities of the first, second and seventh district as well as one town in the third district.
The caravan will spend about two hours in each town or city.
Aside from focusing on covering all the towns in the province, Garcia also said she wants to make it a point that as the local chief executive, she would lead the caravan.
"Aron makakita ang mga tawo nga gitagaan gyud ni og igo nga importansya ug pagtagad dili lang para sa atong mga turista apan mas labaw pa gyud sa atong mga lumulupyo (So people know that the project is given importance not only for the sake of the tourists, but more importantly, the locals)," she said.
This year's Suroy-Suroy will run from November 15 to 17. The trail will begin in Minglanilla and go on until Santander.
The caravan's last stop will be Talisay City.
Meanwhile, the provincial government has also coordinated with Oyo Technology and Hospitality Philippines, a hotel franchising chain, for the upgrading of the different resorts that will house the Suroy-Suroy guests. (FREEMAN)