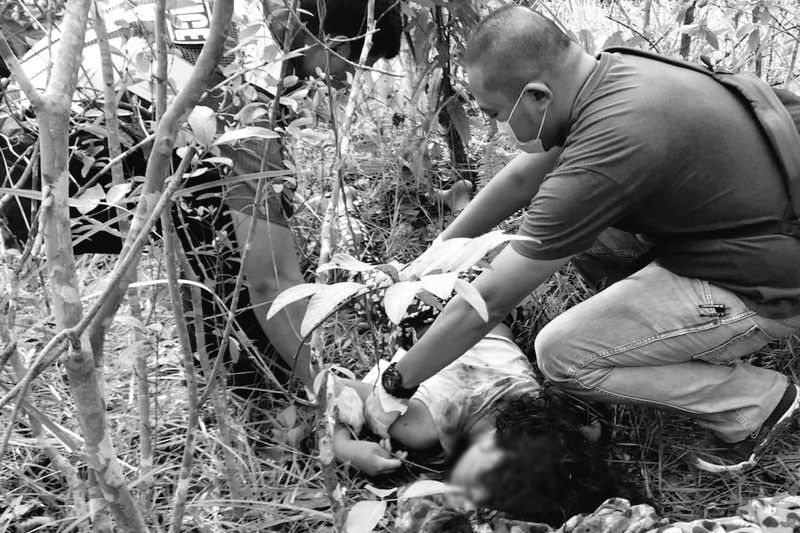 Gonzales said that according to the younger sibling's testimony, the children were still complete when they came to bed on Sunday night.
Contributed Photo
Girl, found with stab wounds, slit throat
CEBU, Philippines — A 14-year-old girl was found dead and riddled with stab wounds and her throat slit in Sitio Kaimito, Barangay Guimbawian, Pinamungajan town Monday afternoon.
Authorities told reporters that the victim was first reported missing in the barangay, which is a mountainous part of town. She had gone missing since Tuesday dawn.
"Kining biktima, naa pud siyay laing mga igsuon, sila ray nabilin sa ilang balay. Kay ilang mga ginikanan nagtinda sa Carbon Public Market (The victims has siblings. They were left home alone as their parents were out to sell wares in Carbon in Cebu City)," Police Corporal Jonas Gonzales of Pinamungajan Police Station said in a phone interview.
Gonzales said that according to the younger sibling's testimony, the children were still complete when they came to bed on Sunday night.
But when they woke up early dawn following day to prepare for school, Gonzales said the other siblings immediately found out that their sister was missing.
"Ang katong mga manghod nakamata sila, wala na ilang ate. Padung na alas singko (The younger siblings discovered that their sister was no longer around at around 5 a.m.)," Gonzales said.
The siblings didn't mind their sister's absence, thinking that she was probably preparing their breakfast like she used to, so went back to sleep.
Still, when they woke up later, the sister was still not around.
That's when they started to search for her, but to no avail.
When efforts turned futile, Gonzales said, the children contacted their mother, Bina Andayop, in Carbon to inform them of the absence.
Andayop then spread information on her missing child among their relatives to help them find her. She also asked help from barangay officials.
Andayop and her husband said they decided to go back home in Pinamungajan immediately at around 11 a.m. when the people in their area still had not located their daughter.
Gonzales said that the victim's parents even went to a local "quack doctor" to seek help, thinking that their daughter was taken by an unearthly being.
"Kay naay duha ka mangga sa ila, ingon sa mananambal nga naibgan..nya gitaguan," Gonzales said.
At around 1 p.m. that day, a farmer found the girl's body with wounds and her throat slit, some 50 meters from the house.
The girl's head was covered with a blanket.
Meanwhile, an emotional Andayop told the media that the family strongly suspects that her daughter was raped.
She said that they are now looking at a neighbor as a person of interest.
"Oo silingan ra na namo. Mosuyop pud daw sa una, mangawat pud...ilang balay pud ana sa una iyang gisunog," Andayop said, describing their neighbor who was allegedly behind the murder.
The neighbor, who is in his 20s, was allegedly seen passing by the house of the victim.
"Wala pa gyud mi nagkita, wala pa gyud mi nagtabi," she said in between sobs.
Andayop described her child as the silent one among her children. She was also a simple girl.
As of this writing, authorities are still pursuing the person of interest, who was said to have fled the barangay. (FREEMAN)