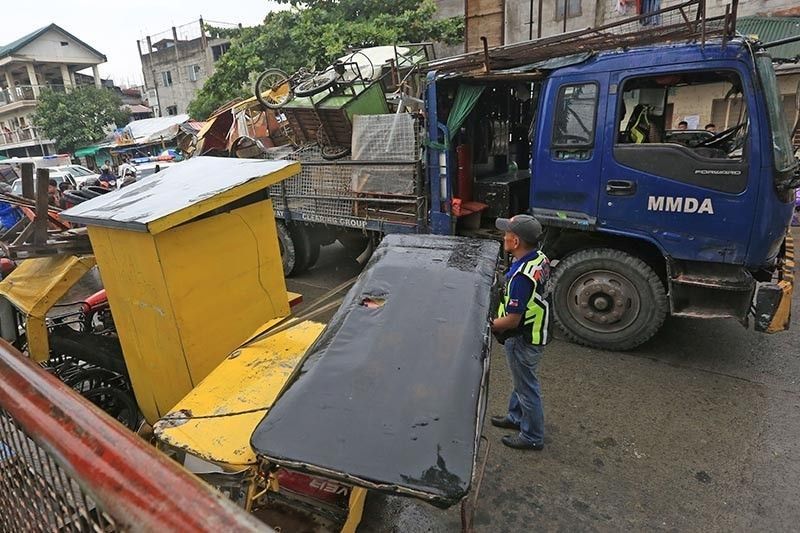 Edwin Anthony Jumao-as, head of the city legal enforcement unit, said these utility posts have encroached on the sidewalks.
Edd Gumban
Over 200 utility posts affected by clearing
CEBU, Philippines — More than 200 utility posts in Mandaue City are set to be uprooted amid the city government's intensified road clearing operations.
Edwin Anthony Jumao-as, head of the city legal enforcement unit, said these utility posts have encroached on the sidewalks.
"Daghan gyud kaayong mga poste nga naa na gyud sa sidewalk, sobra 200 ni sila. Ibalhin gyud ni kay naka ali man gyud ni sila sa sidewalk," Jumao-as said.
Unlike in Cebu City where sidewalk clearing was met with resistance from the vendors, Mandaue City did not have a problem relocating the 130 vendors affected by the clearing operations.
Ernesto Bongo, assistant head of the City Legal Enforcement Unit and head of the City Legal Sidewalk Vendors Development Squad, said the displaced vendors were given a place at the city's night market for them to continue their livelihood.
Mandaue City Mayor Jonas Cortes reported during his State of the City Address Monday evening to mark his first 100 days in office that he was able to bring back order on the sidewalks by clearing all obstructions that had been a burden to pedestrians and a contributor to the traffic problem in the city.
"And we are proud to say that the sidewalks in our major thoroughfares have been cleared of obstructions," Cortes said.
Cebu City
In Cebu City, Mayor Edgardo Labella said he already has a formula to help the displaced sidewalk vendors. He said the formula will allow the affected vendors to continue with their livelihood without him violating the Department of the Interior and Local Government (DILG) memorandum circular on road clearing.
"I will do something that they will all be given the opportunity to sell on a regulated basis," said Labella.
"I will never break that promise," Labella told the vendors during a meeting at the city hall Monday evening.
Labella appealed to the vendors that they need to understand his duty as the mayor to make sure that there will be no obstructions on the roads to maintain peace and order in the city.
He also acknowledged his duty to protect the sidewalk vendors to be able to earn a decent living. Labella even offered assistance from the city government but the vendors declined.
"Di na mi magkinahanglan ana, sir, og nisaad na ka namo," the vendors told the mayor.
Labella assured that his formula is a win-win solution. He, however, refused to divulge it yet.
He asked the vendors to give him a few days to implement that solution.
"This is about you and your livelihood. This is about the city of Cebu," Labella told the vendors.
In advanced progressive countries, vendors can be seen along the sidewalks but they are regulated. This is what Labella is stressing. FPL (FREEMAN)