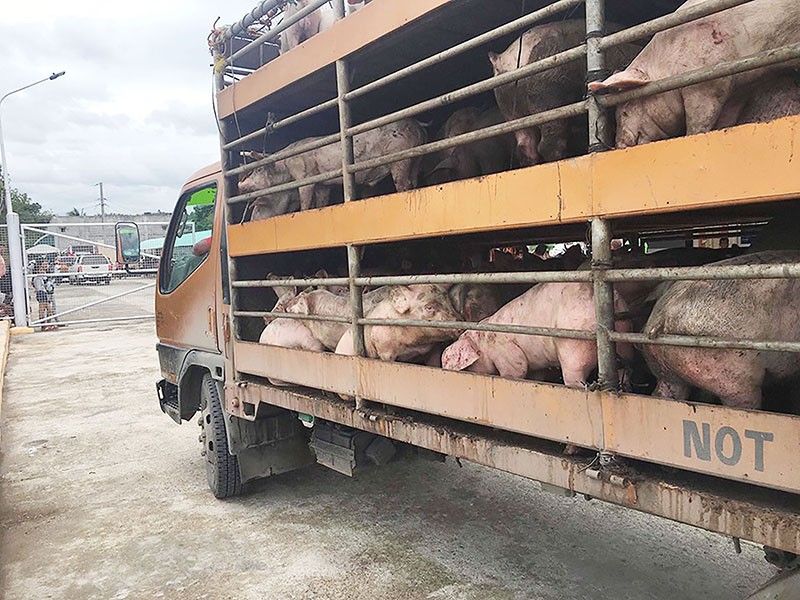 A truckload of pigs from Negros Oriental was intercepted by the Anti-African Swine Fever Task Force in Cebu Province at the Tangil Warf in Dumanjug town Saturday because they were not covered by the new documents the province requires from hog exporters.
Capitol PIO
In Cebu Province: More docs needed for hog exporters
CEBU, Philippines — To ensure that Cebu Province remains free of the African Swine Fever (ASF), the Provincial Anti-ASF Task Force has imposed five additional documentary requirements for live hog exporters.
Hog dealers who wish to enter the Cebu pork market will now have to present a Livestock Handlers' Permit, Farm Registration, Livestock Transport/ Carrier Registration, Vehicle Registration and Disinfection Clearance.
This is on top of the required Veterinary Shipping Permit and the Veterinary Health Permit required by Executive Order 14.
All of these additional documents are enumerated in the new Executive Order 15. The EO also imposes a 100-day ban on live hogs from Rizal and Quezon where hog mortality caused by ASF has been confirmed.
The EO has been operational for less than one week but some hog producers have already begun to feel the strain of the additional documents. One hog producer in particular said he could not acquire the required Farm Registration since he sources his pigs from auctions.
Meanwhile, the Anti-ASF Task Force lead by Dr. Elizabeth Ann Galaura intercepted a truckload of live pigs at the Tangil Warf in Dumanjug town Friday.
The 150 hogs were not covered by the additional documentary requirements and were shipped back to Negros dawn yesterday. — JMO (FREEMAN)