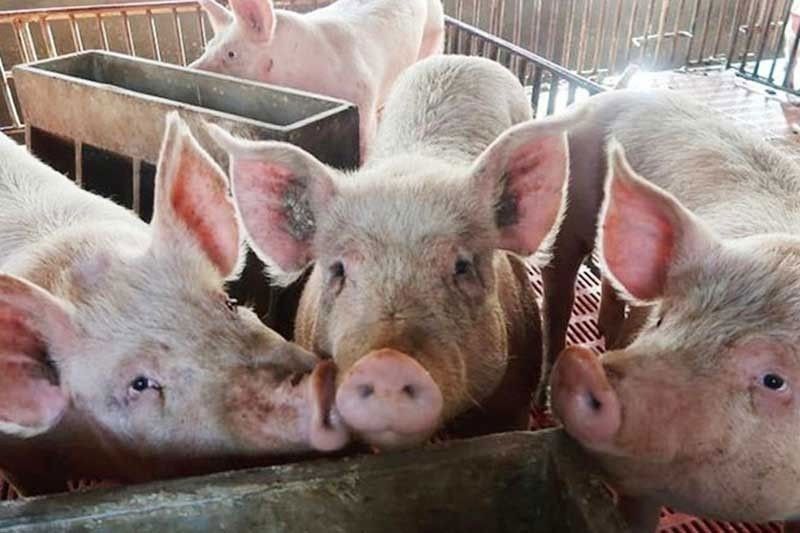 Governor Gwendolyn Garcia said the province will look into the possibility of a total ban of pork products from Luzon.
File
No ASF case in Central Visayas
CEBU, Philippines — Department of Agriculture-7 Director Salvador Diputado assured yesterday that the African Swine Fever that killed pigs in some parts of Luzon has not entered Central Visayas.
Emphasizing that border controls must be enforced strictly here, Diputado called on government to ensure that pork and pork products from ASF-stricken areas in Luzon and other countries will not enter Cebu.
He also called for calm from the public. He said Cebu is the top pork supplier in the Visayas and the fourth in the Philippines.
"Ang Cebu, producer ta sa pork. We are more on mopagawas sa pork rather than naay mopasulod but we have imported pork coming in… mao na ang bantayan. Basta naay seal sa National Meat Inspection Section, okay na na siya (Cebu is a producer of pork. We export more than import but we also have imported pork so that's what we should keep an eye on. As long as here is a seal from the National Meat Inspection Section, though, that should be ok)," Diputado said.
The other day, DA confirmed that it was ASF that caused the deaths of thousands of hogs in Luzon.
Governor Gwendolyn Garcia said the province will look into the possibility of a total ban of pork products from Luzon.
"What we need now is a clear listing. Unsa man nga products gikan Luzon? (What we need now is a clear listing. What products come from Luzon?)," she said, addressing the Provincial ASF Task Force in a meeting yesterday.
"I have to study this very closely. I will be talking with Governor Yap," Garcia said, referring to Bohol Governor Arthur Yap who had issued an executive order banning pork imports from Luzon.
Board Member Glenn Soco, chairman of the Provincial Board's Committee on Commerce and Industry, is not very keen on idea.
"If we move a notch higher sa atong pag-regulate, it might mean serious economic effect," he said.
No price hike
Soco said local meat producers have assured during the task force meeting that they will not increase prices of pork amidst the province's 100-day ban on pork products.
"Nipasalig man ang local meat producers nga dili sila mopasaka sa ilang presyo. Nisalig sad ang DTI (Department of Trade and Industry) nga naa sa purview sa price monitoring council nga chairman ang governor nga makapasalig sila ug mga price regulations (The local meat producers have assured that they will not raise the price of pork. The DTI, which is part of the price monitoring council headed by the governor, also assured price regulations)," Soco said.
He feels, though, that the price of pork may even go down as the ASF issue may lower demand but prices of other merchandise and products might go up.
"Ang mga tawo, once makahibaw nga adunay sakit, di na gyud ta mopalit ug baboy… tan-awon sad na nato kay ang uban na sad nya nga commodities ang mosaka (When consumers learn that there is that disease, they may no longer buy pork… we will keep an eye on that because the prices of other commodities might be the ones that go up)," Soco said.
Leftovers
Meanwhile, Diputado said he has not received any report of unusual deaths among hogs here.
"Wala tay nadungog nga insidente nga sama niana. Importante sad nga ma-aware ang atong mga backyard raisers ug hog producers nga dili gyud lawgan og lamaw ang ilang mga baboy. Dili mga pan-os nga mga pagkaon but fresh gyud (We have not heard of such incident but our backyard raisers and hog producers should be made aware that they should feed their pigs fresh food, not leftovers or spoiled food)," Diputado added.
Cebu City Agriculturist Joey Baclayon agrees. He requested the executive department to issue an executive order banning feeding leftover food to pigs.
Baclayon said the city should formalize the banning of these leftover food, which are being sold to backyard hog raisers, to be fed to the hogs as these food might be ASF-infected meats.
He said there is a need to implement preventive measures following the confirmation that the highly contagious virus, which causes hemorrhagic fever in pigs, was the cause of deaths of swines in Rizal and Bulacan.
"Nag-ban naman ang Cebu Province sa pagsulod sa mga baboy dinhi sa Sugbo labi na kadtong mga walay documents maong kinahanglan sab ang syudad nga naay executive order para official nga ma-ban ang pagpakaon og lamaw (The province has been the entry of pigs here, especially those without documents, so it is just proper that Cebu City will ban the feeding of leftover food to pigs)," he said.
Baclayon said there are over 7,000 heads of hogs in the mountain and urban areas in the city.
Baclayon said his office and the city's Department of Veterinary Medicine and Fisheries will continue to monitor the entry of meats from other regions and countries here in Cebu City.
Diputado, for his part, urged hog raisers to report to DA immediately if they observe that their hogs have fever or lesions.
"Kay kana nga baboy delikado na na. Patyon ug ilubong gyud dayon aron malikayan nga ang ubang baboy matakdan (That pig is dangerous. It should be killed and buried immediately so it won't infect other pigs)," he said.
While the ASF is not a risk to humans, Diputado discouraged consumers from eating pork from animals infected with the virus. (FREEMAN)