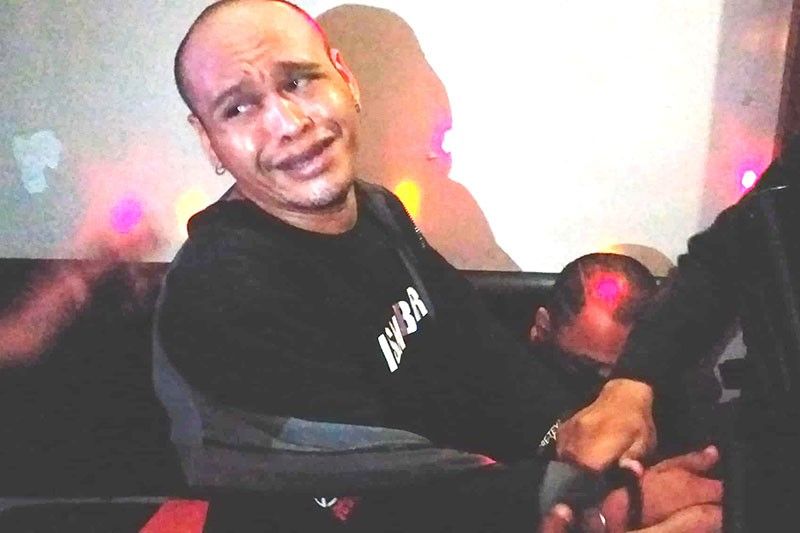 Human trafficking suspect Ricardo Deligero, 30, cried as police operatives place him under arrest during an entrapment operation Saturday evening. The police also rescued 28 people, including 11 minors, used for sexual exploitation.
Rowena D. Capistrano
During anti-trafficking operation: 28 rescued, 2 arrested in KTV bar
CEBU, Philippines — Eleven minors were among the 28 rescued during an anti-trafficking operation at a KTV bar on General Maxilom Avenue in Cebu City near midnight on Saturday, August 17, 2019.
Two suspects of legal age were arrested – Jefferson Taplada, 44, and Ricardo Saviego Deligero, 30. The two were with a minor considered as a child in conflict with the law.
As of yesterday, authorities are verifying the age of the other victims but among those rescued were girls, boys, and gays.
The operation was conducted jointly by the Philippine National Police, Department of Social Welfare and Development (DSWD), and anti-human trafficking organization Destiny Rescue.
Police Lt. Erlinda Mayam of the PNP's Women and Children Protection Desk said they monitored the establishment for weeks after receiving information that it was at the KTV bar that the suspects prostituted the victims.
"Na-validate ni namo ma'am nga didto na sila ga-transaction of sexual exploitation (We validated it, ma'am, that they transacted there)," Mayam said.
Last Saturday, an operation was hatched and the suspects were arrested during an entrapment operation.
While admitting that he received the marked money from the authorities, Deligero denied he is a pimp and said he only drove the motorcycle that the victims rode going to the KTV bar.
Authorities confiscated a gun from him but Deligero said he only carried the firearm as a "citizen police" and he was using it during surveillance.
Taplada, a dance instructor, said he was only helping his friends and that he knew some of the girls. He admitted receiving P200 from his friends from time to time.
One of the minors rescued appeared to have not been aware of the real reason they were brought to the KTV bar. She told The Freeman she was only told they were going to spend the night at the KTV bar because someone has just arrived in Cebu.
The manager of the KTV bar, Marlom Maglasang, said he was shocked upon learning of the operation, saying he only presumed that the minors went to the establishment with their family members.
He assured authorities that the KTV bar will strengthen its security.
Those rescued are now under the care of DSWD while the suspects are facing charges for violating the Expanded Anti-Trafficking on Persons law. (FREEMAN)