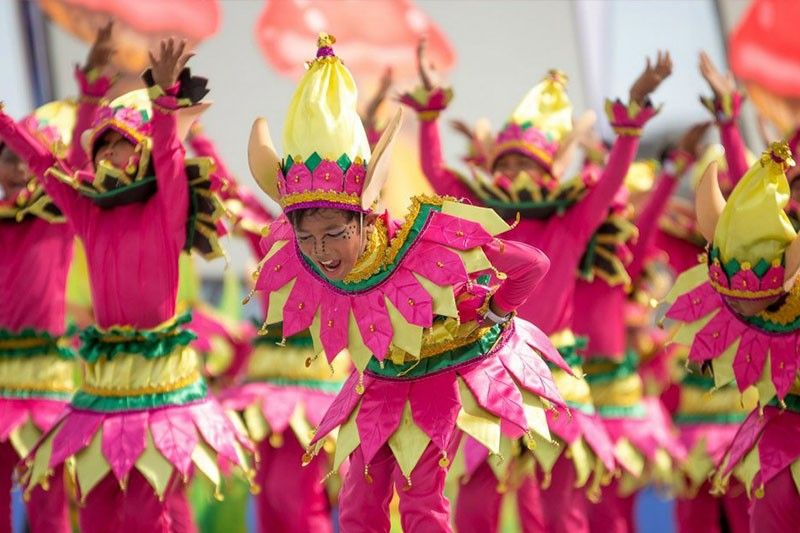 Dancers from Boljoon town showcase the Bolho Festival in the 2012 edition of the Pasigarbo sa Sugbo. The town has decided to skip the competition this year after the road tragedy last month that killed students and their guardians.
Courtesy Of Mark Anthony Gelig
Boljoon pulls out of Pasigarbo
CEBU, Philippines — Still reeling from the accident that killed nine students and their guardians last month, the municipality of Boljoon has decided to withdraw from the Pasigarbo sa Sugbo contest set for August 25.
According to Mayor Merlou Derama, some parents have not allowed their school children to participate in the rehearsals as they raise safety concerns following the dump truck accident last July 19.
"Lisod sad kaayo kay ang among mga bata gud, katong mga ginikanan nila, dili na mohatag og waiver nga mopraktis sila (It's hard to join because some parents are no longer willing to sign waivers)," she said.
Boljoon initially confirmed participation to what has been dubbed as Cebu's "fes-tival of festivals." But Derama said that only about 30 students would show up for the rehearsals as those living in the upland areas are barred by their parents.
The mayor said she already informed Governor Gwendolyn Garcia of Boljoon's withdrawal from the event with the promise of joining next year.
Meanwhile, Consolacion town, which was among the roster of top performers in the previous editions, admitted that "the pressure is real" this time around.
Despite this, Mayor Joyjoy Alegado said that his contingent is preparing nonethe-less and is definitely going to perform on the Pasigarbo stage.
He elaborated saying that right after Garcia called on the mayors to discuss the plans for the revival of Pasigarbo sa Sugbo, Consolacion wasted no time in organ-izing the contingent and its participants.
For this year, Alegado promises a presentation that will carry a "unique concept."
Alegado also said that they were able to augment their budget for the Pasigarbo entry with the drafting of a supplemental budget.
The provincial government, for its part, will also be giving each participating city and municipality P500,000 in subsidy.
Alegado said Consolacion is yet to receive the financial support from the Capitol, though.
Pasigarbo sa Sugbo will take place on August 25 at the Cebu City Sports Com-plex. The event is one of the highlights of Cebu's 450th founding anniversary.
Some 44 cities and municipalities have committed to perform their respective fes-tival dances at the Pasigarbo. (FREEMAN)