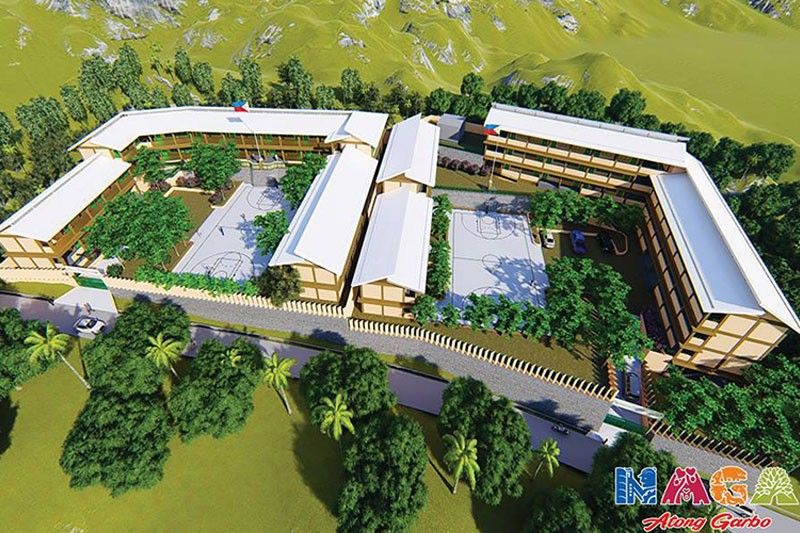 City of Naga government shares on its Facebook page an artist's rendition of the proposed new elementary and high school buildings in Barangay Cantao-an.
Courtesy Of City Government Of Naga, Cebu
Naga schools' 'risky' location forces transfer of classes
CEBU, Philippines — The city government of Naga is planning to buy a lot to relocate two schools that have been identified as lying on a "critical" area due to possible soil movement.
Classes at Cantao-an Elementary School and Cantao-an National High School are currently held at the barangay gym to keep the more or less 1,500 students from harm's way.
Cantao-an is a mountain barangay in Naga located about six kilometers from the national highway.
"Karon naa sila sa Cantao-an gym unya gibuhatan og temporary school nga nagastuhan og one million kapin (Classes are being held at the gym and we are building a temporary school for them that costs more than P1 million)," said Mayor Valdemar Chiong.
Chiong revealed that the city has identified a safer spot in the barangay where the new school buildings would be erected.
He said the city will need roughly P60 million to build the 60 classrooms. Some P30 million of the needed fund will be taken from the city's coffers, particularly from the school fund, while the remaining budget will be sourced from the Department of Education.
Chiong said they are now waiting for the results of the geological survey of the proposed area, after which, the city can already proceed with the purchase.
Aid for landslide victims
In a separate development, Chiong also revealed that the Capitol will extend P3 million in financial aid to the victims of the landslide in the city in September last year.
This was separately confirmed by Governor Gwendolyn Garcia, who said her administration will allocate the amount to assist the victims, especially since some of them remain without relocation to this day.
"I really intend to sit down and talk with Mayor Chiong… Wala gyud na maabot nila ang P1 million nga check and angayan man nga tabangan man gyud to sila kay grabe to ilang giagian (The check did not reach them. We have to help them because it was not easy what they had experienced)," Garcia said.
Garcia was referring to the assistance earlier promised by the Capitol, under the previous administration of Hilario Davide III, but never arrived, according to Chiong.
Chiong said that apart from that check, he will also lobby for more funding from the Capitol, considering the extent of work that has yet to be done.
He said he will ask for an additional P2 million in funding.
The landslide in Barangay Tinaan last year took at least 70 lives and buried at least 20 homes.
Naga is among the quarry sites in Cebu.
When Garcia assumed as governor last July, among her marching orders was to ban small-scale quarrying in the province.
The Provincial Environment and Natural Resources Office has yet to issue a report detailing the state of the quarry sites in Cebu. (FREEMAN)