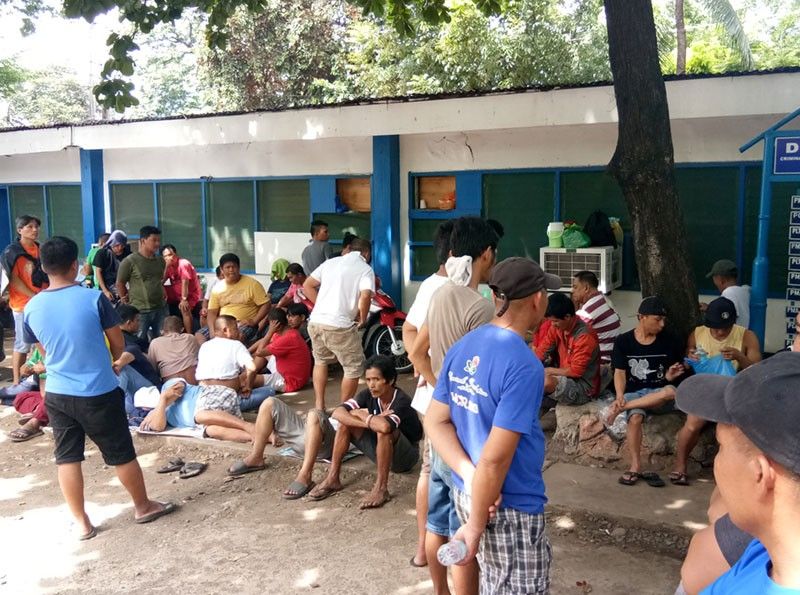 The over 300 suspects arrested for illegal cockfighting in Mandaue City are made to stay outside the CIDG headquarters for lack of detention facility.
Aldo Nelbert Banaynal
City Exec says cockfight covered by ordinance:Mayor's family owns cockpit
CEBU, Philippines — The D&C Coliseum in Barangay Ibabao, Mandaue City where at least 370 people were arrested Monday night for gambling on a weekday is owned by the family of Mayor Jonas Cortes.
This was confirmed by Mandaue City Administrator Jamaal Calipayan who clarified that the operation of the cockfight arena is legal since it is covered by a permit the city issued in accordance with its ordinance on cockfights.
He said the existing city ordinance authorizes cockfights in the city on several conditions, one of which is for the benefit of charitable and/or social purposes.
"Pero we will review our ordinance and abide by the recommendations of CIDG (Criminal Investigation and Detection Group). In the meantime, we will suspend the effectivity of our permits pending review of the ordinance," Calipayan said.
CIDG has recommended that the cockfight arena complies with Presidential Proclamation No. 449 or the Cockfighting Law of 1974.
P.D. 449 bans cockfights on Rizal Day, National Heroes Day, Independence Day, Holy Thursday, Holy Friday, Election Day or Referendum Day, and during Registration Days for election or referendum.
The law also states that cockfights can take place only on Sundays; legal holidays; local fiestas; agricultural, commercial and industrial fairs; carnivals; or expositions.
D&C Coliseum allegedly operated on a regular basis, including last Monday when the gamblers were arrested.
The CIDG said it was a concerned citizen who complained about the arena's operation months ago.
"May complaint yan from a concerned citizen then nakarating yan sa kampo Crame, yung letter, and, yung chief PNP, pinasa naman sa CIDG, tapos kami ang nag-implement nito kung ano yung complaint (A complaint from a concerned citizen reached Camp Crame and the PNP chief forwarded the complaint to CIDG so we acted on it)," said CIDG Mandaue chief, Police Major Edwin Lacostales.
Lacostales said they have sent warnings to cockpit owners and managers prior to the operation last Monday but no one reportedly heeded the warning.
"Nag-reply sila na meron silang mga ordinansa or resolution na ina-allowed yun. Nangyari pa rin, tuloy-tuloy, kaya nag implement na tayo (They replied that there is an ordinance or resolution that allows it so the operation continued, so we acted on the complaint)," he said.
Lacostales emphasized that they raided the cockfight arena by virtue of P.D. 449, which is superior to the city ordinance.
"Dun sa understanding namin sa P.D. 449, mas mataas yan, national law yan, eh (As we understand it, P.D. 449 is more superior because it's a national law)," Lacostales said.
He said they are now monitoring other cockfighting arenas.
Arrestees
Meanwhile, the Mandaue City government sent food and water to the arrestees at Camp Sotero Cabahug in Cebu City where they were brought following the raid.
The CIDG office is situated at the camp.
Because of their number, they had to stay at the camp's grounds and their families had to bring them cardboards to sleep on. They could not post bail yesterday as it was a holiday in Cebu Province because of its 450th Charter Anniversary. — JMO (FREEMAN)