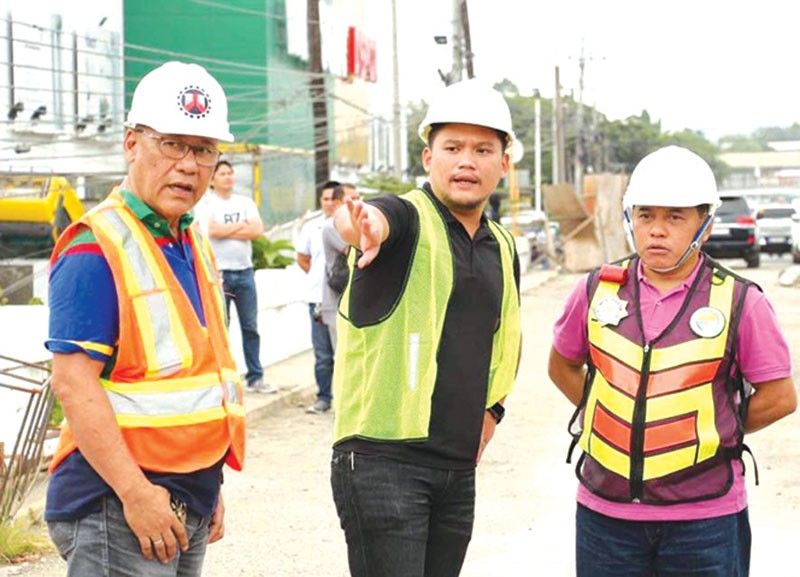 Talisay City Mayor Gerald Anthony "Samsam" Gullas inspects the progress of the ongoing rehabilitation of the Mananga Bridge 2. He said the contractor has told him it cannot commit to the August 4 deadline.
Mayor Samsam Gullas' Facebook
Talisay begins drive against illegal parking
CEBU, Philippines — At least 10 motorcyles were impounded for obstructing the flow of traffic in Barangay Poblacion, Talisay City yesterday morning.
The initiative was part of the Philippine National Police's program dubbed as "Discipline Zone," which aims to clear major roads of illegally parked vehicles.
Barangay Poblacion was the pilot area for the program, which formally kicked off yesterday.
Police Major Orlando Carag Jr., Talisay City Police Station commander, said Poblacion was chosen as the pilot area being the home village of the police station.
If the program succeeds within the next two months or so, then the authorities will fan out to other areas in the city, he said.
Jonathan Tumulak, the head of the City of Talisay-Traffic Operation Development Authority (CT-TODA), said motorists have been warned not to park their vehicles along the road to avoid getting impounded.
"The road is not meant for parking," he said.
Citation tickets are issued to violators or erring motorists.
Mayor Gerald Anthony "Samsam" Gullas Jr. said the program is seen to help instill discipline among motorists.
Poblacion Barangay Captain Edward Alesna, for his part, said the program is needed for the betterment of all.
He also asked his constituents to abide by the traffic rules and regulations.
Aside from the Discipline Zone, Gullas said the city government will also strictly implement curfew for minors; drinking ban in public places to promote peace and order and to avoid public disturbance; and "no helmet, no driving" policy, among others.
Under the existing curfew ordinance, all minors are not allowed to be out on the streets from 10 p.m. to 4 a.m.
The city's curfew ordinance, which was enacted in 2002, imposes a P50 to P500 fine on any minor, who is 17 years old and below, caught by police and barangay officials.
Aside from the fines, violators of the curfew ordinance are required to render community service for a maximum of eight hours.
The city has also the anti-drunkenness ordinance, which was enacted in 2011. It penalizes any person caught drinking alcohol or getting drunk within public places.
Violators are not only charged with a P500 to P1,000 fine, they will also face imprisonment for a month. — KBQ (FREEMAN)