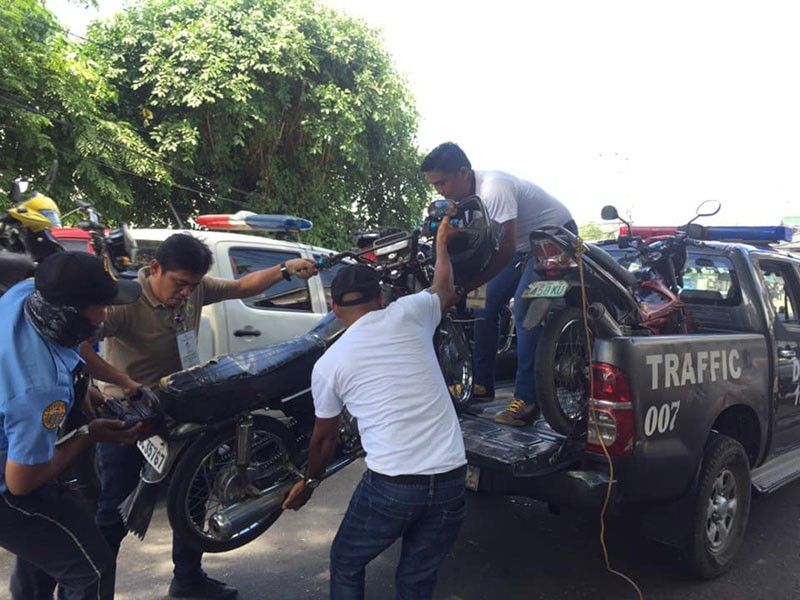 A motorcycle found illegally parked in Sitio Maracas, Barangay Lahug is towed by personnel from the Cebu City Transportation Office headed by officer-in-charge Ricky Barandog Jr. and assistant OIC head of operation Andres Bayarcal.
Courtesy of CCTO Facebook
CCTO revs up crackdown against illegal parking
(The Freeman) - July 31, 2019 - 12:00am
CEBU, Philippines — The Cebu City Transportation Office (CCTO) has announced that it is intensifying the operation against illegal parking, vowing to clamp or tow erring vehicles.
CCTO operations chief Andres Bayarcal said his office has recorded about 400 violators of common traffic rules since the new administration took the reins at the City Hall on July 1.
"Common kaayong violation kanang motor nga wala na gamita or gi-abandon or unattended by the driver, gibutang sa mga no stopping, no parking and no sidewalk parking (Among the common violations are motorcycles abandoned on the road, or parked at no stopping or no parking or no sidewalk parking zones)," Bayarcal said.
Bayarcal stressed that motorcycles violating the traffic rules will be towed by their office, while the four-wheel vehicles and up will be clamped.
Aside from stepping up the drive against illegal parking, the CCTO also intends to continue its operations to check the drivers' licenses, registrations of vehicles, as well as the clearing operations in bottleneck areas that are plagued by illegally parked vehicles.
Bayarcal pointed out that there is a need to constantly implement these programs to ensure that violators will learn their lesson and hopefully abide by the rules and regulations the next time.
Under the administration of Mayor Edgardo Labella, no vehicles have been impounded for counterflowing but violators have still been issued citations for breaking the law.
Bayarcal encouraged the motorists to follow the law to maintain road order, which is among the challenges hurled by President Duterte to the local government units during his fourth State of the Nation Address.
"Akong awhag nga mo-follow sila what is normal ba. Basta walay mo-violate sa traffic rules, wala silay apprehension pero ug dunay violation, madakpan gyud sila (My advice to them is to follow what is normal. If they don't violate the rules, they will not be apprehended)," he said. — Jebert A. Sarsonas, CNU Intern, JMD (FREEMAN)