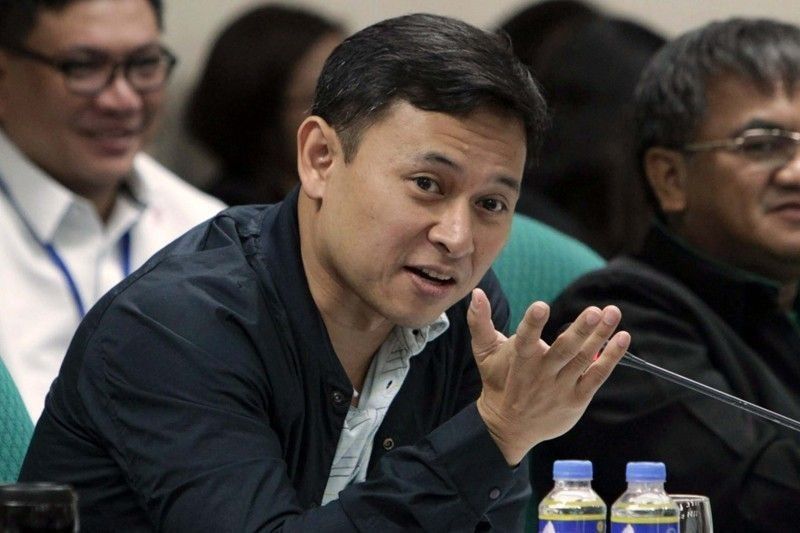 BOPK dads take oath before Senator Angara
CEBU, Philippines — Eight reelected and newly-elected Cebu City councilors allied with the Bando Osmeña Pundok Kauswagan took their oath of office before reelected senator Juan Edgardo "Sonny" Angara yesterday.
These were councilors Nestor Archival, Joy Augustus Young, Lea Japson, Sisinio Andales, Alvin Arcilla, Alvin Dizon, Eugenio Gabuya Jr., and Yayoy Alcoseba.
BOPK officials chose Angara to administer their oath since the latter is the president of Laban ng Demokratikong Pilipino which was the national party supported by the group in the last elections.
In his speech, Angara thanked the BOPK group headed by outgoing Mayor Tomas Osmeña for gathering votes that contributed to his re-election.
In a separate speech, Osmeña thanked the people who stood by the group despite the "very difficult" elections last month, citing the strafing incidents of their supporters and allies.
"I'll be okay. I'll be in touch with the councilors and I'll just give them advice," he said.
Archival said the group will support program or projects that will benefit the city's populace.
"Para sa ako, being a councilor, kon unsay maayo sa siyudad, mao na atong buhaton," he said.
Archival was chosen as the group's majority floor leader should the group retain its number in the City Council.
Next month, BOPK will have ten allies in the City Council with Association of Barangay Councils President Franklyn Ong and Sangguniang Kabataan Federation President Jessica Resch.
This, if the pending cancellation of candidacy of councilors Arcilla and Andales will not be implemented as final and executory.
Should Arcilla and Andales be disqualified, the two individuals who are next in the number of votes, Jerry Guardo and Joel Garganera, will be proclaimed as councilors for the north district.
If Guardo and Garganera will be proclaimed, the Partido Barug-PDP-Laban will have 10 councilors allied with the group while BOPK will only have eight councilors.
These are Garganera, Prisca Niña Mabatid, Raymond Alvin Garcia, Donaldo Hontiveros, Eduardo Rama, Antonio Cuenco, Renato Osmeña Jr., Phillip Zafra, and the two councilors who have expressed support of Labella; Guardo and David Tumulak.
Should this happen, Archival said it will be a change of majority which will affect the council's chairmanship and memberships.
"There would be a meeting before that, I'm sure, with the leadership ni vice mayor-elect Mike Rama. There would be a meeting with their group and our group. Hopefully, ma-iron out ra na siya," he said.
Tumulak already took his oath of office before Regional Trial Court Branch 10 Executive Judge Soliver Peras yesterday.
Meanwhile, Garcia congratulated the members of BOPK for the oath taking yesterday, saying he looks forward to working with them in the City Council next month.
"I hope they are builders and not destroyers because Mayor Edgar Labella has a lot of programs and projects for the City of Cebu, especially those funded or started by the national government," he said.
As for their oath taking, he said officials of Barug-PDP-Laban will take their oath of office on June 30 which is also the day they will assume office by noon.
Garcia said the group is still finalizing the program since mayor-elect Edgardo Labella is expected to deliver his first message as the chief executive of the city. — BRP (FREEMAN)