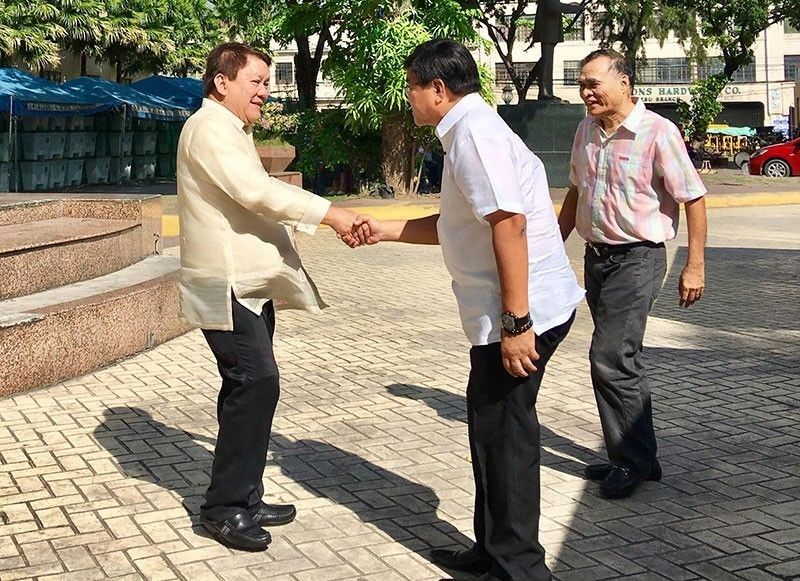 Outgoing Mayor Tomas Osmeña and incoming Mayor Edgardo Labella shake each other's hand during yesterday's Independence Day celebration at the Plaza Sugbo.
Jean Marvette A. Demecillo
Mayor Osmeña, Labella show mutual respect
(The Freeman) - June 13, 2019 - 12:00am
CEBU, Philippines — In one of those rare moments, outgoing Cebu City Mayor Tomas Osmeña and mayor-elect Edgar Labella showed respect for each other by shaking hands during the 121st Independence Day Celebration at the Plaza Sugbo yesterday.
Aside from Osmeña and Labella, Councilors Margarita Osmeña, Joel Garganera, Raymond Alvin Garcia, Sisinio Andales, and Jocelyn Pesquera, and other officials and employees of the City Hall and national government agencies also joined the event.
Osmeña talked on what the Independence Day is all about and he said that the local governments have to fight for local autonomy.
Labella, for his part, was happy with the gesture of both local officials.
"I admired Mayor Tom for being gracious in shaking hands and gracious in the result of election. I shared with his sentiments regarding the significance of the Independence Day. But of course, we still have so many problems to tackle like our very social and political imbalance," Labella said.
As of 5:45 p.m. yesterday, their photo in "The FREEMAN" Facebook page went viral and already reached 3.6k likes with 193 comments.
"I admire the respect they have for each other. Mayor Osmeña, sir, salute for being a good mayor for all these years. Mayor Labella, we expect much from you also. God bless you both looking forward to our newly elected mayor Edgar Labella. I hope you won't disappoint us," read a comment from a netizen. — Joan Carbajosa, CNU Intern , GAN (FREEMAN)