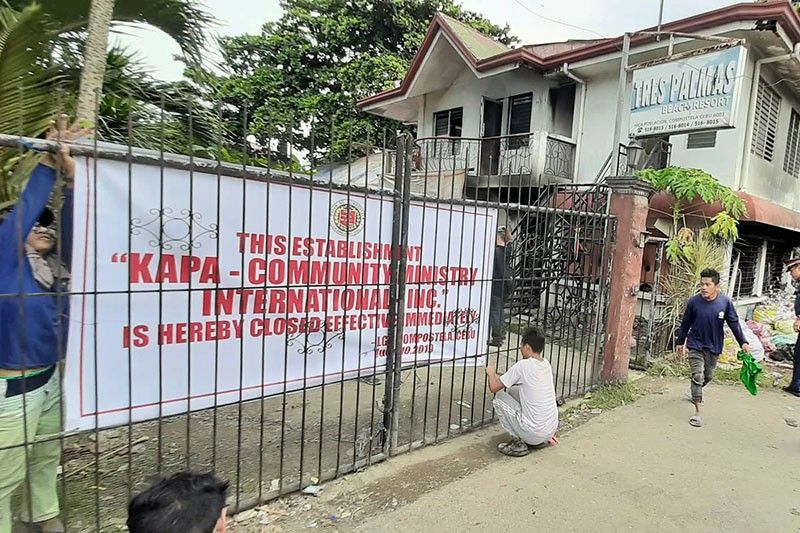 A public announcement is posted outside the office of KAPA Community Ministry International in Barangay Poblacion, Compostela, Cebu as joint operatives from the Philippine National Police, National Bureau of Investigation, and Securities and Exchange Commission raided the networking firm yesterday.
JOY TORREJOS
NBI, police retrieved documents: Kapa HQ raided
CEBU, Philippines — Following the order of President Rodrigo Duterte to close investment group Kapa Community Ministry International down, authorities raided what used to be the group's headquarters in Compostela, Cebu yesterday.
The office was set on fire by still unidentified suspects dawn on June 8 but personnel from the National Bureau of Investigation, Regional Special Operations Group 7 (RSOG), and Securities and Exchange Commission (SEC) still managed to retrieve documents.
Among the documents they retrieved were application forms, payout documents, ledgers, journals, and books containing records of transactions.
They also retrieved computer units and tarpaulins.
Atty. Dominador Cimafranca, assistant regional director of the National Bureau of Investigation, said the items seized will be forwarded to the Regional Trial Court in Manila that issued the search warrant against Kapa founder Joel Apolinario and area manager, Engr. Christopher Abad.
The court issued the warrant amidst allegations the Kapa officials violated the Securities Regulation Code, particularly Section 8 on Requirement and Registration of Securities and Section 26 on Fraudulent Transactions.
Cimafranca said the operation against Kapa is nationwide.
Duterte ordered the National Bureau of Investigation, the Criminal Investigation and Detection Group (CIDG), the special investigating teams of the Philippine National Police to shut down investments companies that he said are involved in pyramiding.
Duterte said such investment schemes or pyramiding get bust in the long run and people end up with empty pockets not getting anything anymore from their initial investment.
In Cebu, Governor Hilario Davide III also warned the public to be wary of companies that lure people to make financial investments.
"Kana ingon ana gyud, angay gyud nga magmatngon… i-check ang background sa kompaniya o grupo nga mo-offer og mga ing-ana kay attractive man kaayo so matintal gyud ang mga tawo (People should be careful. These offers are attractive so the public should check on the company's background)," Davide said.
Cebu Archbishop Jose Palma agrees.
"Let us be extra careful about joining investments or being easily gullible of certain offers because it is very rampant that there are people would find gullibility and interest of some other people regarding easy money," he said.
"It is not difficult to judge which ones are valid. The only point is - be cautious and careful. In terms of other religions joining in this kind of investments or foundation, that, too, should be discerned because generosity is always a virtue. But, still, it is also sad and difficult if you are being fooled… and taking advantage of other people… again, be extra careful," Palma added.
Palma called on the government to help the people by validating the authenticity of investment groups.
Persons of interest
Meanwhile, in the line with the burning of the Kapa office in Compostela, the Regional Police Office has considered as persons of interest the group's 21 stay-in employees.
PRO-7 Director Debold Sinas said they are eyeing at an inside job angle in the investigation, which is why the 21 employees are considered persons of interest.
He clarified, though, that persons of interest are not suspects.
Sinas said an inside job angle makes sense because the armed men who allegedly robbed the employees of their phones and put the office on fire reportedly knew there money kept at the office.
Kapa allegedly stored cash in vaults and not at banks allegedly to avoid alerting authorities of alleged fraudulent cash flow.
Sinas said they will look into the employees' backgrounds who mostly come from Mindanao.
He said the suspects may be part of a local group.
"We think it is a local group," he said.
PRO-7 is now tracking Abad so the latter can shed light on the incident.
Other schemes
Sinas said they are monitoring three other pyramiding schemes in Central Visayas and are coordinating with the Securities and Exchange Commission.
Also, he will reportedly name at least three cops in Cebu who took part in pyramiding schemes despite strict instructions not to.
The cops will face administrative charges. — With Zesusita C. Belarmino (FREEMAN)