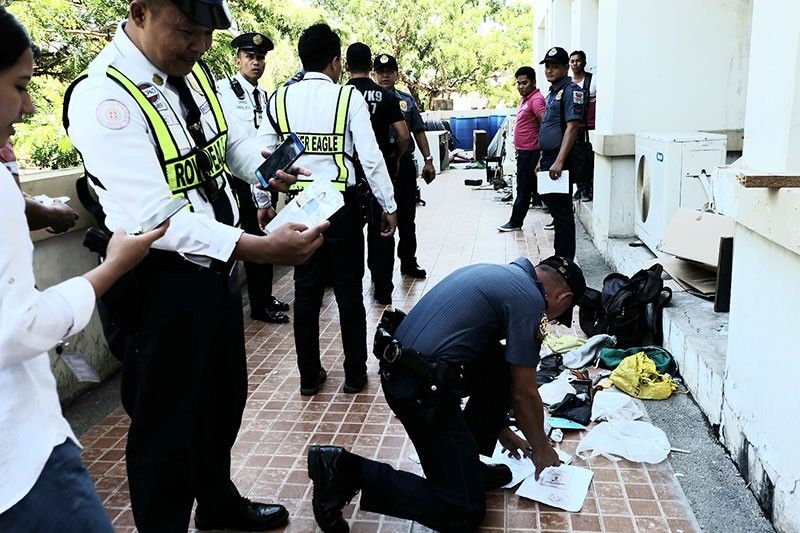 Police and security personnel check the contents of the suspicious bag that caused a stir at the Talisay City Hall yesterday.
Joy Torrejos
Bomb scare grips Talisay City Hall
CEBU, Philippines — A suspicious backpack later found to only contain clothes had prompted Talisay City Mayor Eduardo Gullas to order the suspension of work at the city hall shortly before noon yesterday.
The gray backpack was left outside the Person with Disability Affairs Office at the upper ground floor. Bienvenido Llera, a job order employee who found the bag past 9 a.m., became suspicious and reported to the security personnel after he allegedly saw a blinking red light inside.
As a precautionary measure, security personnel reported the matter to the police and recommended the immediate evacuation of all employees and the transacting public. The building was cordoned off while waiting for the members of the bomb disposal unit to arrive.
"The safety of our people is the paramount importance. I opted to suspend the woks of all the employees in Talisay City Hall following this alleged serious threat to our safety, I firmly believe this is the best way at this point in time. While the clearing operation of PNP is ongoing, I instructed our security personnel to deny anyone who would try to get through inside the city hall premises. I appeal to everyone to stay calm and follow all the protocols as the police may provide," Gullas said in a statement.
After the clearing operation, members of the Explosive Ordnance Disposal (EOD) team of Police Regional Office-7 found no bomb inside the bag but used clothing and some identification cards.
Authorities found a Magdalo ID bearing the name of Roberto Cabugnason. There was also a barangay certification issued to Cabugnason, a resident of Zone 6, Sitio Baybay, Barangay Dumlog, Talisay City.
The certification was purportedly issued for the purpose of applying for "financial assistance with the Department of Social Welfare and Development Office in Region VII." The certification was signed by Dumlog Barangay Captain Nelson Abellana.
Other documents found in the backpack include a pedicab operator's identification card of Cabugnason issued by the City of Bais, Negros Oriental, terminal fee receipt, and DSWD Crisis Intervention Unit gate pass.
Police investigators are still conducting investigation to find out who left the bag at the City Hall. (FREEMAN)