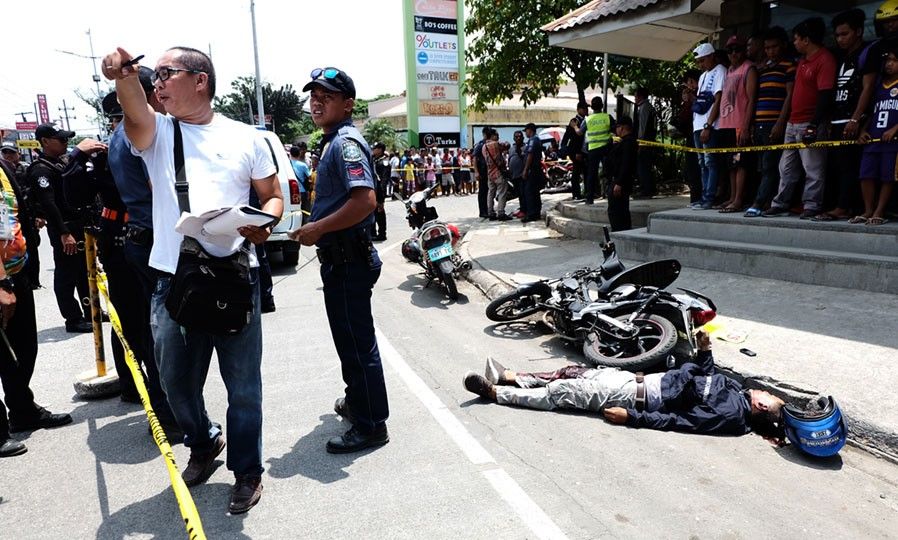 Traffic enforcer Rolando Lumongsod died on the spot after a police officer shot him as he tried to escape after killing habalhabal driver Junrey Sollano in Barangay Basak, Lapu-Lapu City yesterday morning.
Joy Torrejos
Suspect killed by cop: Shootings leave two men dead
CEBU, Philippines — Two men were killed in related roadside shooting incidents in Barangay Basak, Lapu-Lapu City shortly before midday yesterday.
The first incident involved a president of a drivers group and a member of the City Traffic Management Service (CTMS).
In a video footage secured by GMA-7's Balitang Bisdak, the suspect, Rolando Lumongsod of CTMS, was seen circling the area on a motorcycle until he saw the victim, Juney Sollano, president of an association of habalhabal drivers.
The video showed that Lumongsod approached Sollano from behind and shot the victim once. When Sollano tried to run, Lumongsod followed him and fired more shots. Sollano died on the spot.
Unknown to Lumongsod, yesterday was also his last day alive.
As he was trying to leave the crime scene, Police Corporal Jacinto Sagarino who was on patrol saw him and went after him. Lumongsod tried to pull his caliber .45 pistol back out but Sagarino was quick to draw his gun and shot Lumongsod.
Lumongsod also died on the spot.
Sagarino told Balitang Bisdak that he was just some 20 meters away from the first shooting incident and responded immediately after he heard gunshots and people screaming for help.
"Nakadungog ko og buto-buto, niya singgit mao to nidagan dayon ko padung, niya kita man ko mubunot siyas iyang pusil, ako dayon siya gipusil," Sagarino said.
Sollano reportedly confided in him about three weeks ago that Lumongsod threatened him. Someone was also tailing him.
Meanwhile, Police Colonel Lemuel Obon of the Lapu-Lapu City Police Office told The FREEMAN that he is elated over how quick Sagarino was able to respond to the scene.
"Ato ning tagaan ug komendasyon ang atong pulis, dahil dali ra siya na nakaresponde. It proves na epektibo ang atoang pagpatuman sa seguridad," he said.
He added the case is now considered closed.
He also said he is planning to meet with organizations of habalhabal drivers and traffic enforcers to mend any possible problems. — JMO (FREEMAN)