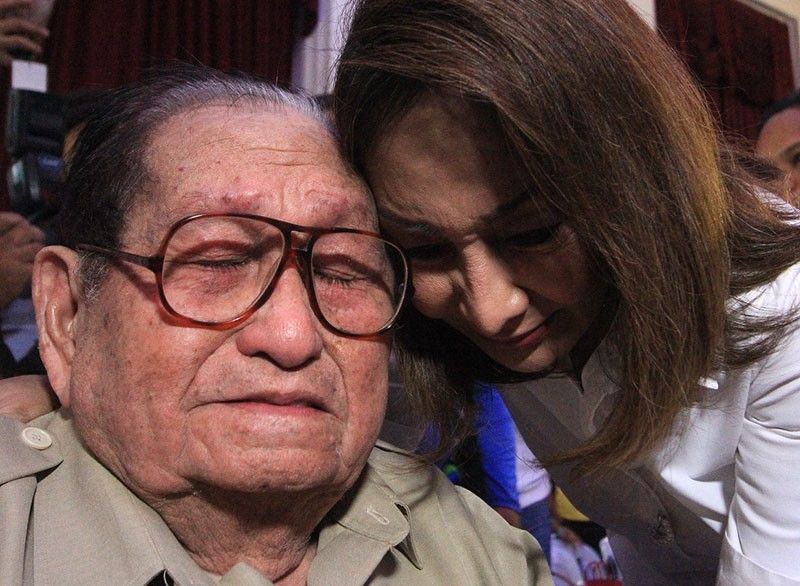 Former governor Pablo Garcia and his daughter governor-elect Gwen Garcia share an emotional moment after the latter's proclamation at the Capitol Social Hall yesterday.
Aldo Nelbert Banaynal
Infra, services top Gwen's agenda
CEBU, Philippines — Cebu Third District Rep. Gwendolyn Garcia and Governor Hilario Davide III were proclaimed Thursday as winners in the gubernatorial and vice gubernatorial races, respectively, after Monday's elections.
Canvassing figures showed that Garcia won with 887,290 (or 58.51 percent) votes against outgoing Vice Governor Agnes Magpale who got 598,567 (or 39.47 percent) votes. The third candidate, the deceased Boyet Cortes, garnered 30,499 votes.
Davide, on the other hand, beat Garcia's running mate Daphne Salimbangon with 781,312 (or 55.80 percent) votes. Salimbangon got 618,828 (or 44.19 percent) votes.
With the entry of the remaining results from Toledo City, Cebu logged a voter turnout of 80.37 percent – some 1,735,119 individuals actually voted out of 2,158,895 registrants.
In an interview after her proclamation, Garcia revealed that her primary thrust and agenda over the next three years will include basic infrastructure projects, and social and health care services.
In infrastructure, she said, she will address the problems of dilapidated provincial roads, and the need for Level-3 water systems and continuous power supply in the islands.
She is also planning to bring back the programs which benefited the people, such as the universal healthcare insurance and distribution of school supplies and bags. She said she will also push for programs that will help different sectors like women's groups and the elderly.
Garcia said she will continue the program of giving financial benefits for the "frontliners" in the barangays such as health workers, tanods, and day care workers, among others.
Suroy-Suroy, Pasigarbo
Moreover, Garcia also wants to promote the appreciation and preservation of culture and heritage.
She is already asking the cooperation of the town and city mayors "to get on board to address, first of all, the care and appreciation of our culture and heritage."
To help boost Cebu's tourism and economy, she will revive Suroy-Suroy sa Sugbo program which "brought the benefits of tourism to the countryside" and also the Pasigarbo sa Sugbo every August.
Aside from that, she also vowed to "lead" the mayors in order to address the prevailing problems on garbage, traffic, flooding, and peace and order, among others.
Garcia, for one, promised to provide leadership in the so-called Mega Cebu or the Metro Cebu Development and Coordinating Board for her to sit down with the different officials to arrive at a consensus on how to resolve the problems.
She is expected to work closely with an ally, Cebu City mayor-elect Edgardo Labella, who defeated outgoing Mayor Tomas Osmeña who has not been in good terms with Garcia.
Davide 'won't be obstructionist'
Davide, being the presiding officer at the Provincial Board soon, also hopes to have a good working relationship with Garcia.
Davide said he was also surprised with the outcome of the elections, sharing the same sentiment as Magpale.
Nevertheless, he thanked his supporters and the Cebuanos "for their vote of confidence although my victory is not complete because my governor didn't make it."
Davide and Magpale do not have plans of filing electoral protest.
Davide said he will support the executive agenda of Garcia so as long as it will be of good to the people.
"I will not be an obstructionist. Trabaho lang ta. I will just do my job," he said.
Yesterday morning, Gwen's camp erupted in victorious cheers inside the Capitol Social Hall as she was proclaimed winner, alongside her brother Pablo John who was also declared Garcia's successor as congressman in the Third District.
Also present were the Garcia patriarch and former governor Pablo Garcia and Garcia's runningmate Daphne Salimbangon and her families and relatives.
Davide, who was proclaimed later in the day, was joined by his wife and father, former chief justice Hilario Jr.
Also proclaimed were Miguel Antonio Magpale as Fifth District congressman and Wilfredo Caminero as Second District congressman. — JMD (FREEMAN)